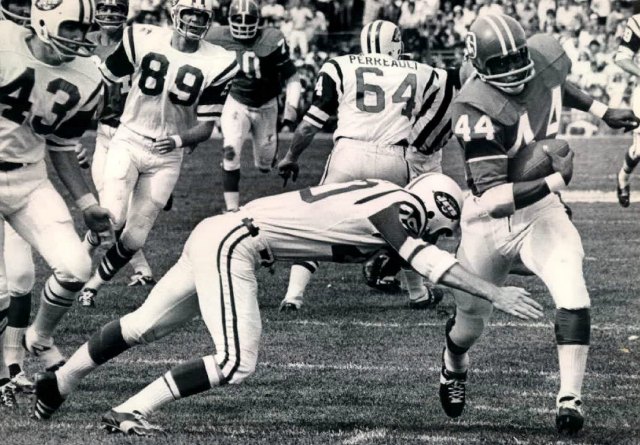 In honor of the Jets playing on Thursday Night Football -- make sure to check out Will Brinson's massive preview here, along with my Remember When about Patriots coach Bill Belichick resigning as the HC of the NYJ -- we present to you a lesser-known moment from New York history.
But you should know it, since it's a record that also never will be broken and, thus, a significant moment in NFL history.
Therefore, we present to you the 98-yard punt by New York's Steve O'Neal in 1969. As you can see it's a kick that began from his team's 1-yard line and was downed at the Broncos' 1-yard line. It, of course, is the longest possible punt to be recorded that is NOT a touchback.
So, quite a kick, eh?
"I just hit it well," O'Neal told the team's official website in 2010. "But of course back then the goalposts were on the goal line and they were just to my right. So I had less than 10 yards to kick the ball, in a real tight situation. It went about 75 yards in the air, it went over the returner's head and when it hit the ground it just took off like a groundball."
In case you were wondering, the Pro Football Hall of Fame has recorded two punts that were nearly as long.
That includes Joe Lintzenich's 94-yard boot for the Bears in 1931 and Wilbur "Pete" Henry's 94-yard blast for the Canton Bulldogs in 1923.