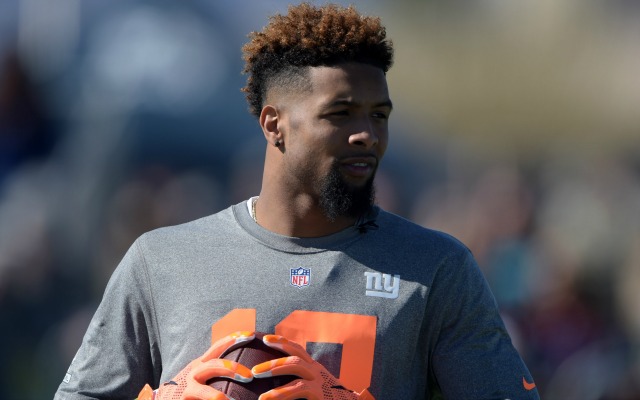 It has finally come to this. And, well, we probably shouldn't be all too surprised given just how popular Odell Beckham Jr. is at the moment.
Beckham, the wide receiver for the New York Giants, just received an offer to become a professional baseball player. The offer came from the Rockland Boulders, an independent Can-Am League team located in Pomona, New York. The Boulders play home games just 30 or so miles north of MetLife Stadium, the home of the Giants.
The reason why they offered Beckham, who has never played baseball at a high level, is because they -- like everyone else -- saw the video of Beckham throwing some heat at a charity softball game.
And he can pitch!!!  Who throws a softball 90 mph!?? @OBJ_3 pic.twitter.com/inFmCSqDel

— Prince Amukamara (@PrinceAmukamara) June 27, 2015
"It's apparent that Odell is a very gifted athlete regardless of his sport. We think that getting experience pitching to professional hitters will give him the opportunity to follow in the footsteps of Deion Sanders and Bo Jackson," said Shawn Reilly, the Boulders' general manager, in an email to The Journal News. "As we are the New York area's only defending professional championship team, he will have the opportunity to learn in a first-class environment while still in close proximity to MetLife Stadium."
Of course, this also serves as a great way for the team to get some great publicity, even though it's nearly impossible to see Beckham accepting the offer. Unlike Sanders and Jackson, Beckham doesn't have an extensive baseball background.
Still, according to the Boulders' pitching coach, Bobby Jones, who played for multiple MLB teams, Beckham has the potential and the ability to make the transition from football to baseball.
"We were very impressed with Odell's mechanics in the video," Jones told The Journal News. "He's shown his ability to catch a ball on the gridiron and after seeing his prowess on the mound, I am optimistic that he has the tools to develop into a quality pitcher."
The moral of this story is, of course, that there just aren't enough Odell Beckham Jr.'s in this world.