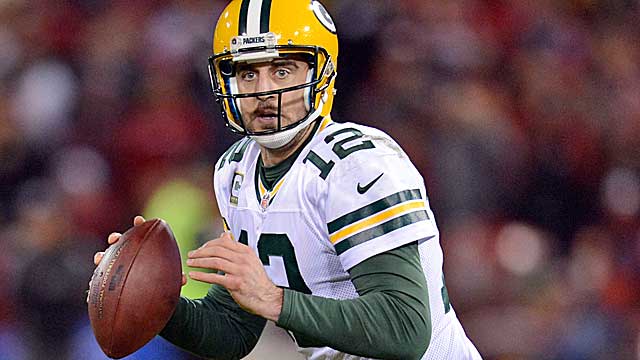 No matter what happens for the rest of the NFL Draft for the Packers, Green Bay fans will be awfully happy with how this weekend turned out.
That's because the team announced Friday afternoon that it has signed quarterback Aaron Rodgers to a contract extension that reportedly will make him the highest-paid player in NFL history. According to the Milwaukee Journal Sentinel, Rodgers' deal is for five years and $110 million -- which works out to $22 million per year.
CBS Sports.com's Mike Freeman reports that he gets $40 million guaranteed in the first year of his new deal.
"Aaron is a true professional and a special player," Packers general manager Ted Thompson said in a statement. "He works hard, is humble, and is focused on his actions, on and off the field. He is an excellent teammate and pushes himself and others to be the very best. We are happy to reach an agreement to extend his career with the Packers."
With the recent big-money signings Joe Flacco and Tony Romo -- both went for more than $100 million -- we expected Rodgers to break all box-office records as he negotiated for a new deal. Especially since Rodgers is largely considered one of the three-best quarterbacks in the league and led Green Bay to a Super Bowl title, and at the relatively young age of 29, he probably has plenty of strong work ahead of him.
Flacco had signed his deal for six years and $120.8 million or $20.13 million per year. Rodgers' numbers obviously beat that, though there is some scuttlebutt that the Packers got off easy and that other players will be disappointed that Rodgers' contract doesn't raise the salary ceiling even more.
Still, the Packers, their employees and their fans have to be pleased with this news.


Congratulations 2 my man @aaronrodgers12. Frankly, he deserves more, but thank you 4 saving some 4 the rest. Every dinner on u sir! Let's Go

— Jermichael Finley (@JermichaelF88) April 26, 2013


In his first five seasons as a starter, Rodgers has thrown for 21,332 yards, the most in NFL history for a starter's first half-decade of production.
"An exciting day for our football program," coach Mike McCarthy said. "Aaron is an excellent illustration of a Green Bay Packer. It is truly a blessing to witness his continued accomplishments, both on and off the field."