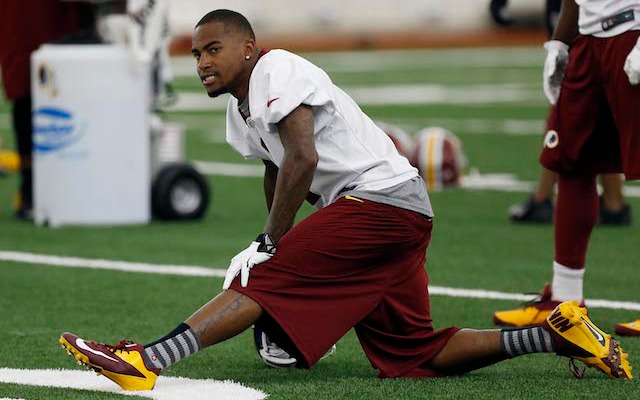 Back in March, an explosive report from NJ.com alleged that DeSean Jackson has gang connections. Hours after the report came out, Jackson was cut by the Eagles and he would later release a statement saying that he's "never been part of any gang."
In an interview with ESPN the Magazine this week, Jackson reiterated that he's never been in a gang, but he admitted that he still associates with gang members. 
From the article: 
Here is what DeSean Jackson will say about the gang rumors: Does he know people in gangs? Yes. Does he associate with "certain people" from time to time? Yes. Is he in a gang himself? No, nor has he ever been.
Part of the NJ.com report revolved around a quote from a Los Angeles detective who said that Jackson flashed a gang sign during an Eagles game against the Redskins last year.
"Those were neighborhood Crip gang signs and he flashed them during a game. He may not be affiliated with the gang, but they don't [ordinarily] take kindly to those not in the gang throwing up those gang signs," the detective said.
You can make your own opinion on Jackson's hand gesture, here's the alleged gang sign that the detective's referring to: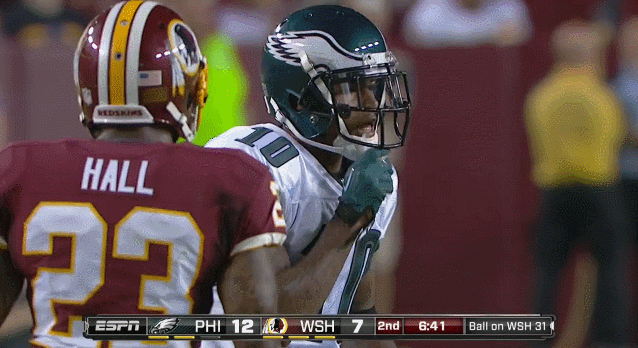 Jackson told ESPN the Magazine that he wasn't flashing gang signs, he was doing hand gestures to let his buddies know he was thinking of them. 
"If I score a touchdown or make a play and my boys at home can see me throwing up the area we're from, that's me showing them love," Jackson said. "They weren't fortunate enough to make it where I'm at. All my friends wanted to be in the NFL growing up, but they weren't able to do that, and I was. That doesn't mean I forgot about them. They're my boys, I grew up with them, and I'm going to give them love."
The Eagles released Jackson on March 28, a move that was investigated by the NFL. The league wanted to make sure that Jackson was cut for football-related reasons and not alleged gang-ties. The NFL's investigation ended with the league feeling Jackson was in fact released for football reasons. 
Just days after being released, Jackson signed a three-year deal with the Redskins.