The rivalry between the Steelers and the Bengals might actually be more heated during the offseason than it is when the two teams are on the field, and if you need proof, just check out the Twitter feed of Vince Williams.
After Harambe the gorilla was killed at the Cincinnati Zoo on Saturday, the Steelers linebacker saw that as the perfect opportunity to throw some gasoline on the fire that is the Bengals-Steelers rivalry. And Williams didn't just dump some gasoline on the fire, he dumped the entire can.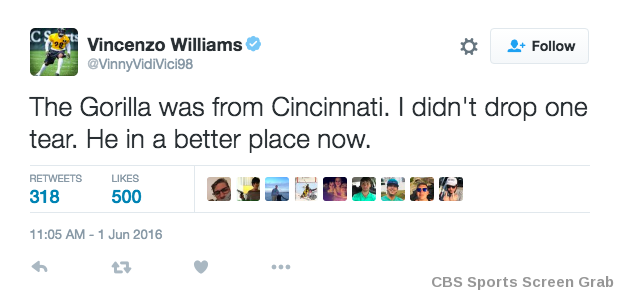 You see, the joke is that it's better for the gorilla to be dead than living in Cincinnati. On a somewhat related note, I don't think the gorilla was actually "from" Cincinnati. Based on everything I learned in elementary school, gorillas aren't native to southwestern Ohio.
Anyway, as you can imagine, most people weren't thrilled to see Williams joking about a dead gorilla, and the linebacker immediately faced major backlash on Twitter.
Williams didn't back down though, he told everyone on Twitter to "lighten up."
When people didn't "lighten up," Williams eventually decided to delete the tweet.
If Williams' name sounds familiar to Bengals fans, it's probably because he's the player who basically single-handedly turned the Bengals-Steelers rivalry into the craziest thing in football.
After Steelers running back Le'Veon Bell suffered a season-ending knee injury against the Bengals in Week 8, some Steelers players became upset with Vontaze Burfict because they thought he was celebrating after Bell's injury. One of those players was Williams, who took to Twitter after the game to send a physically threatening message to Burfict.
When the two teams met again in Week 14, there was a pregame scuffle, which started because Bengals players were upset that Williams wasn't fined or suspended for threatening Burfict.
The Week 14 game got so heated that over $140,000 in fines were handed out in the days after the Steelers win. Burfict was fined $69,000 in the game, Williams wasn't fined anything.
Of course, you probably know what happened next: Everything above led to the Bengals' playoff meltdown against the Steelers in January. These two teams now hate each other more than they did before, which is impressive because they hated each other a lot.
The Steelers haven't shied away from the rivalry this offseason, either. Just last week, Bell accused the Bengals of trying to hurt him on purpose, and now you have Williams' tweet about the dead gorilla.
It might be three months away, but you should probably just go ahead and clear your schedule for Sept. 18. That's the first time the Bengals and Steelers are set to clash in 2016.