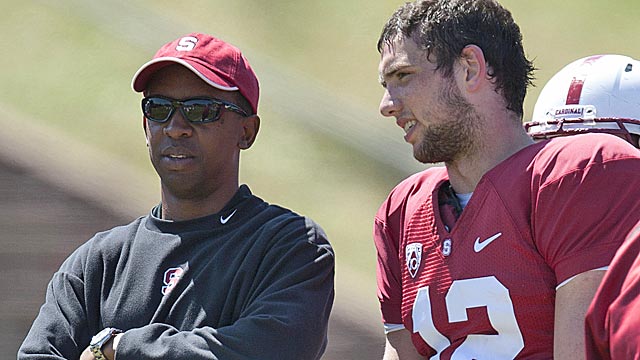 ANDERSON, Ind. -- The first thing anyone coming to Colts camp will notice is just how tremendous coach Chuck Pagano looks. His battle with cancer was one of the most compelling subplots in the league last season, and Pagano looks bulked up, robust and is brimming with the energy and enthusiasm that made him such an attractive head coaching candidate.

"I feel 1,000 percent back," Pagano said. "It's like that never happened."

General manager Ryan Grigson said: "The greatest thing is now we're not even thinking about it anymore. He's doing so well and he looks so good. He looks like himself again. He's got that swagger back."

• Quarterback Andrew Luck hasn't missed a beat reconnecting with new offensive coordinator Pep Hamilton, his former coordinator at Stanford. They were only apart for a year, they stayed in close contact and Luck told me this offense will maintain some of the best stuff they did under former coordinator Bruce Arians and won't just be a duplicate of the Stanford offense ("it's not just copy-and-paste from Stanford," Luck said).
"I know it sounds cheesy and corny to say," Luck said, "but it does feel like old times. I know training camp isn't supposed to be easy -- it's demanding and grueling -- but the level of familiarity has made it an easy transition."
Hamilton said: "It's been somewhat seamless, primarily because Andrew Luck has a photographic memory. There are things he may not remember initially, but once he sees it and processes it, there's always some recall. He's a brilliant guy, and he's a full-time football player, versus managing the rigors of balancing the demands of being a student-athlete at Stanford. He can handle large volumes of information and go out and execute all of the above."
• I caution it is very early, still, but free agent receiver Darius Hayward-Bey has been a revelation thus far. He's always had speed, but focus, catching ability and consistentcy dogged the former top-10 pick in Oakland. He seems to have something going with Luck, at least for now. "He's made some big plays," Pagano said, noting the Colts are looking to improve on picking up yards in big chunks this season.

• Grigson, a former burly offensive lineman himself, has a bit of a thing for Boston College linemen. His left tackle, Anthony Costanzo, a first-round pick, went there, as did free-agent signing Gosder Cherilus, his starting right tackle, as well as rookie tackle Emmett Cleary.
"They're all in the same mold," Grigson said. "They're big, tough, smart, physical and are good enough athletes."

While some will nitpick the amount the Colts gave some initial free agent signings, Grigson showed more patience in waiting to find value in Ahmad Bradshaw, who if healthy could be a tremendous complement to bigger Vic Ballard, and also in landing Matt Hasselbeck, one of the best backup quarterbacks in the game. Both could pay big dividends.

Hasselbeck immediately became an essential sounding board for Luck, as the veteran has seen it all from being a top franchise quarterback to battling for a starting job, and his mentorship skills are beyond reproach. Plus, he is one of the better options out there as a spot starter should Luck get dinged. "Everyone told us what a great guy Matt was, and he and Andrew just hit it off right away," Grigson said.

Bradshaw has been dogged by foot problems for years, but as Grigson points out, he averaged 4.6 yards per carry and rushed for 1,000 yards last season despite a broken foot, and the Colts won't let him rush back, starting him on the PUP list. "He's a warrior," Grigson said. "He would have been out there in minicamp if we let him."

I suspect Bradshaw plays a bigger role in this offense than some would think should he manage to stay relatively healthy, particularly in spread concepts.