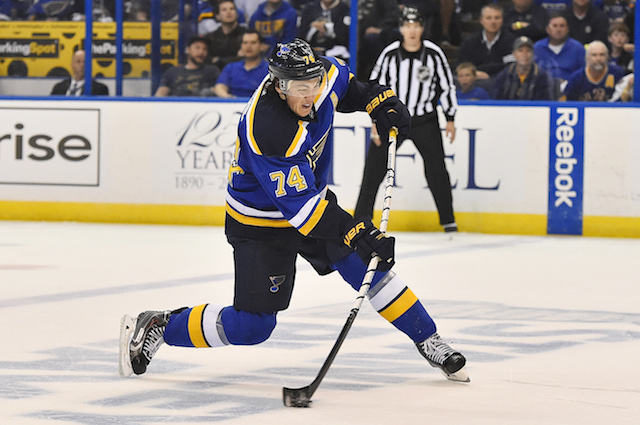 Following another postseason disappointment there was speculation that the St. Louis Blues might do something to shake up their core. 
On Thursday they did exactly that when they sent forward T.J. Oshie to the Washington Capitals in exchange for Troy Brouwer, goaltender Pheonix Copley and a third-round draft pick in the 2016 NHL draft.
"T.J. is an outstanding skater with a tremendous skill set," Capitals general manager Brian MacLellan said in a team statement. "He is a powerful player and has consistent track record of production throughout his career in the NHL. We feel that he complements our core group nicely and can help us get to the next level in achieving our ultimate goal. We also want to thank Troy for his contributions to our organization on and off the ice and wish him well in St. Louis."
It's the second major move for the Capitals in the past 24 hours and came just after the team signed free agent forward Justin Williams to a two-year contract on Wednesday night. Those moves coincide with the likely free agent losses of Joel Ward and Eric Fehr.
Oshie, 28, is perhaps best known for his shootout performance for team USA its win over Russia at the 2014 Olympics in Sochi, but he is more than just a shootout specialist. He is a very skilled, top-six forward that has developed into a 20-goal, 50-point player since he was selected in the first round (No. 24 overall) of the 2005 NHL draft.
Oshie's name has been mentioned in trade rumors for much of the offseason as the Blues look to make changes to a roster that has consistently been great in the regular season but been unable to go on much of a run in the postseason. When they were able to avoid a matchup against the Los Angeles Kings or Chicago Blackhawks in the first round this season it seemed like it might finally be their chance to make a move in the Western Conference, but they were instead eliminated by the Minnesota Wild in six games. 
His name had been connected to the Pittsburgh Penguins entering the NHL draft, but when they acquired Phil Kessel from the Toronto Maple Leafs on Wednesday that pretty much ended that speculation. 
In exchange, the Blues bring in Brouwer, who is a year older than Oshie and posts similar numbers, but isn't quite as skilled. He also brings more of a physical approach to his game. Given that Oshie is the more skilled player it's a bit of a gamble for the Blues. 
The obvious benefit for the Blues is financial as Brouwer is entering the final year of his contract that counts $3.6 million against the cap while Oshie is signed for two more years at a rate of $4.175 million per year. So the Blues also save a little bit of cap space this season and clear even more next season. The Blues still need to sign restricted free agent Vladimir Tarasenko to a new deal and he is going to get a significant raise.