How Mike Gundy nearly became a Tennessee Vol
Oklahoma State coach Mike Gundy explains how he almost left his alma mater for Tennessee, a job that went to Butch Jones after Gundy declined.
• 4 min read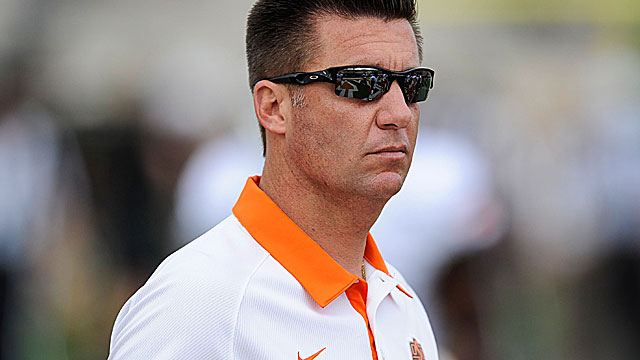 STILLWATER, Okla. -- Mike Gundy thought seriously about leaving Stillwater -- where he's played quarterback, served as head coach for eight seasons and made his home -- because of scheduling.
Yes, scheduling.
Well, on paper that was the reason. But to Gundy, scheduling symbolized a broader issue. He didn't think scheduling two kickoff games -- Mississippi State in Houston in 2013, Florida State in 2014 in Cowboys Stadium -- maximized Oklahoma State's chances to win a national title. And from Gundy's view, if you're going to promise a recruit or a staff member one thing, it's that you'll do everything in your power to win one.
"I felt if what I was saying to recruits wasn't coming true, then I couldn't do the job and I needed to go somewhere else," Gundy said.
There are two sides to Gundy's argument. Beating Florida State or Mississippi State could bolster the Cowboys' resume, possibly helping a one-loss Big 12 team squeeze into a four-team semifinal in 2014-15. But Gundy felt a nine-game conference schedule was hard enough, plus playing a beast in September can throw off normal preparations to transition into a season while giving up a home game.
Anyway, there were the Gundys on an early December night. Tennessee had approached him -- more like applied a full-court press, actually. According to sources, Governor Bill Haslam and Browns owner Jimmy Haslam, a UT alum and Bill's brother, were involved in the three-day courtship.
The Vols pursued Gundy and Louisville's Charlie Strong, who both declined, before hiring Cincinnati's Butch Jones.
One of Gundy's three sons was Googling Knoxville schools. Another asked him what a Volunteer was. He didn't know, but for a moment, he thought he wanted to find out full-time.
"At some point, that's where we thought we were going to go," Gundy said.
He and wife, Kristen, weighed their options, then slept on it. He drove to work the next morning and realized he just couldn't do it. He cared deeply about OSU, and he wanted to find common ground with athletic director Mike Holder. He called Tennessee and told them he was flattered but couldn't take the job.
That common ground, according to Gundy, is that Gundy and Holder would have productive discussions about future scheduling.
Holder, who in December provided a thoughtful response to the Tulsa World on the matter, said Thursday he's on the same page with his head coach but that the athletic director will always have final say on scheduling, just like most athletic directors around the country.
"We've always talked, and we'll continue to talk," Holder said. "He wants to play all his games in Stillwater, and I'm in the same camp. But it's not always practical or possible to do that … Whenever possible, we're going to schedule in Stillwater."
OSU is getting serious money for those kickoff games. Gundy doesn't know the exact number, but he's heard around $2.5 million for Mississippi State and more than $3 million for Florida State.
That's hard to pass up. He understands this. ESPN wants Oklahoma State's potent no-huddle offense.
Holder wouldn't confirm those numbers but said the payday will certainly benefit OSU.
Gundy believes he can win in Stillwater long-term.
"I just think we felt like in the long run this was as good an opportunity as any if we could come to some agreement," Gundy said about staying. "I think we did come to some agreements. We have long-range plans. I just needed to know what the plan was. That way, no matter what it was, I knew going in what it was. I have to feel comfortable with that."
The Cowboys have games scheduled out to 2020, but also have plenty of available dates.
Gundy believes disagreements between a coach and an AD are natural; OSU's business just went public.
"What head coach and AD agree on everything? They might not say it, but Mike and I do," Gundy said. "Nobody wants to win more than him and me. He's given me everything I need. If there's an assistant coach we need to hire money-wise, he does it."
Eight years into a 65-win career at OSU, Gundy can be his own man. He's 45 now. Screaming "I'm a man! I'm 45" doesn't have the same appeal as it did five years ago.
Gundy rarely hears about his famous rant anymore, but one thing is clear: The Cowboys are a better program because of it.
Gundy estimates he's scored close to 20 close-call recruits in the last five years because of how much mothers loved how he publicly supported a player.
"It's one of the first things to get brought up in homes," Gundy said. "Looking back, you feel a little better about it now that people recognize you as an individual for the job you've done here more so than for being a YouTube sensation."
CBS Sports HQ Daily Newsletter
Get the best highlights and stories - yeah, just the good stuff handpicked by our team to start your day.
Please check the opt-in box to acknowledge that you would like to subscribe.
Thanks for signing up!
Keep an eye on your inbox for the latest sports news.
Sorry!
There was an error processing your subscription.
Will this be the year that Michigan gets over the hump?

A feature on Florida State's recent struggles pins the blame squarely on Fisher's shoulder...

Taking a look at the likely candidates for UConn if the AAC decides to stay a 12-team conf...
UConn's athletic program is likely on the move to the Big East, just not the football team

The incident occured when Holloman and the victim got into an argument following UGA's 2018...

Phillips is the No. 4 cornerback in the next recruiting class