Orioles win games, lose players -- and every day, remind us more of the 2008 Rays
The Orioles won another game Tuesday, moving back into a first-place tie with the Yankees for the fourth time in a week. They also lost another key player, for the second time in four days. The more they win, the more they surprise us, and even the more they suffer seemingly key injuries, the Orioles remind us of the 2008 Rays.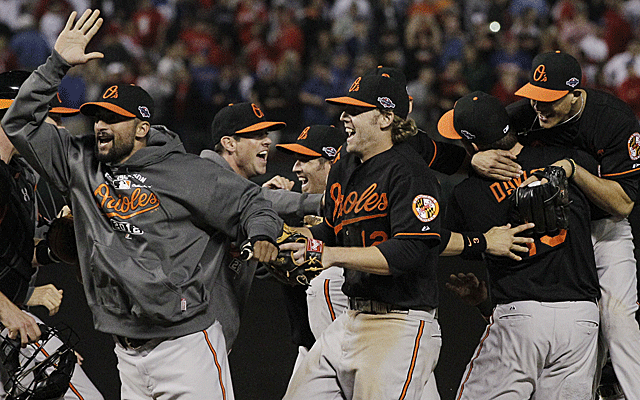 The Orioles are 25-7 in one-run games this year but only 4-12 in games decided by seven or more runs.
(US Presswire)
BALTIMORE -- They win games. They lose players.

They keep thinking they're going to win, even if no one else does.

"I'm not worried at all for this team," Jason Hammel said Tuesday night, after he became the Orioles' most recent big casualty, in the Orioles' most recent big win.

For the fourth time this week, the Orioles are tied with the Yankees atop the American League East, after Tuesday's 9-2 win over the Rays. For the second time in four days, the Orioles won a game while losing a key player.

The good news: They're looking more like the 2008 Rays every day.

Hammel, who played for that last team to shock the world and win the East, drew the comparison over the weekend, in anticipation of this week's Rays-Orioles series.
More on Rays-Orioles
Stories

"Just a bunch of guys kind of hitting their stride together," he said. "Very confident. We're just having fun."

The Rays were like that four years ago. To a certain extent, they still are now, but it's never as much fun as it is the first time, when you're really shocking the world.

That Rays team was like that. This Orioles team is like that.

And we tend to forget it now, but that Rays team dealt with two huge injuries down the stretch. They lost Carl Crawford, who had been through all the years of losing and emerged as maybe the best player on the team that won. And they lost Evan Longoria, who was the American League Rookie of the Year that season.

Yes, kind of like the Orioles, losing Nick Markakis, who had been through all the losing and emerged as maybe the best player on this team. And now they've probably lost Hammel, who will see a doctor Wednesday but didn't sound too confident that his season will continue.

Hammel left Tuesday's start in the fourth inning, complaining of the same pain that pushed him to have surgery on his right knee in mid-July, forcing him to miss nearly two months. Tuesday's start was just his second since coming off the disabled list.

"I thought we'd cleaned it up," he said. "I know I can help this team when I'm healthy . . . I don't want to be done."

The Orioles rotation is enough of a grab-bag that they often seem to go day to day, waiting as long as possible before naming their starters for a series. As of Tuesday, they hadn't yet committed to a starter for Thursday's series finale.

Not all the uncertainty is injury-related. Most of it, in fact, isn't. But no team in baseball has made more roster moves than the Orioles, and no team is as accustomed to seeing the faces change.

"We've been down this road many times this year," manager Buck Showalter said. "A lot of challenges. So we're kind of experienced at it, anyway."

When Markakis went out, Showalter moved Nate McLouth to the leadoff spot. That's the same Nate McLouth who was released by the Pirates at the end of May, with a .140 batting average, the same Nate McLouth who was playing at Triple-A Norfolk a little more than a month ago, and the same Nate McLouth who had become the Orioles' third-place hitter.

McLouth's story is a good one, but is it any better than the Dan Johnson story for the Rays in September 2008, the day-long trip to Boston capped by a game-winning home run off Jonathan Papelbon in perhaps the most important game of that pennant run?

There's a reason that some of the Rays look at the Orioles and see themselves in a time machine.

"Seeing them in spring training, I knew this would be a tough year in the East," B.J. Upton said Tuesday. "They kind of reminded me a lot of us in '08, young guys having fun. Nobody expected them to win."

Just like those 2008 Rays, the Orioles have dealt with doubters all along. We thought they were supposed to fade, so every time they lost a few games or lost a key player we assumed that the fade was beginning.

Now we look up, with just 21 games left on the schedule, and we see that they're tied with the Yankees -- again.

The comparison with the 2008 Rays isn't exact, to be sure.

The Rays of '08 won 97 games. They scored 103 more runs than they allowed.

The Orioles of 2012 have allowed 22 more runs than they've scored. They made it this far because of an insanely good record in one-run games (25-7) and a very good record in two-run games (22-13).

Before Tuesday, they were just 4-12 in games decided by seven or more runs.

You can argue whether the record in the close games is the result of luck, a good bullpen or overall toughness. You can imagine what the Orioles think it's a result of.

"They're a professional, hard-driving group that has its mind set on a goal," Showalter said.

You can imagine Joe Maddon saying much the same thing in September 2008, even if you can imagine that Maddon would have used a few different words. You can imagine the Rays players saying what Hammel said Tuesday night.

"These guys are going to be just fine," he said.

They have been so far. They've been fine for 141 games, so fine that they're once again tied with the Yankees.

It's quite a story. And it's only getting better.
New England native will start from the rear of the field in Sunday's playoff race

A playoff driver could join Martin Truex Jr. in the Round of 12 with a win on Sunday

Denny Hamlin and Kevin Harvick will look to build off momentum in order to catch Martin Truex...
The team of children agreed among themselves to follow Colin Kaepernick's stand against in...

Did Elliott cheat to finish second in the NASCAR playoff opener? You be the judge

Kahne has been with Hendrick Motorsports since the 2012 season and is currently in contention...