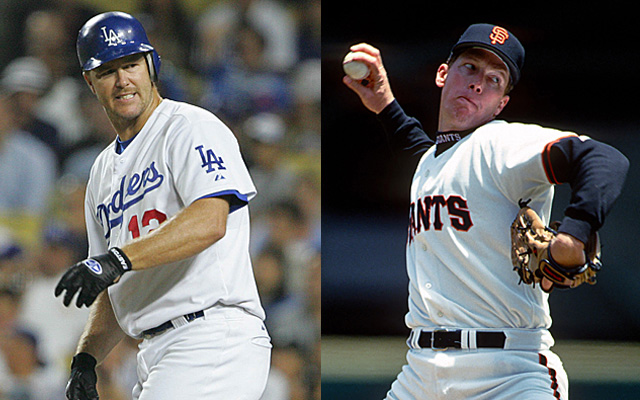 More MLB: Scoreboard | Standings | Probable Pitchers | Sortable Stats | Odds
The Dodgers have now officially announced the signing of former Giants closer Brian Wilson. Man, it's gonna be weird seeing him don the threads of his former team's most bitter rival. Then again, he's far from alone in playing for both teams.
Let's run down some of the more notable players to wear both uniforms.
For the sake of brevity -- as well over 200 players have worn both uniforms in the bigs -- we're sticking to the Los Angeles Dodgers and San Francisco Giants. Apologies to Joe McGinnity, Burleigh Grimes and Lefty O'Doul fans.
Again, this isn't an all-inclusive list. Just 10 notable players who played for both teams during the West Coast years.
Dusty Baker (Dodgers 1976-83; Giants 1984) - Most well known as a player for his years with the Dodgers -- where he collected three World Series rings and his only two All-Star trips -- Baker then went from the Dodgers to the Giants for just one season. And it's possible now he's more associated with the Giants for many, as he went on to manage them for 10 years, going to the 2002 World Series.
Brett Butler (Giants 1988-90; Dodgers 1991-94, 1995-97) - After three real good years for the Giants, Butler signed with the Dodgers and went on to make his only All-Star team while leading the NL in runs and walks, posting a .401 on-base percentage in that 1991 season.
Orel Hershiser (Dodgers 1983-94, 2000; Giants 1998) - Most of us remember the dominant Hershiser slicing through opposing lineups in the last 1980s. He won the Cy Young in 1988 after going 23-8 with a 2.26 ERA and a whopping 15 complete games and eight shutouts. Nearly all of us associate him with the Dodgers, save for maybe a Cleveland Indians playoff memory or two. But in 1998, he went 11-10 with a 4.41 ERA for the Giants. At least he did retire with the Dodgers in 2000, even if he did have an awful line (1-5, 13.14).
Jeff Kent (Giants 1997-2002; Dodgers 2005-08) - Kent was a very good offensive performer in his time with the Dodgers, but the best years of his career came in San Francisco. In his six years there, he was a three-time All-Star, finished in the top 10 of NL MVP voting four times and won the award in 2000.
Jeffrey Leonard (Dodgers 1977; Giants 1981-88) - "One Flap Down" is mostly known for his time with the Giants, in which he was a productive power hitter for several years, making one All-Star team and garnering MVP votes in two separate seasons. He busted into the majors, however with the Dodgers -- for all of 11 games.
Juan Marichal (Giants 1960-73; Dodgers 1975) - I'm guessing Giants fans just block 1975 from their memories in regards to the Giants legend Marichal. He earned his Hall of Fame status due to his 14 outstanding seasons with San Francisco and pitched just two games (13.50 ERA) in '75 for the Dodgers.
Terry Mulholland (Giants 1986, 1988-89, 1995, 1997; Dodgers 2001-02) - The journeyman/jack-of-all-trades Mullholland was very familiar with the Giants and Phillies thoughout most of his career, but never pitched for the Dodgers until he was 38. His stops with the Giants, however, were less than memorable. As a Giant, Mulholland went 8-22 with a 5.18 ERA.
Jason Schmidt (Giants 2001-2006; Dodgers 2007, 2009) - Schmidt was outstanding for the Giants, going 78-37 with a 3.36 ERA, three All-Star trips and two top-five Cy Young finishes. When he went to the Dodgers his career fell apart. Fun fact: He's still only 40 years old.
Reggie Smith (Dodgers 1976-1981; Giants 1982) - He won three rings and made three All-Star teams with the Dodgers, compiling an impressive .297/.387/.528 line in his six years with Los Angeles. He then finished his career with the Giants. Not that it was a bad season by any stretch. He hit .284/.364/.470 with 18 homers and 56 RBI in 106 games.
Duke Snider (Dodgers 1947-62; Giants 1964) - He's essentially the reverse of Marichal here. Duke is a Dodger. Period. He played 16 years and 1,923 games for the Dodgers (the last five seasons as a Dodger came in L.A., so, yes, he qualifies here), racking up 389 homers and 1,271 RBI in Dodger blue along with a .300/.384/.553 triple-slash line. But in 1964, he played 91 games for the Giants before retiring, putting up a .210/.302/.323 line with just four homers.
Some more of recent vintage: Steve Finley, Kenny Lofton, Brad Penny, Jose Uribe