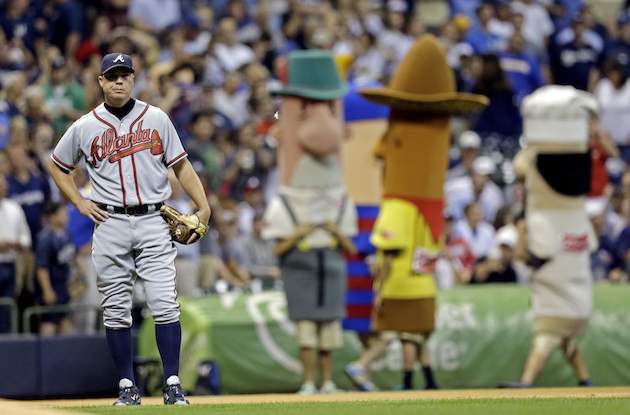 Chipper Jones could play his last game in a one-game playoff. (AP)
As we get closer to the end of the season, we're going to hear more and more about the new playoff format. I happen to like its biggest (and intended) result, division titles mean something with those teams avoidng the one-game playoff. The Braves' Chipper Jones, though, disagrees.
"I think it's stupid, to be honest with you," Jones told reporters in Philadelphia on Friday (via the Atlanta Journal-Constitution). "But Major League Baseball wants a bunch of teams in the playoffs. There's nothing like cut-throat baseball for the fans. And people love that 163rd regular-season game. They've loved it in the past. I'm sure that's probably what's promoted a second wild-card team. I wish they would've done it a year earlier so we would have had a chance last year."
If I'm Jones and the Braves, I'm probably not sold on the idea of the one-game wild card, either. Atlanta entered Friday's game with a 6 1/2-game lead over the Cardinals for the top wild card slot, and 8 1/2 games ahead of Milwaukee for the second. The team is also 5 1/2 games behind the Washington Nationals in the NL East, so it seems like the Braves are a shoo-in for at least one of the wild card spots.
"You say to yourself, we could possibly have the second- or third-best record in the National League when the season's over and we have to play a one-game playoff just to get in," Jones continued (again from the AJC). "That doesn't seem fair because anything can happen [in one game]. Now if you were to say the two wild-card teams will play a best two-out-of-three [series], I'd be OK with that. I think it's more fair from a standpoint that anything can happen in one game -- a blown call by an umpire, a bad day at the office … at least in a two-of-three game series you have some sort of leeway."
Again, I understand where he's coming from and in his seat, I'd likely feel the same. But if you're talking about fair, is it fair for a team that won its division to sit around for three-to-six days before starting its postseason series?
Whatever anyone at this point says, it's not going to change anything this year and unlikely to change anything down the line. Will it work out as expected? It rarely does, but that's one of the beauties of baseball.
For more baseball news, rumors and analysis, follow @EyeOnBaseball on Twitter, subscribe to the RSS feed and "like" us on Facebook.