Tigers (former) closer Joe Nathan was working his way back from an injury when he felt something earlier this week. Unfortunately, it wasn't too surprising to learn Thursday morning that he had torn his UCL and will need Tommy John surgery in order to come back. It sounds like a career, right?
Actually, he has told reporters he's not retiring but that also may not be his choice. He'll be 41 next season and probably couldn't return until July or August. Keep in mind this will be his second Tommy John surgery. He also looked pretty washed up last year.
Anyway, in looking at the Tigers this season, Joakim Soria is a good closer and they've already started the process of filling in the bridge to him. Young fireballer Bruce Rondon is on the way back, too.
Instead, with this news, I would rather focus on Nathan's career. He seems to have become some sort of punchline since the beginning of last season and some -- definitely not all -- Tigers fans were actually happy with this news. I'm not about to feel sorry for Joe Nathan the person because he got to play professional baseball for the better part of two decades and earned over $85 million doing so.
As for the player Joe Nathan, though, it sucks to see him (possibly!) go out this way.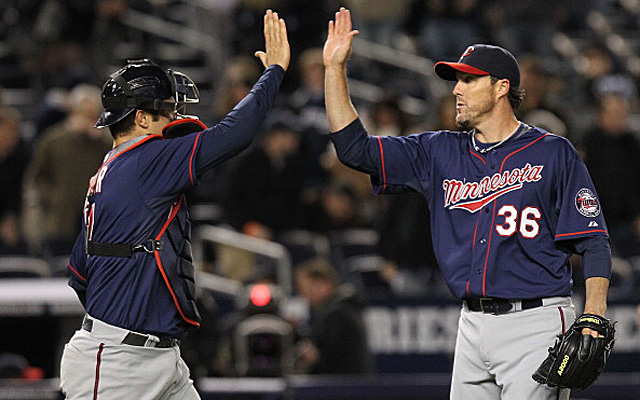 Though overshadowed by the likes of Mariano Rivera, Trevor Hoffman and probably even Billy Wagner, Joe Nathan is one of the best closers of all-time.
Sure, the save is a different thing these days and closers haven't been around for too long, but Nathan ranks seventh in career saves, trailing Rivera, Hoffman, Lee Smith, John Franco, Wagner and Dennis Eckersley.
Nathan sports a better ERA than Smith and the exact same (2.89) as Franco despite playing in a more hitter-friendly era. He boasts a higher career strikeout rate than both Rivera and Hoffman. Yeah, but what about save percentage?
Hmmm ...
Here's the top 10 all time in saves with the save percentage and we'll throw in ERA+, which adjusts for era (and ballpark).
Top 10 all-time in saves
Name
Saves
Blown Saves
Save %
ERA+
Mariano Rivera
652
80
89.1
205
Trevor Hoffman
601
76
88.8
141
Lee Smith
478
103
82.3
132
John Franco
424
101
80.8
138
Billy Wagner
422
69
85.9
187
Dennis Eckersley
390
71
84.6
116
Joe Nathan
377
45
89.3
150
Jeff Reardon
367
106
77.6
122
Troy Percival
358
57
86.3
146
Francisco Rodriguez
349
63
84.7
155
Yes, Nathan has the highest save conversion percentage among the top 10 in saves, even after last season.
He measures up strongly in run prevention, too (we could probably disregard Rivera here, as he has the best ERA+ in baseball history and it's not real close). We should note Eckersley's ERA+ is dragged down by his years of starting here, too.
Anyway, if you want to compare Nathan to some Hall of Fame relievers -- aside from Eckersley, who is already listed above -- who didn't rack up the number of saves required to make the above top 10 due to the different ways they were used back in the day, here are a few:
Nathan vs. Hall of Fame relievers
Name
Saves
Blown Saves
Save %
ERA+
Nathan
377
45
89.3
150
Rollie Fingers
341
109
75.8
120
Goose Gossage
310
112
73.5
126
Bruce Sutter
300
101
74.8
136
Hoyt Wilhelm
202
65
75.7
146
As you can see, Nathan measures up pretty well. In fact, he has the highest save conversion rate ever among pitchers with at least 200 saves (though Craig Kimbrel is at 191 saves and 91 percent right now). It's not surprising to see Fingers, Gossage, Sutter and Wilhelm blowing saves at a much higher rate than Nathan because they were far more often tasked with saves that lasted more than an inning. A cursory look at innings pitched per relief outing gives these guys a huge advantage over Nathan, for example. Still, it's still interesting to see how efficient Nathan was at getting the job one.
He was also the closer of three AL Central champion Twins teams and one Rangers playoff team.
It's awfully difficult to compare eras and I don't think Nathan will or should have a real shot at the Hall of Fame -- Wagner will be an interesting case and he has a far superior résumé -- but it's not off base to say Nathan is one of the best closers in history. Top five? Nah, but if you went to top 10 and were fair, he would be in the conversation for one of the last spots and he's easily top 20.
This is the Nathan I'll choose to remember, not the Detroit punching bag we've seen. Choose your own adventure, though. To each his or her own. Remember, debating baseball should be fun, not an argument where everyone yells and screams at each other.
Research was done on the irreplaceable baseball-reference.com