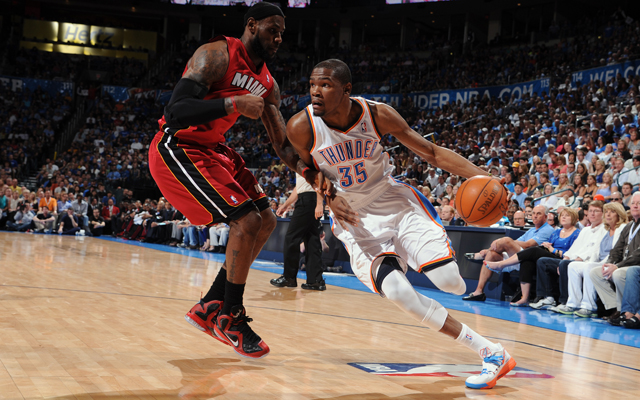 This. So much this.
(Getty Images)
Previewing the 2012 NBA Finals between the Miami Heat and the Oklahoma City Thunder.
Biggest strengthMiami Heat:
Their defense. Their offense is great, don't get it twisted. But this team was built for their offense to spring from their defense, and it is great. They help to the corners, they challenge shooters, they harrass and deflect and create turnovers and shot clock violations. This is a great defensive system featuring some of the best players in the world.
Oklahoma City Thunder:
Their offense. More fireworks than the Fourth of July in Le Flore County. They've got the best offensive efficiency of these two squads and were just behind the Spurs throughout the year. The amazing part is that they don't create a lot of great looks, they just knock everything down. Even
Serge Ibaka
helps space the floor. Throw in their elite athleticism and this is an "unstoppable force meets immovable object" matchup.
Biggest weaknessMiami Heat:
When the offense stalls, it drops out of the sky like a stone. The Heat can run some great sets, can produce some points, but when it goes into isolation mode, bad things can happen. That hasn't happened much in the playoffs because, well, honestly,
LeBron James
has been so aggressive there hasn't been any way to stop them. But if OKC can lull them back into that mode, bad things will happen for the Heat.
Oklahoma City Thunder:
Really quietly, the Thunder defense has not been great. They're good. Don't get me wrong. They're very good. But they're not as good as the Heat. The gap between the Heat defense and the Thunder offense is smaller than the gap between the Heat offense and the Thunder defense, but it's by inches. OKC gets caught out of position trying to do too much on a possession or gambling. They have to stay home. You must make the Heat work for this.
X-FactorMiami Heat:
Mario Chalmers
. Chalmers is what I call a pain killer in this series. He's not going to stop the problem or cure the condition that is
Russell Westbrook
. But if he can just take some of the pain off, he'll have done great. Play passable defense even as he's getting blown by, and hit some shots. Chalmers was incredibly aggressive vs. Boston and it created offense for the Heat. If he can just knock a few points off the Thunder's advantage at point guard, that's huge.
Oklahoma City Thunder:
Turnovers. Force the Heat into sloppy plays and turning the ball over and OKC can run this. They need more possessions than the Heat in order for their offense to create a cushion. They're going to struggle in man-up situations so they need to force bad decisions and turnovers. Doubling on
Chris Bosh
and trapping
Dwyane Wade
would both be good starts.
Matchup Advantage:
Miami Heat:
Chris Bosh vs. the Thunder platoon.
Kendrick Perkins
can't get out in space on Bosh. Serge Ibaka falls for pump fakes like Daffy Duck saying "rabbit season, rabbit season, duck season" and
Nick Collison
can't hang with his athleticism. Bosh, if healthy, can work over any of the Thunder defenders and make his mark on this series.
Oklahoma City Thunder:
Anyone other than LeBron James guarding Russell Westbrook and
Kevin Durant
. Too strong, too fast, too uh... Thunderous?
Will Win If...Miami Heat:
They work to create open looks. This defense isn't systemically dominant. The Heat's execution should be able to create high percetage looks. Now, that may mean open threes for the Heat role players, and if they don't knock them down, they're doomed. But you have to like their chances. The OKC defense doesn't match up well with Miami systemically. They have to exploit that.
Oklahoma City Thunder:
They make things hard for Miami. Miami struggles with adversity. They just ran through a brick wall in Boston, but historically, once things get tough, they shut down. The Thunder have to keep hammering them with big shots and turnovers, frustrating them. Honestly? The Thunder need to get into the Heat's collective head a bit.
And now breaking down Game 1:
1. Where We're At:
Nothing-nothing, and Game 1 is just as huge as every other game. OKC cannot, repeat cannot lose in that building. It's their biggest advantage. Miami, on the other hand, has a chance to grab the series by the throat.
2. The Big Number:
Nine minutes. That's how many minutes Heat coach Erik Spoelstra deployed a lineup of LeBron James at point, Dwyane Wade,
Shane Battier
,
Udonis Haslem
, and Chris Bosh. That lineup was used once in these playoffs, for the entire nine minutes. It was in Game 7 vs. Boston to close the game. It's the lineup that sent the Heat to the Finals. And it may be the best matchup against the Thunder.
3. Key Adjustment:
The Thunder have to play with fire and emotion without letting it get away from them. It's a fine line to walk but this is the best crowd in the NBA in Game 1 of the Finals. It will be an amazing atmosphere, the Thunder just have to make sure it doesn't run away with them.
4. The Big Story:
Pick 'em. Seriously, this one has it all.
5. The Facts:
The 2012 NBA Finals Game 1 tips off at 9 p.m. ET from Chesapeake Energy Arena in Oklahoma City, Oklahoma. Chris Bosh is expected to play but Erik Spoelstra has not and will not indicate if he will start. No other significant recent injuries are listed on the depth charts.