What The Finals Mean: LeBron James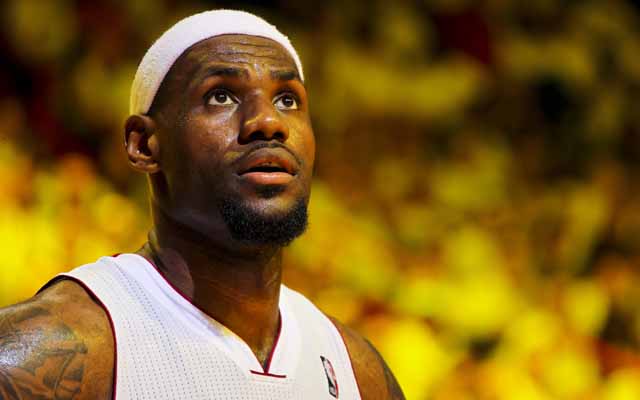 LeBron James seeks his first NBA championship in the 2012 NBA Finals.
(Getty Images)
OKLAHOMA CITY -- What do the 2012 NBA Finals mean for LeBron James? Everything, again.
James has been living an outsized existence since he was pushing a Hummer in high school. Outsized hype, outsized stats, outsized money, outsized expectations and outsized scrutiny. His face should accompany the word "hyperbole" in the dictionary; he exclusively operates in an historic manner, whether succeeding or failing.
2012 is the year that the NBA became the Miami
Heat
forward's league without the need for any qualifications. He won his third MVP award in four seasons. He made his second consecutive NBA Finals. He put to bed all the "Who is the Heat's alpha dog?" questions. He turned 27, officially entering his athletic prime. He refined his game, adding a mid-range jumpshot and better shot selection. He posted career highs in shooting percentage and 3-point percentage. He got engaged: an important symbolic act of maturity. He played all five positions on defense so regularly and dominated lesser competition so thoroughly that the Heat's regular season dates sometimes resembled one-sided junior high school AAU games.
With Kobe Bryant, Tim Duncan, Kevin Garnett and Dirk Nowitzki all falling short of the Finals, James is left as the establishment figure. The fact that his Finals competition, the Oklahoma City
Thunder
, are led by a 23-and-under star trio only reinforces that point. He's the most complete basketball player on the planet. He's the biggest name in the game and the next generation is measuring itself against him.
The always quotable Keyon Dooling said it best after Miami's Game 7 win over the Boston Celtics in the Eastern Conference finals: "He is great for the game. He
is
the game."
2012 NBA Finals Coverage
Analysis

Related links
More NBA coverage
This is James' ninth NBA season. He's reigned over the sport for so long that it almost seems like he would have stumbled into a title on accident by now. But he hasn't, of course. His custom-fit Big 3 roster of stars was pushed to the brink by the Celtics and nearly collapsed against the Indiana Pacers in the second round. His brilliance was the glue that held it together but he's acted in recent days as if his play -- 30. 8 points, 9.6 rebounds, 5.1 assists and 1.9 steals -- hasn't affected or satisfied him in the slightest. You almost want to conclude that he's joined the dark side of his most furious critics, that he's reached the conclusion that none of it matters unless he triumphs in the Finals.
He's preached peace of mind, he's made it known that he plans to have no regrets win, lose or draw. But he's also saved his team from defeat and collapse on numerous occasions, extending his own limits to pull the Heat together against the Pacers and stave off the Celtics.
So, yes, there's a lot at stake over the next two weeks. Losing these Finals would make him 0-for-3 in his career, giving him more series losses in the Finals than Michael Jordan (0) and Kobe Bryant (2) combined. It would be the second straight defeat of his mid-20's and it would come at the hands of a younger team rather than the older 2011 Dallas Mavericks. It would officially signal that James' future championship aspirations were under siege from both sides: the more experienced and the fresher legs. A loss could (and probably should) lead to a re-thinking of the Heat's Big 3 and the full exploration of trade possibilities.
Plus, there are already whispers that
Kevin Durant
would deserve James' crown as best basketball player on the planet; James losing in The Finals would turn the whispers into a cacophony.
Losing would fall on his shoulders, almost no matter the circumstances. Wade hasn't played "A" ball since the Pacers series;
Chris Bosh
is still working his way back from a weeks-long injury; the Heat's role players are, relatively speaking, non-factors. Like any superstar, James wins or James loses, regardless of the quality of his play.
If he wins, he won't get the credit he deserves. Period. But if he loses, again, he will get all the blame, and then more, and more, and more. The personal attacks, the jokes, the questions, the psychoanalysis will all receive a greater exponent. James has been through that process before and he looks as focused as he's ever been this week, doing whatever he can to avoid that fate.
This much is certain: winning would bring the sweetest sense of internal relief, a feeling he -- and anyone else -- can only imagine. Losing will be Hell, pure and simple, in every possible way.
Big enough stakes for you?