The 2015 NBA Draft has come and gone, and we've had some time to process and evaluate what we saw unfold. Now it's time for final team grades. No sense in waiting any longer!
Selections: Marcus Eriksson (No. 50), Dimitrios Agravanis (No. 59)
Acquired Players: Tim Hardaway Jr., two future second-round picks
The Hawks had one of my least favorite drafts of the night. They started the night with the No. 15 pick, and ended up moving down to No. 19 for the price of two future second-round picks. The Wizards then selected Kelly Oubre, a player that could have acted as a pretty nice long-term replacement for DeMarre Carroll in a few years. Then, instead of insuring themselves against the potential of Paul Millsap leaving by taking the No. 11 player on my board in Bobby Portis, they traded out of the first round altogether for Tim Hardaway Jr., a guy that shot 39 percent last season and really struggled to defend. He fills a depth need on the wing, but I'm not convinced he and two second rounders are worth giving up for Oubre, Portis, or any other higher variance pick at all. In fact, that one didn't make sense to me in the slightest. Their second round picks were both stashes. Eriksson is a smooth shooter that missed a majority of the season with a torn ACL. Agravanis is a potential stretch-4 at 6-10 out of Olympiakos. Overall, it just seems like an awfully squandered opportunity out of the pick swap from the Joe Johnson trade. 
Draft Grade: C-
Selections: Terry Rozier (No. 16), R.J. Hunter (No. 28), Jordan Mickey (No. 33), Marcus Thornton (No. 45)
The Celtics were very active in trade talks but ultimately ended up not making any moves. And the draft was ultimately a strange one, because had the Celtics simply reversed taking Hunter at No. 16 and Rozier at No. 28, this draft would look a lot more normal according to my pre-draft rankings. Hunter gives them a shot maker that they kind of lacked prior to this draft, and he should fit well as a player that moves off-ball well in Brad Stevens' system. Rozier is the kind of player that they already have in the system though, with Isaiah Thomas, Marcus Smart and Avery Bradley already there. Mickey is a pretty solid second-round pick that fits a need as a rim protector even if he's only 6-8, and he could legitimately end up becoming a cheap rotation player if things go right. I'm not really high on Thornton, but he'll give them D-League depth. Overall, it's impossible to kill them for not making a trade and they were really in a tough spot. It was a very average draft. 
Draft Grade: B-
Selections: Rondae Hollis-Jefferson (No. 23), Chris McCullough (No. 29)
Acquisitions: Steve Blake, Juan Vaulet (No. 39)
Departures: Mason Plumlee, Pat Connaughton (No. 41)
Brooklyn was high on Hollis-Jefferson throughout the process, and they ultimately got their man at the price of Mason Plumlee. That move could end up going either way, as both players are pretty flawed. It's hard to judge it either way. Plumlee could have acted as insurance in case Brook Lopez leaves, but Hollis-Jefferson will bring terrific, high-energy defense that Lionel Hollins will appreciate. Blake will act as insurance if they trade Jarrett Jack, but I'd still probably rather take a shot on Connaughton. McCullough will ultimately hold the key to this draft, as he's a high-upside guy that could go either way. Is he a prototypical 4 in the NBA at 6-9 with a near 7-3 wingspan, or is he a guy who never really recovers from his knee injury and struggles to play with the speed of the NBA? Juan Vaulet is kind of a surprise to end up in Brooklyn given that most thought he'd end up in San Antonio due to the connection with Manu Ginobili's brother. However, he's a long, athletic wing that may eventually become something.
Draft Grade: B-
Selections: Frank Kaminsky (No. 9)
Departures: Juan Vaulet (No. 39)
Acquisitions: Two future second-round picks
Well, the Hornets certainly got the guy they wanted here. I just question whether or not it was the right move. Frank Kaminsky gives them a guy that can stretch the floor at either the 4 or the 5, potentially even with Al Jefferson on the floor if you think that Steve Clifford can simply just coach defense. He'd also allow them to do some really fun, wide open lines with the frontcourt looking like Nicolas Batum, Michael Kidd-Gilchrist, and Kaminsky. But with Cody Zeller already in tow, this seems kind of redundant even though they do somewhat different things. I probably would have just taken Justise Winslow since he was the best player on the board. Kaminsky is fine here, and his ability to both shoot and attack closeouts will help, I just think they could have filled a bigger need or probably gotten a better player. The Vaulet pick was kind of a shocker given that most thought he'd end up in San Antonio, but I always think grabbing two second round picks for one and giving yourself more lottery shots (especially in a weak second round) makes sense.
Draft Grade: C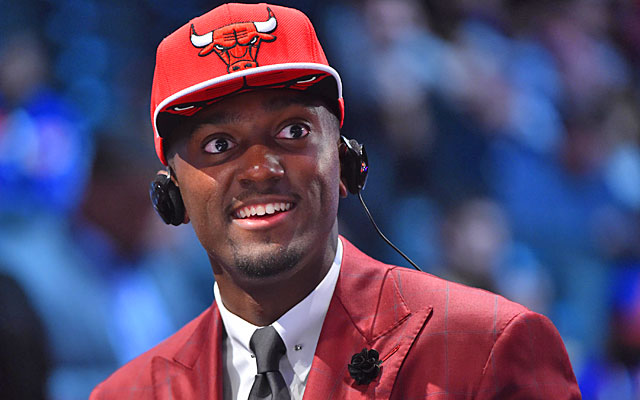 Selections: Bobby Portis (No. 22)
Man, did things work out for the Bulls or what? They end up getting Portis, the No. 11 player on my board, at No. 22, and he couldn't be a better fit. With Fred Hoiberg coming in, the team will likely play a bit more uptempo, and want shooters to space the floor. Portis runs the floor hard as he showed in the fast Arkansas system, can knock down midrange and perimeter jumpers, and will always work his tail off defensively. He also fills a bit of a need to get younger in the frontcourt, as Joakim Noah and Pau Gasol are starting to get quite a bit of miles on the tires, and Taj Gibson is older than most think he is after coming into the NBA at 24. Only Nikola Mirotic is a real long-term piece there potentially, so Portis helps a lot. This is a slam-dunk for me.
Draft Grade: A-
Selections: Cedi Osman (No. 31), Rakeem Christmas (No. 36), Sir'Dominic Pointer (No. 53)
Departures: Tyus Jones (No. 24)
The Cavs ended up deciding to trade their No. 24 overall pick to the Timberwolves for Nos. 31 and 36, and I get why that happened. The Cavaliers will save a bit of money here by not having to pay a first round pick a guaranteed million-dollar contract and getting two second rounders that could join the team next season at the minimum. However, I think they probably would have been better off with Jones on their roster, even if I do like both Osman and Christmas. Jones is a steady playmaker that could have stepped into free agent-to-be Matthew Dellavedova's shoes next season and brought something different (and possibly better down the road). Having said that, I like the two guys here. Osman will be stashed for a couple of years, and the earliest he'll be here is 2017 due to his contract. He's a developable player though that legitimately might make it over, and one of the better stashes in this draft. Christmas fills a need in the frontcourt as a backup, and probably will make the Cavaliers' roster next season if they can get rid of Brendan Haywood's contract. Pointer I'm less convinced makes the roster, but he'll be good fodder for Canton while he learns to play a perimeter position in the NBA. All in all, a decent draft, but one that could have been near an "A" if Tyus Jones was in the wine and gold next year.
Draft Grade: B-
Selections: Justin Anderson (No. 21), Satnam Singh (No. 52)
The Mavericks got a pretty good wing in Anderson that has very high upside as a role player. He's already got an NBA frame at a chiseled 6-6, 230 pounds with a 6-11 wingspan. Anderson is also already an NBA level athlete, as his 43-inch vertical leap shows. This guy is just explosive and really a high motor defensive player. The key to him being a great role player or just a rotation guy will be the shot. He knocked down 45 percent of his 3s this season after struggling there the last two years. If the mechanics he showed this year are legitimate, then he's got a shot to make a ton of money and be very successful in Dallas. If his mechanics are more like the first two years of his career and what they looked like at the combine after he returned from his broken finger, he's probably just a guy. Overall though, definitely a good value at No. 21. In the second round, the Mavs took a flier on Singh, a massive Indian center who is basically just a big body that they're going to throw in their D-League affiliate for a couple years. If he develops, great. 
Draft Grade: B+
Selections: Emmanuel Mudiay (No. 7), Nikola Radicevic (No. 57)
Anytime you get the guy that I had rated at No. 3 on my big board at pick No. 7, I think you've done extremely well. Mudiay is a monster athletically that will overwhelm opponents and get into the lane when he wants, especially in an offense that figures to have solid spacing around him. Also, he'll develop defensively under Mike Malone. More than that though, what this says about Ty Lawson is fascinating. Lawson has already said he's "going to Sacramento" at some point to play with his old coach George Karl, as the Nuggets seem to be sick of his issues. Mudiay will replace him perfectly, and it'll be interesting to see what kind of value the Nuggets get in return for Lawson, who can be a terrific, terrific offensive weapon. In the second round, the Nuggets took a shot on Radicevic, a 6-4 guard with solid feel in the pick-and-roll. He'll be a stash guy, most likely. If he develops, great. If not, he went No. 57 and it's no skin off their back.
Draft Grade: A-
Selections: Stanley Johnson (No. 8), Darrun Hilliard (No. 38)
This is a pretty prototypical Stan Van Gundy draft. The team got more athletic, more versatile, and got better from a shooting standpoint. Johnson will be an incredibly intriguing option next to Monroe both as a small-ball 4, or in the frontcourt with Ersan Ilyasova as a stretch-4 with Johnson as a traditional 3. Van Gundy will have a ton of options with him, and both the player and coach will help each other on both ends of the floor. Having said that, it is worth mentioning that Justise Winslow was on the board here, and Winslow does most of the same things that Johnson does, just better. That knocked this pick down half a letter grade for me, but it's still a great mesh of talent and fit. In the second round, Van Gundy continued to pick a guy that makes sense in Hilliard, a killer shooter that you can trust to make shots and also he's a solid defensive player who can play both wing positions. He was a bit lower on my board, but he wasn't going to find a better fit on both accounts.
Draft Grade: B+
Selections: Kevon Looney (No. 30)
This was an awesome value pick at No. 30, given that Looney was in the top-20 on my board. He was likely flagged due to a hip problem, but it's still up for debate as to how serious it is. Regardless, they picked up value here at a spot where often it is hard to do so, and that's commendable. The question at this point is simply whether or not Looney stays there or if he's moved along in a trade with David Lee to dump money given that they already have over $80 million on their cap sheet next season without Draymond Green signing his deal. If they keep him, I'd say this is a solid B+. But until we know what they do there, this one is tough to call, even in an instantaneous manner. 
Draft Grade: INC
Selections: Sam Dekker (No. 18), Montrezl Harrell (No. 32)
This was an interesting draft for the Rockets given that Josh Smith and Corey Brewer are pending free agents. Dekker would fit as a combo 3/4 forward that can move well off the ball in Kevin McHale's system. The key for him will be developing defensively and/or developing a 3-point shot. The idea of Dekker's perimter length and skillset is great right now, but the pieces don't come together on the floor quite often enough. Get more consistent play out of him, and he's a piece. Where this draft becomes not just salvageable, but downright good, is in the second round. Harrell was the No. 24 player on my big board, and he's a guy that you can just send out there and have him play. He has a huge wingspan, he cares a lot, he'll provide energy and physicality, and will always work his tail off. Motor guys who can defend, rebound and finish have a place in rotations in this league. Where he'll differentiate himself is with the shot. If he can iron that out, he'll be even more than that.
Draft Grade: B
Selections: Myles Turner (No. 11), Joseph Young (No. 42)
Turner in the first round is a pretty good pick, especially given what they want to do with their team. Apparently, the Pacers want to get up and down and run the floor while also keeping their defensive identity. Turner does that, and also will help them space the floor on offense and block shots on defense. The key for him will be to continue to work on his glute strength to improve his running gait and continue to work on his feel for the game on offense. A very solid pick there for me that is worth the risks mentioned above. In the next round, the Pacers took Young, who profiles as a bench scorer if he can get things to work out and can start playing better defense. But he can play next to George Hill, he can really shoot the basketball to space the floor, and he's a strong pick-and-roll player. I like the fit. Overall, a solid double in this draft.
Draft Grade: B
Selections: Branden Dawson (No. 56)
The Clippers started the day with no draft picks, but they ended up buying the No. 56 pick from the Pelicans to select Dawson. It makes sense to me, personally, as the team needs wing defense in the worst way right now after losing Matt Barnes. Dawson is completely useless offensively right now in the same way that Andre Roberson was early in his career, but his intensity and length could benefit the Clips, and maybe the offense comes along just enough. I just wish that I liked him at all as a player talent-wise. 
Draft Grade: C+
Selections: D'Angelo Russell (No. 2), Larry Nance Jr. (No. 27), Anthony Brown (no. 34)
I would have taken Jahlil Okafor, but it's impossible to get mad about ending up with D'Angelo Russell, isn't it? You get lead guard who a preternaturally gifted offensive player both on and off the ball. He's compared himself favorably to Stephen Curry in that regard, and while that may seem lofty, at least before he's played a single NBA game, that's the kind potential many people think Russell has. You also hope that some of Kobe's good traits rub off on him in this season that they're together, and then you make him your franchise centerpiece in a league that is becoming increasingly guard-driven. This was a great pick for the Lakers, and they really couldn't have gone wrong either way. Now the question is simply whether or not they keep Russell, or trade him to Sacramento for DeMarcus Cousins.
On the other end of the first round, they ended up reaching for Larry Nance at No. 27. I don't hate the package of skills by any means: he's a 6-9 forward who can jump out of the gym, defend some, and has potential as a stretch-4 type with his jumper. I just would have liked him a lot more as a project 20 picks later. Finally, the team ended up with Brown, the smooth-shooting wing out of Stanford with a great frame. He should be on this team next season rather easily, and might even end up playing a role given how little depth they could have depending on free agency. He has the range, it's just about learning the speed of the game for him. Overall, a draft that could be franchise-altering because of the Russell pick, plus they got a couple of other guys who might work out really well.
Draft Grade: A-
Selections: Jarell Martin (No. 25)
Acquisitions: Andrew Harrison (No. 44)
Departures: Jon Leuer
One of my least favorite selections of the draft. Martin doesn't exactly fit a need for them, first and foremost. With Zach Randolph, Jarnell Stokes, Jeff Green and JaMychal Green all in the system, the team didn't need a power forward really. But if you're taking a power forward there because you don't think anyone behind Randolph is the guy, why do you not go with Harrell? Both of these guys are physical, tough players that are nearly the same size, only Harrell has considerably longer arms and range of motion, is better defensively, and can be counted on. Martin doesn't have a lot of basketball sense, and has a 6-9 wingspan. I know he's an awesome athlete, but it feels like they left better options on the board. In the second round, the team traded Jon Leuer (who became expendable with the Martin pick) for the No. 44 pick, which became Andrew Harrison. I'm not as down on Harrison as a lot of people are, and think that he could end up being a decent backup point guard with some development in his decision making. Still though, the Martin move sours the taste in my mouth enough to where I can't really give this one a strong grade.
Draft Grade: C-
Selections: Justise Winslow (No. 10), Josh Richardson (No. 40)
The Heat did a terrific thing here. First and foremost, for my money they got the steal of the draft in Justise Winslow at No. 10. Winslow is a winner, pure and simple, and he'll help to upgrade that organization immediately just through his sheer work level. This is a kid that has few holes in his game, and will be able to go to work on just accentuating the skills he already has. But more than that, he fills needs on multiple levels. This team needed bench help badly, and Winslow will afford them the depth to no longer have to play James Ennis if Dwyane Wade and Luol Deng return. But even if those guys don't return, as they both could be free agents pending their options, Winslow now provides some pretty great insurance for them leaving. Just an awesome pickup here. In the second round, the Heat continued to build further wing depth by taking Richardson, who is another guy I like. He's another player that kind of does everything well -- including defend, most of all -- but doesn't have an elite skill. But he does have NBA athleticism, and he's a good ball-handler, passer, and a growing shooter. 
Draft Grade: A+
Selections: Rashad Vaughn (No. 17)
Acquisitions: Greivis Vasquez
Departures: Norman Powell (No. 46), 2017 Clippers first-round pick (lotto protected)
I'm not a big fan of this one. I think they reached for Vaughn in the first round, as I had him at No. 29 on my big board. He's a fine scorer and he's very young, which means he has upside. But he's only an average athlete, and he's going to be a perimeter player largely based on his jump-shooting unless he improves in that regard. Also, this is a team that is pretty close to taking the next step in the Eastern Conference and, at 18 years old, Vaughn probably doesn't help them get there soon as he's still on a two-year plan. Then, the Bucks went and did something that made even less sense to me, trading their second-rounder this year (which ended up being Norman Powell, a guy that I like), along with the Clippers' 2017 lottery-protected first rounder for Vasquez. Vasquez is an okay player, but the team just gave up a first rounder in a draft that is shaping up to be pretty strong for a backup that can't defend with only a year left on his contract. Again, he does a lot well, and he'll make the Bucks a better team, but I think we're only talking marginally better (read: 1-2 wins) for a pick that could be fairly valuable. If Vaughn becomes what they're hoping, good for Milwaukee. But right now I can't bring myself to write a good letter below.
Draft Grade: C-
Selections: Karl-Anthony Towns (No. 1), Tyus Jones (No. 24)
Departures: Cedi Osman (No. 31) and Rakeem Christmas (No. 36)
No one improved themselves more in this draft than the Minnesota Timberwolves. Okay, so that's pretty easy to say when they got the No. 1 overall pick in the draft. But the Wolves not only got an incredible talent in Towns, they also picked up a perfect fit for the things they needed most. Needed some rim protection? Towns will provide that. Needed some shooting? He can run pick-and-pops with Rubio and knock down shots or space the floor by floating out into the midrange. He'll also provide the post game that Flip Saunders will want out of his center. He'll improve the Wolves on many levels, some substantially, over the course of the next couple of years. Then, as if that wasn't enough, the Wolves decided to pounce as the hometown kid was plummetting, moving up in a trade with the Cavaliers to take Duke's Jones. The Final Four Most Outstanding Player will improve the depth behind Rubio, give them another option in the case that they decide to move on from the Spaniard, and also bring a sense of excitement to the team. You cannot do better than this in a draft at No. 1. 
Draft Grade: A+
Departures: Branden Dawson (No. 56)
The Pelicans moved their first-round pick in a trade with the Rockets for Omer Asik, so when evaluating their draft you kind of have to take that into account. But with the coaching hire of Alvin Gentry, it remains to be seen how or if Asik will fit into their plans as a free agent. If he doesn't it's hard to see how they got the better end of that trade. Also, they sold their second round pick, and I cannot get behind that by any stretch. 
Draft Grade: D-
Selections: Kristaps Porzingis (No. 4), Jerian Grant (No. 19), Guillermo Hernangomez (No. 35)
Departures: Tim Hardaway Jr., two future second round picks
I (gasp) like this draft a lot for the Knicks. They decided to select a high-upside guy in Porzingis, and this is an organization that really needed to swing for the fences. Porzingis should have no issues adjusting to American life, even in New York, and if the team can fill some spots around him he'll be a good building block there. The key will be helping him fill out his frame and fostering his ability to think the game a bit better. If the Knicks do those things, he'll very much have a chance of reaching his vast potential.
The Knicks then somehow found a taker for Tim Hardaway Jr., which was surprising to me. They moved him to Atlanta for the No. 19 pick, where they took Notre Dame point guard Jerian Grant. Grant isn't the most perfect fit in the triangle, given that he played in a wide open, spread offense in college, and he can't really shoot consistently quite yet. But he represents a value pick and he'll immediately increase the professionalism of your organization, so if they're willing to diverge from that system, I like it. Finally, the Knicks then dealt two future second rounders to Philadelphia to get Willy Hernangomez, a teammte of Porzingis' in Seville. He's a monster inside, almost impossible for ACB players to move off the block when he establishes position now. His PER in the ACB was over 20 this season, one of the few 20-year-olds to ever accomplish that in the league. Maybe he works out, maybe he doesn't. But regardless, it can't hurt to have one of Porzingis friends on the team in a couple of years, right?
Draft Grade: B+
Selections: Cameron Payne (No. 14), Dakari Johnson (No. 48)
The Thunder just keep on rolling along with solid drafts. I'm not the biggest fan of Payne, having him at No. 19 on my board as opposed to in the lottery like some. But he represents a potentially great fit both next to Russell Westbrook and occassionally spelling him as a steady scoring guard. Not a bad pick there, and he might be able to really outperform his skillset in that situation. The Thunder then made another pretty solid pick in Johnson later on. Yeah, he doesn't represent a need in any way. But the Thunder have one of the best developmental organizations in the league, and they'll send him to the Blue in order to see what they can make out of him. Maybe it'll work out, maybe it won't. But it's certainly the type of upside pick on a former top-10 recruit that could pay off. Overall, just another steady, smart draft from the Thunder and Sam Presti. 
Draft Grades: B
Selections: Mario Hezonja (No. 5), Tyler Harvey (No. 51)
Hezonja is exactly what the Magic needed: a perimeter scorer who can really shoot the ball and space the floor. He'll be able to play with Victor Oladipo, who can take on the tougher defensive assignments, while he does his thing as a 6-8 basketball savant. If Hezonja is an all-star caliber player like many think he is, the Magic's ceiling goes through the roof. The Magic immediately become one of the most fun, must-watch young teams in the NBA this season. In the second round, they took another shooter in Harvey, the NCAA's leading scorer this season. I'm less sold on Harvey as an NBA player. He's not much of a playmaker, and he really can't defend anyone. It's hard to make it in the NBA if shooting is your only skill, even if you can do it in basically every situation. Maybe Harvey proves me wrong, and he fills a need for the Magic, but I'm skeptical on that one working out.
Draft Grades: B+
Selections: Jahlil Okafor (No. 3), Richaun Holmes (No. 37), Arturas Gudaitis (No. 47), J.P. Tokoto (No. 58), Luka Mitrovic (No. 60)
Acquisitions: Two future second round picks
Departures: Guillermo Hernangomez (No. 35)
In the first round, the Sixers were a bit unfortunate to not see Russell fall. However, Okafor is the same kind of talent for the 76ers: an offensive star that could really push the rebuild forward if things go right. Yeah, the team has Nerlens Noel and Joel Embiid. Yeah, I have some questions about whether or not Embiid and Okafor could play together. But these log jams all require Embiid to stay healthy, and that just hasn't been the case so far. With Okafor and Noel, you'd have a perfect fit of Noel really covering for Okafor's defensive deficiencies, and Okafor providing enough offense in the frontcourt for both of them. That combination could really work. Embiid is the wild card there obviously given his potentially transcendent talent, but it's hard to know what you can count on him for right now.
In the second round, the Sixers dealt their first pick for two more, then took Holmes, Gudaitis, Tokoto, and Mitrovic. Mitrovic and Gudaitis will be stashed. I like Gudaitis a lot more, personally, given his mobility and ability to play above the rim. He could become a strong backup. Among the two college guys, Tokoto is a potential defensive stopper that doesn't have a great frame and really can't shoot. Holmes is the lottery ticket here, as he's a long, athletic big man from Bowling Green that kind of did it all last year. He's active, blocks shots, gets hands in passing lanes, rebounds, and can shoot a bit from distance. His feel for the game is a bit low, but if you can help him gain experience and continue to grow mentally in the game, he could work well. Overall, this crop of second rounders ended up being slightly underwhelming, but they'll have a shot to get a guy out of it.
Draft Grades: B+, mostly due to Okafor
Selections: Devin Booker (No. 13)
Acquisitions: Jon Leuer
Departures: Andrew Harrison (No. 44)
This is a solid, if unspectacular night. Booker will fit in really well in small lineups next to Eric Bledsoe and Brandon Knight. He'll help to space the floor and open up the lane for those two slashing and carving up the floor. Booker is a great mover without the ball, and can get his shot off on the move, when stationary, off the catch, or off the dribble. It also comes at a position of need, as Gerald Green will likely leave in free agency and the Suns will be left with guys like Booker, Reggie Bullock, T.J. Warren, and Archie Goodwin to take over. I'm not sure Booker ends up being the most ready of those guys, but I think he has the most upside in the modern NBA. It'll be a youth movement in Phoenix there, so the more guys they have the merrier. In the second round, they traded the No. 44 pick for Leuer, a decent depth floor stretcher. Not the worst move for an organization that has always found good use for them.
Draft Grade: B
Selections: Pat Connaughton (No. 41), Daniel Diez (No. 54)
Acquisitions: Mason Plumlee
Departures: Rondae Hollis-Jefferson (No. 23), Steve Blake
I'm not sure exactly what to make of the Trail Blazers moves over the last few days. It seems to me like they're gearing up for a potential mass exodus in the frontcourt, as they acquired Noah Vonleh and Gerald Henderson for Nicolas Batum and then made a move for another young big man in Mason Plumlee using their first round pick as bait. Plumlee is an athletic guy that will provide insurance if Robin Lopez leaves (and all LaMarcus Aldridge to an extent), and that's worth something. Plumlee is probably pretty close to being what he is at this point given that he'll turn 26 this year, and he didn't totally fit in with Lionel Hollins. Maybe a new start helps him and can make him a solid starter if things go right. If not, at least you know he's a solid rotational big, and that's all you can ask for at No. 23. In the other half of the trade, Portland got rid of the one year left on Blake's deal for a wild card in Connaughton, a tough, physical shooting wing that is an awesome athlete. He'll always give you 100 percent, at the very least. Not a bad choice, although the jury will be out on the main part of the trade. Finally, the Blazers also bought the No. 54 pick from the Jazz and grabbed Daniel Diez, a tough stretch-4 type that knocked down 41 percent of his 3s in the ACB this season and can rebound, although he's a bit undersized. I like that move. 
Draft Grade: B-
Selections: Willie Cauley-Stein (No. 6)
The Kings kept it simple, and proved the words about Cauley-Stein's injuries to be a smokescreen by taking him at No. 6. You can think of this one of two ways. First: could this be an olive branch to DeMarcus Cousins? The team has said that they'll keep him, and Cousins was vocal about wanting Cauley-Stein. Now that he's gotten his man, will that help? Or, could this be Cousins' replacement? Cauley-Stein is the perfect George Karl center, and you can only imagine what pick-and-rolls could look like between he and D'Angelo Russell if the Lakers agree to trade him to the Kings. One thing is for sure though. Cauley-Stein is an incredible defensive player that can guard most forwards and all big men, as well as switch onto point guards with ease. The key will be developing his offensive game and continuing to improve his hands, because the spacing in this offense doesn't seem likely to be good if they play together.But given his athleticism level, this should be successful in some way regardless.
Draft Grade: B+
Selections: Nikola Milutinov (No. 26), Cady Lalanne (No. 55)
A couple of longer term projects for the Spurs. Milutinov is a guy that has been on NBA Draft radars forever. He's started for Partizan since he was a teenager, and really took a step forward this season in his usage. At 7-0 with a 7-3 wingspan and fluid, mobile feet, this is the kind of guy the Spurs develop over the next two seasons and you look up, and there he is as an NBA rotation player. Solid pick for them, I think. Lalanne is an interesting guy to me because of his insane wingspan, but it's going to be tougher for him. He's not the best athlete in the world, and doesn't have a great feel for the game. But he's a great rebounder and has a solid potential jump shot into the midrange, and that has a ton of value now. Maybe he can find a way to make it work?
Draft Grade: B
Selections: Delon Wright (No. 20), Norman Powell (No. 46)
Acquisitions: 2017 Clippers' first round pick
Departures: Greivis Vasquez
Everything I said about not liking things for the Bucks goes the opposite here. The Raptors essentially replaced Vasquez at No. 20 this year with a far cheaper backup point guard in Delon Wright, a move that could help them retain Amir Johnson. For their trouble, they scored an extra first round pick in what is shaping up to be the deep 2017 draft. Yeah it's lottery protected, but they got a first rounder for a guy that likely would not have been with the Raptors 380 days from now when the 2016 free agency period hits. They also picked up Norman Powell, a guy that I'm a pretty big fan of due to his athleticism, motor, heart and attitude. This guy is a terror defensively, wiht a 6-4 frame and a near 7-0 wingspan while being built like a safety. He'll need to either become a slasher or shooter on offense, but for me this is a pretty easy win. 
Draft Grades: B+
Selections: Trey Lyles (No. 12), Olivier Hanlan (No. 42)
Departures: Daniel Diez (No. 54)
I like the Lyles move, but don't love it. Yeah, he gives the organization a different kind of player in the frontcourt, a shooting dimension in theory that they didn't have. Also, Lyles is a great mover without the ball, and Quin Snyder will find something to do with him. Having said that though, Lyles is a shooter right now that can't shoot. He was one of the worst catch-and-shoot guys in the NCAA last season per Synergy, and his mechanics and balance waver. These are fixable problems, but they're going to take some time for him to get there. He probably isn't a massive help to the Jazz this season. But if he hits, he's going to be a great role playing big who gives them something new when they're ready to start making runs in the Western Conference. I like Olivier Hanlan in the second round, and he'll give them some scoring punch as a combo guard, especially if they deal Alec Burks. He's solid in the pick-and-roll and can shoot. In the third pick, they sold their second rounder to Portland, who took Daniel Diez. I knocked them down a third of a letter grade for that.  
Draft Grade: B-
Selections: Kelly Oubre (No. 15), Aaron White (No. 49)
Departures: Two future second rounders
This is a terrific, terrific trade, fit and pick for the Wizards. If you would have told this team that coming into the draft all they'd have to do is give up No. 19 and two second rounders for Kelly Oubre, they probably would not have believed you. This was an easy decision, and it's one that could really pay off down the road. Oubre is such a terrific talent, and if he can harness some of his swagger and confidence into good, he's possibly an all-star. That's the kind of talent we're talking about here when talking the 6-7 wing with a 7-2 wingspan. The question is just whether or not he will continue to work hard and really become the guy who can play next to Bradley Beal and John Wall on the perimeter. If he does that, the Wiz will be very happy with what happens. In the second round, the Wizards took White, a potential stretch-four type that has terrific analytic ratings and solid athleticism at 6-9. He'll probably be in Europe next season. 
Draft Grade: A-