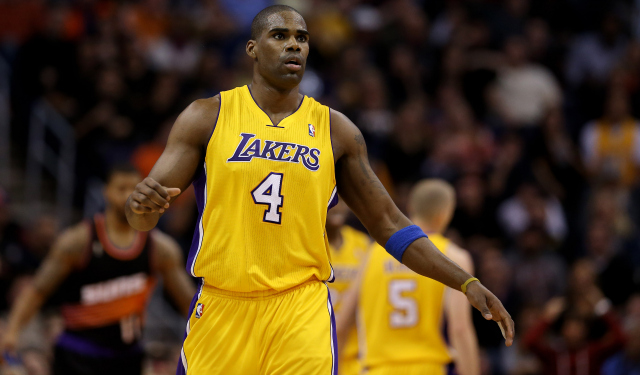 Antawn Jamison is becoming a broadcaster after a 16-year NBA career. He has joined Time Warner Cable SportsNet as a Los Angeles Lakers analyst, the network announce on Tuesday. Jamison spent the 2012-2013 season as a Laker, then joined the Los Angeles Clippers for 22 games last year before being dealt to the Atlanta Hawks at the trade deadline and waived shortly thereafter. 
Jamison said this past summer that didn't want to retire, telling the Charlotte Observer's Scott Fowler that he was "trying to play at least another year." The 38-year-old evidently couldn't latch on anywhere, and if he's indeed done in the league then he'll finish with averages of 18.5 points and 7.5 rebounds per game. Jamison is one of 20 players to compile 20,000 points, 8,000 rebounds and 1,000 assists, per Basketball-Reference. 
Drafted No. 4 overall in 1998 after a stellar college career at North Carolina , Jamison entered the NBA with the Golden State Warriors and spent his prime with the Washington Wizards. He won the Sixth Man of the Year award in 2004 on a stacked Dallas Mavericks squad, then went to Washington and made the All-Star team in 2005 and 2008. At his best he was a dynamic offensive player who could stretch the floor with his outside shooting and get his unconventional floaters off despite the presence of bigger players in the paint. While his defense deteriorated to the point where he had trouble staying on the floor in the past few seasons, as a player he should be remembered as an all-around threat and a professional in the locker room.