Let's say you're not a fan of the Los Angeles Lakers or Boston Celtics or Chicago Bulls or San Antonio Spurs. Let's say you're a fan of a team that has never won an NBA championship before and the suffering has been long and frustrating. When your favorite NBA team finally breaks through and hoists the Larry O'Brien trophy, you're going to scoop up all of the championship merchandise you can possibly find/afford. Even more so if your favorite team does it in a historic fashion against the 73-win Golden State Warriors, you're going to create your own special purchase to celebrate this bit of NBA history.
That's what longtime Cleveland Cavaliers fan and former Cavs blogger Conrad Kaczmarek just did. After being prompted by a fellow Cavs fan for the idea of getting a personalized California license plate with "3 1 Lead" to commemorate the Cavs and their comeback from a 3-1 NBA Finals series deficit, Conrad pulled the trigger like a side-step Kyrie Irving 3-pointer to win the Finals. The "3 1 Lead" California license plate is the ultimate bit of personalized trash talking you could possibly create. And even better, he already has the "Cleveland Cavalirs 2016 NBA Champions" license plate holder to house his new license plate.
The purchase through the DMV was $48 plus it's $40 every year to renew the plate in California. We don't have actual pictures of this quite yet because it's going to take about 8-12 weeks for him to get the plates, but this purchase was certainly worth it or as he put it, "It's certainly a purchase."
Full disclosure: I know Conrad, personally, so I decided to ask him a few questions about this purchase and he was kind enough to oblige.
Q: Is this the best purchase you've ever made?
Conrad: Hmm good question. I'd go with second best. I once bought this set of collectible DeSagana Diop, Eric Williams, Dajuan Wagner nesting dolls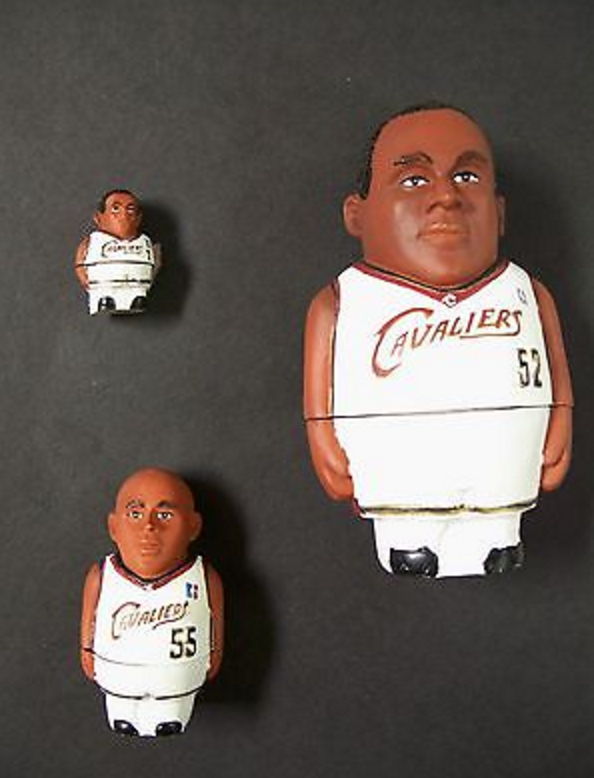 Q: What prompted you to search this out and purchase the license plate?
Conrad: A fellow Cavs fan tweeted out the idea, lamenting the fact that they didn't live in California. Since I do live in California, I figured somebody had to step up and make this happen original tweet:
Q: Do you have a car?
Conrad: Yes, I have a car. And it already has a "Cleveland Cavaliers 2016 NBA Champions" license plate frame on it, so this will complement it nicely.
Q: Cavs fans are a pretty passionate and close bunch, especially after all of the sports suffering being erased by the Cavs erasing a 3-1 lead and winning the title. We've seen fans burn jerseys before it was cool, eat poop, flood the streets of Cleveland and celebrate a shirtless J.R. Smith. At any point, have you considered that even though you own a car to put the license plate on, you could start a kickstarter and have Cavs fans donate enough to buy you a new car? Some kid just got 2,000 Venmo transfers for putting his Venmo name on College Gameday and asking for beer money. You could next level this thing.
Conrad: I considered at least trying to get Cavs fans (and fans of moderately hilarious memes) to pay for the license plate registration fees, but I figured I'd just do it myself. People can spend their hard earned money on other stuff.
Q: Ok, last question and you've been very generous with your time. You'll get this plate in a few weeks and you'll take a pic of the plate with the frame on your car. Besides LeBron, who is the Cavs player you hope will retweet or repost an Instagram pic of your creation and who is the player you expect to retweet or repost?
Conrad: Oh wow. In a perfect world Timofey Mozgov would share it because Timofey Mozgov trolling the Warriors about the Finals when he barely played and isn't even on the Cavs anymore would be hilarious. But if we're being honest, it seems like JR Smith is probably the most likely guy to clown the Warriors publicly on Instagram. Either one would make me happy.
Just another month and a half before the Cavs defend their first NBA championship.