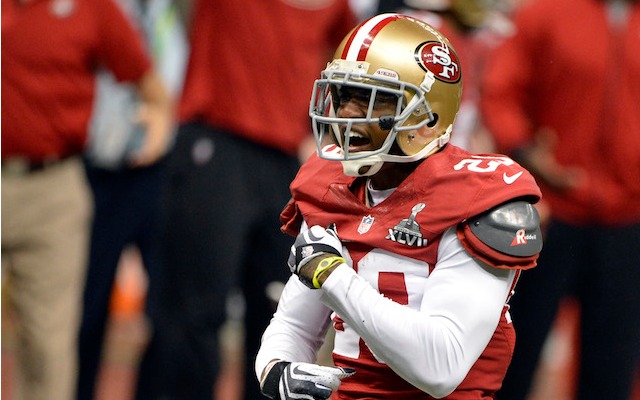 Draft coverage: Draft picks and grades | Prospect Rankings | Mock drafts | News
Back in March, 49ers cornerback Chris Culliver was arrested in California for allegedly hitting a bicyclist with his vehicle. After the collision, Culliver allegedly attempted to flee the scene, but he ended up getting cornered by someone in an SUV who witnessed the incident.
Culliver then allegedly threatened the eyewitness with brass knuckles before driving off. The 49ers defensive back was charged with misdemeanor hit-and-run and felony possession of brass knuckles -- two charges he pleaded not guilty to on April 11. 
The legal woes from that incident aren't over yet though because now, Culliver is being sued by the SUV driver, according to NBCBayArea.com.
In the lawsuit -- which you can read here -- the driver of the SUV seeking an unspecified amount in general damages, economic damages and punitive damages. 
According to the driver of the SUV, Marc Santos, Culliver hit his car while he was trying to flee the scene. Santos, who had his wife and three children in the car with him, followed Culliver -- who was driving a mustang -- and blocked the 49ers corner in at a cul-de-sac.
At the point, Santos says that Culliver threatened his 15-year-old son with brass knucked and called him a 'low-life wetback.' 
The alleged racial slur comes on the heels of an incident Culliver had in the week leading up to Super Bowl XLVII. In that case, the 25-year-old made headlines when he made anti-gay comments in the week leading up to the game.
Culliver later apologized for his remarks, "I'm sorry if I offended anyone. They were very ugly comments. Hopefully I learn and grow from this experience and this situation."
The 49ers declined to comment on the lawsuit. As for Culliver, he's scheduled to appear in court again on May 14, when a judge will decide if there's enough evidence to move the original case to trial.