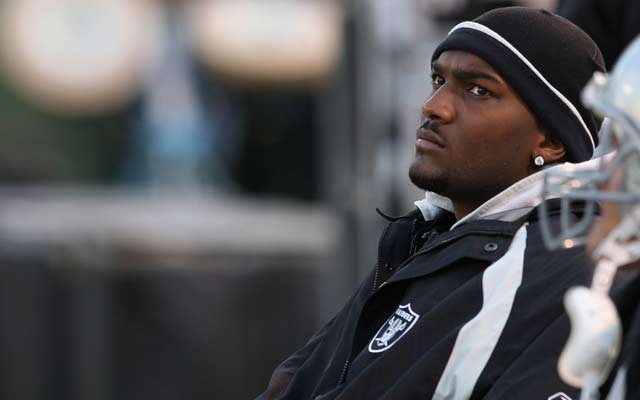 The Oakland Raiders haven't lived up to their slogan of "Commitment to Excellence" for a decade. Since losing to the Tampa Bay Buccaneers in Super Bowl XXXVII, the Raiders have been plagued by questionable personnel decisions and bad player contracts. Reggie McKenzie, who was the Green Bay Packers director of football operations before being hired as general manager in January 2012, is overseeing one of the NFL's most difficult tasks in his attempt to rebuild the Raiders. 
Oakland's problems can be traced to iconic owner Al Davis breaking up a solid team he assembled on the football side of the organization in 2002 by "trading" head coach Jon Gruden to the Buccaneers. The Bucs parted with their 2002 first- and second-round picks, their 2003 first-round pick, their 2004 second-round pick and $8 million dollars. 
The move was a preemptive strike by Davis because Gruden, who had a 40-28 record in Oakland, may have left the Raiders once his contract expired after the 2002 season. High-ranking executive Bruce Allen, who managed the salary cap, joined Gruden in Tampa Bay two years later as general manager. Michael Lombardi, the top personnel executive, was let go when Lane Kiffin was hired as head coach in 2007. 
Mortgaging the future
The Raiders won three Super Bowls in an eight-year span during the mid-'70s and early '80s but haven't been to the playoffs since their Super Bowl appearance during the 2002 season. Davis was constantly in search of a quick fix as a way back to the glory days in the final years before his death in 2011.
A 2005 first-round pick (seventh overall) and LB Napoleon Harris were dealt to the Minnesota Vikings for Randy Moss following a 5-11 season in 2004. The mercurial wide receiver was sent to the New England Patriots for a fourth-round pick in 2007 after two lackluster seasons in Oakland. A 2008 second-round pick and a 2009 fifth-round pick were traded to the Atlanta Falcons for DeAngelo Hall in 2008.
Richard Seymour was acquired from New England during the 2009 preseason for a 2011 first-round pick (17th overall). Seymour was entering his contract year and was on the verge of turning 30 years old while the Raiders were coming off a 5-11 season. A 2010 third-round pick was given to the Browns for Kamerion Wimbley, who was also entering his contract year in 2010. Jason Campbell was acquired from the Washington Redskins during the 2010 NFL Draft for a 2012 fourth-round pick.
There were two trades made in the aftermath of Davis' death that were consistent with his trading philosophy. Head coach Hue Jackson, who was the sixth head coach since Gruden's departure, became the de facto general manager in the power vacuum created when Davis died. A 2012 first-round pick and a 2013 second-round pick were traded to the Cincinnati Bengals for Carson Palmer when Campbell broke his collarbone after leading the Raiders to a 4-2 start in the NFL's weakest division.
Acquiring another quarterback was understandable, given the circumstances, but the compensation was excessive considering that Palmer hadn't been to the Pro Bowl since the 2006 season, was coming off of a mediocre 2010 campaign and "retired" because he didn't want to continue playing for the Bengals. By comparison, the Philadelphia Eagles received second-round and fourth-round picks from the Redskins in their 2010 trade of Donovan McNabb.
Aaron Curry, the fourth overall pick in the 2009 draft, was picked up for a 2012 seventh-round pick and a 2013 fifth-round pick. These trades left the Raiders with just fifth- and sixth-round picks in the 2012 draft until they were awarded compensatory picks in the third, fourth and fifth rounds.
Recent draft history
The extra draft picks for Gruden didn't help to position the Raiders for future success. None of the players selected with those picks (Phillip Buchanon, Tyler Brayton, Langston Walker, Sam Williams and Ryan Hoag) became foundational players for the Raiders. The picks were indicative of Oakland's drafts during the latter part of Davis' tenure. Below is a chart outlining Davis' first round picks in those years.
Davis had an opportunity to change the Raiders' fortunes after securing the first selection in the 2007 draft because of a 2-14 record in 2006. Kiffin and the Raiders scouts were reportedly in favor of drafting All-Pro wide receiver Calvin Johnson. 
JaMarcus Russell was selected because Davis viewed him as a franchise quarterback that could lead the Raiders back to prominence. In all fairness, Russell wowed NFL teams at his workout leading up to the draft. Russell went on to produce only seven victories in 25 starts with the Raiders. He was benched midway during the 2009 season, his final season in Oakland. 
Russell is widely considered as one of the biggest draft mistakes in NFL history. He also became the poster boy for a flawed rookie compensation system, which has been changed, that rewarded unproven high draft picks like Pro Bowlers. Russell made $39.365 million during his three years in Oakland.
Darrius Heyward-Bey, a reach as the first wide receiver taken in the 2009 draft, was selected largely on the strength of clocking the fastest 40-yard dash time at the NFL Combine. He was projected to be a late first-round pick. Michael Huff was the only one of these first round picks to receive any honors. He was named second team All-Pro in 2010. Darren McFadden is the only one of Davis' first-rounders still with the Raiders.
Bad player contracts
In response to a 4-12 season in 2007, the fifth straight year with double-digit losses, the Raiders engaged in an offseason spending spree. More than $200 million worth of contracts were given mostly to players who ultimately wouldn't make much of an impact while in Oakland.  
Hall received a seven-year, $66.285 million contract (worth up to $70 million with escalators) as a part of his trade from the Falcons. He was released after struggling in man-to-man coverage after only eight games. He made $7,588,235 during his time with the Raiders.
Javon Walker signed a six-year, $55 million contract, including an $11 million signing bonus, after the Denver Broncos released him following an injury-plagued 2007. He only contributed 15 catches for 196 yards and one touchdown in 11 games over two seasons with the Raiders in which he made $14 million.
Gibril Wilson became the NFL's third-highest paid safety with a six-year, $39 million contract. He was released after one season because he failed to upgrade a run defense that ranked 31st in the NFL during the 2008 season. Wilson earned $9.005 million for his one year in Oakland.
Tommy Kelly received a seven-year, $50.125 million contract (with $17.5 million in guarantees), which was the richest deal in NFL history for a defensive tackle. Kelly's contract was shocking because he was given it while recovering from a torn ACL in his right knee. The Raiders got a much better return on their investment with Kelly than from their other high-priced 2008 signings. He played five seasons in Oakland under the deal.
The agent community was pleased with the Raiders' liberal spending. These contracts helped drive up the market for other players at those positions.
Encouraged by an 8-8 record in 2010, Oakland's best finish since 2002, Davis opened up his checkbook again prior to the 2011 lockout. Seymour, who played the 2010 season under a $12.975 million franchise tag, signed a two-year, $30 million contract. The deal made Seymour the NFL's highest paid defensive player. He earned $42.975 million over three years from the contracts he signed while with the Raiders. Stanford Routt received a three-year, $31.5 million contract which made him the NFL's third-highestpaid cornerback.
Other owners weren't happy with Davis' lack of fiscal restraint because of its potential to undermine their position in negotiations for a new collective bargaining agreement. Wimbley was also designated as Oakland's franchise player. He signed a five-year, $48.5 million contract after the lockout ended.
Salary cap mess
McKenzie inherited a mess due to Oakland's player-friendly contracts and lack of long-term vision. Although the Raiders had an 8-8 record in 2011 with Jackson at the helm, using the season as a stepping stone was virtually impossible given Oakland's salary cap philosophy and exorbitant contracts. The Palmer trade compounded the cap problems because of his high salaries. Palmer had three years remaining on his contract at $12.5 million in 2012, $13 million in 2013 and $15 million in 2014.
The Raiders began the 2012 offseason with more than $154 million committed toward the $120.6 million salary cap, with little more than $3 million of cap room to carry over from the 2011 season. In order to reduce their cap obligations by approximately $31 million to comply with cap rules, McKenzie restructured (Palmer, Seymour, etc.) and terminated contracts (Routt, Wimbley, etc.).
Routt and Wimbley were paid $5 million and $6.5 million respectively in 2012 because their contracts contained guarantees without offsets. An offset clause allows a team to reduce the guaranteed money owed to a player when he is released by the amount of his new deal with another club. Without an offset, the player receives his salary from the team that released him in addition to the full salary from his new contract with another team. The Raiders had the third-highest amount of dead money in 2012, which are cap charges for players no longer on the roster, at slightly over $28 million.
McKenzie was handcuffed by the cap again when the 2013 league year began in March, which prevented serious attempts at re-signing Desmond Bryant and Philip Wheeler. Bryant received a five-year, $34 million contract from the Browns. Wheeler signed a five-year, $26 million deal with the Miami Dolphins. McKenzie transactions detailed in the chart below, have given the Raiders an NFL high $49,301,750 of dead money.
Raiders' Dead Money
Name
Position
Dead Money
Transaction
Richard Seymour
DT
$13,714,000
Contract Voided-2013
Carson Palmer
QB
$9,340,000
Trade-2013
Rolando McClain
LB
$7,260,000
Release-2013
Tommy Kelly
DT
$6,324,270
Release-2013
Darrius Heyward-Bey
WR
$5,260,000
Release-2013
Michael Huff
S
S3,288,750
Release-2013
Aaron Curry
LB
$1,508,000
Release-2012
Kevin Boss
TE
$1,500,000
Release-2012
Dave Tollefson
DE
$725,000
Release-2013
DeMarcus Van Dyke
CB
$295,688
Release-2012
Others
N/A
$85,767
Release-2012/2013
Total
N/A
$49,301,750
N/A
McKenzie parted ways with Davis' final two first-round picks, Heyward-Bey and Rolando McClain. Huff is currently counting $11,288,750 on Oakland's cap because he was designated as a post-June 1 cut. His cap charge will reduce to $3,288,750 when his 2013 salary is removed from the cap on June 2.
Seymour's $13.714 million cap charge is a result of two contract restructurings, one which took place before McKenzie was hired, where voidable years were added to his contract to create more than $16.5 million of cap room in 2011 and 2012. Once Seymour's contract was voided in early February, the proration from the additional years accelerated into the 2013 cap.
The bright side of McKenzie's roster purge is that Oakland will have the most cap room in the NFL next year. The Raiders currently have $54.5 million of cap obligations in 2014. Assuming Oakland's 10 draft picks make the team, the cap obligations will increase to $62.4 million with 50 players under contract in 2014. The Raiders could have more than $60 million of cap room heading into 2014 free agency.
The rebuilding process
McKenzie promptly fired Jackson even though he did a respectable job in his one year as Raiders head coach. His performance was irrelevant because McKenzie wanted to select his own coach. Dennis Allen, the Broncos' first-year defensive coordinator, was hired as Jackson's replacement. He is the first Raiders head coach from a defensive background since John Madden. The Raiders took a step backward in Allen's debut season. The team's 4-12 record was four games worse than under Jackson.
McKenzie hasn't been able to fully implement his rebuilding plan because of cap issues and a lack of early draft picks. Unlike in 2012 when Oakland's first draft choice was a compensatory pick at the end of the third round, the Raiders initially had the third overall selection in this year's draft.
McKenzie accomplished his goal of trading down by acquiring the 12th overall pick and a second-round pick from the Dolphins in exchange for the third pick. Cornerback D.J. Hayden was taken with the 12th pick. The Raiders were criticized in some circles for not receiving fair value in the trade.
However, McKenzie was prepared to select Hayden with the third pick absent a trade and he gained a second-round pick comparable to the one lost to Cincinnati in the Palmer trade. McKenzie's draft class has received favorable reviews, particularly the Hayden pick. Offensive tackle Menelik Watson and linebacker Sio Moore, selected in the second and third rounds, are likely starters. Quarterback Tyler Wilson, who was taken in the fourth round, is considered as a sleeper pick.
Limited cap room has forced McKenzie to be a bargain shopper in free agency. Linebacker Nick Roach has been the Raiders' most expensive acquisition. He signed a four-year, $13 million deal with $5 million guaranteed. Most of the free-agent signings have been one-year deals. A few are in the $1 million to $1.5 million range, with upwards to an additional $1 million in not-likely-to-be-earned incentives. Most notably, Tracy Porter, who was named AFC Defensive Player of the Week for Week 1 before missing a majority of last season because of a seizure, and 2009 Pro Bowler Mike Jenkins, were signed to help shore up Oakland's secondary.
The Raiders will have a new starting quarterback since Palmer was traded to the Arizona Cardinals. Oakland only received a 2013 sixth-round pick and a conditional 2014 seventh-round pick (if Palmer starts at least 13 games this season) while also giving up a 2013 seventh-round pick.
McKenzie didn't have much leverage because most teams thought Palmer probably would have been released at some point since he was unwilling to take a modest pay cut to reduce his $15.335 million cap number. Matt Flynn, who McKenzie has a comfort level with from their Green Bay days, was acquired from the Seattle Seahawks for a 2014 fifth-round pick and a conditional 2015 pick. He is expected to start at quarterback.
With an abundance of 2014 cap room, McKenzie will finally have the financial flexibility to put his stamp on the Raiders. If McKenzie adopts the Green Bay philosophy as anticipated, don't expect him to make a splash in free agency similar to the Dolphins this year.
The Packers are usually judicious in free agency where they typically sit out the first wave when teams overpay players in a seller's market. McKenzie may have to modify the philosophy because the collective bargaining agreement requires teams to spend 89 percent of the cap in cash over four year periods of 2013 through 2016 and 2017 through 2020. Only the Jacksonville Jaguars are scheduled to spend less money than the Raiders this year. The Raiders are projected to have a 2013 payroll of approximately $101 million.
As core players on their rookie deals enter their contract year or approach free agency, McKenzie will likely attempt to extend their contracts. There aren't a lot of players who qualify right now, but offensive linemen Jared Veldheer and Stefan Wisniewski probably fit that profile.
The most intriguing situation may be McFadden's. He's been unable to reach his potential because he's been plagued by injuries during his five seasons in Oakland. He was ineffective last year in the zone-blocking scheme implemented by offensive coordinator Greg Knapp, who was fired after the season.
The power-blocking scheme under new offensive coordinator Greg Olson could help McFadden return to his 2010 form when he posted his only 1,000-yard rushing season. The Raiders will have plenty of cap space in 2014 to carry McFadden's $11.586 million franchise tag number, if necessary.
Mark Davis, who assumed ownership when his father passed away, has indicated he will be patient with McKenzie during the rebuilding process. Even though expectations are not high for the Raiders in 2013, McKenzie could find himself on the hot seat if there is regression from last year's 4-12 season. Staying patient may be easier said than done for Davis especially if the Kansas City Chiefs, a division rival, show significant improvement after a league-worst 2-14 record in 2012.
The Indianapolis Colts raised the bar on rebuilding by going from a 2-14 record in 2011 to the playoffs in 2012 after a roster purge similar to the Oakland's. Indianapolis had a league-high $38.79 million of dead money last season. The biggest difference in the two situations is the Colts were able to draft a franchise quarterback, Andrew Luck, in 2012 with the first overall pick while one wasn't available for the Raiders in this year's draft.
The Raiders' return to respectability could come sooner than anticipated if Flynn plays more like the quarterback who shined in limited duty with the Packers during his four years backing up Aaron Rodgers than the one who couldn't beat out Russell Wilson in Seattle. Otherwise, Oakland should have an early pick in 2014 that could land Jadeveon Clowney or Teddy Bridgewater.  
---
Joel Corry is a former sports agent who helped found Premier Sports & Entertainment, a sports management firm that represents professional athletes and coaches. Prior to his tenure at Premier, Joel worked for Management Plus Enterprises, which represented Shaquille O'Neal, Hakeem Olajuwon and Ronnie Lott.
You can follow him on Twitter: @corryjoel
You can email him at jccorry@gmail.com