Andy Reid is not happy with the Texans -- not just because the Chiefs lost to them Sunday, but because Reid says a Texans player intentionally flopped to draw a flag during a crucial play.
With under three minutes to go in the fourth quarter and with the Chiefs down by 10 points, returner Tyreek Hill scored a touchdown on a 105-yard return. Suddenly, the Chiefs were within striking distance, though they were still lacking timeouts.
A holding call on Steven Nelson for blocking Charles James (of Hard Knocks fame) negated that touchdown, however. According to Reid, James flopped on the play to draw the flag.
"[James] knew he was outflanked, so he literally flopped," Reid said, per the Kansas City Star. "Nelson put his hands out, put him down and the kid just jumped into his body. Obviously from the officials' perspective it didn't look like that."
Reid's expression in the moment really says it all.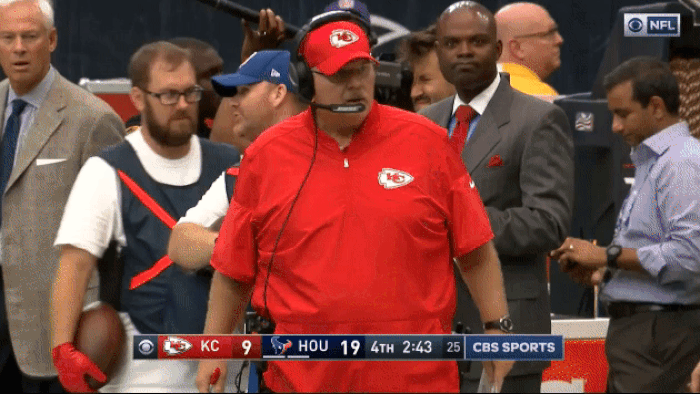 So, is Reid right? To answer that, let's go to the tape.
Here's the play in question:
You'll see James and Nelson engaged near the 22-yard line. It ends with James falling over Nelson, who went to the ground first. Apparently, the officials believed that Nelson tugged James to the ground.
That doesn't appear to be the case. Let's break it down frame by frame.
1. No holding
2. Nelson falls, his hands are on the ground
No. 3: James appears to dive onto Nelson
It's tough to see, but I think Reid has a point. With that being said, his team was down by 10, with no timeouts, and with less than three minutes remaining. Reid can only blame himself for that.
For what it's worth, James denied the accusations.
"I got blocked, in my back," James said Tuesday, per the Houston Chronicle. "So, you get blocked in your back and you fall. Nah man, this ain't basketball. It's kind of hard to flop in football."