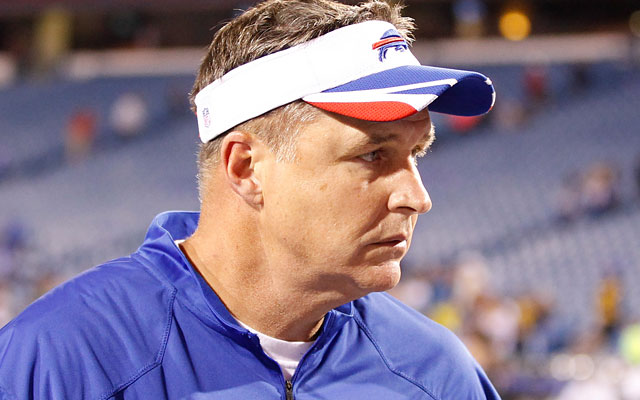 Tension between Bills coach Doug Marrone and the team's front office spilled over recently in a loud verbal altercation on the practice field between the head coach and several team officials, according to numerous sources with knowledge of the situation, punctuating what had been a tumultuous preseason for the franchise as it awaits word on new ownership.
The Bills, currently for sale after the passing of founding owner Ralph Wilson with formal bids due by mid-September, made news in the preseason when Marrone, who can be combustible, erupted publicly after two straight days of explosive training camp fights. Issues between the coach and the media have come to the fore as well, with him now using public relations officials to address injuries during his news conferences. Behind the scenes, things have been festering as well, sources said, with the blow-up between team officials shortly before the end of the preseason and final cuts, within earshot of players, shocking many who witnessed it.
The incident began with Marrone, who sources said has had a strained relationship with director of player personnel Jim Monos from their time together in New Orleans, getting into a loud exchange with Monos in which the men were cursing at each other to the point where others noticed ("they were more or less MFing each other," is how one source put it). General manager Doug Whaley then intervened. The expletives continued and finally team president and acting owner Russ Brandon tried to defuse the situation by getting involved in an attempt to get all parties to "shut up," as one source put it. But that too escalated into more yelling and hollering, with Brandon and Marrone ultimately separated by their peers and Marrone, in earshot of players, making remarks along the lines of "go ahead and fire me," before order was restored and the team took the field for practice.
Arguments are not uncommon within NFL meeting rooms, and disagreements and debate can be healthy, but the nature of this episode -- not quarantined to a back room, and within the vicinity of players at practice -- struck several witnesses as highly unusual, as well as the fact it escalated from one official to the next. Marrone has also clashed with some players this offseason, most frequently linebacker Jerry Hughes, team sources said, and has made comments around the team which have drawn the ire of some players. Sources said Marrone has referred to himself as "Saint Doug" at times, referencing the fact that it takes two miracles to be canonized as a saint, and that he already pulled off one miracle by winning at Syracuse and alluding to the fact it would take another miracle to win in Buffalo.
The front office has also bristled at how certain players are being used, sources said. Team executives believe tackle Cyrus Kouandjio, this year's second-round pick, warranted more of a long look this summer, were unhappy that emerging receiver Robert Woods was benched at times, and they were also at odds over guard Kraig Urbik, who the personnel side believes is a quality guard (he just received a contract extension a few years back) but who Marrone has soured on (the team explored trades for Urbik before roster cuts, league sources said).
There is obvious uncertainty within the ranks as well about the future of the team, and how much change and transition is imminent with the club's sale likely finalized by the October NFL owner's meeting, and a new ownership team coming in (which generally leads to sweeping changes in short enough order). If Terry Pegula, owner of the Buffalo Sabres, has the winning bid -- and numerous league sources believe that's more or less a fait accompli --then it's less likely the franchise is overhauled right away, and could lead to fewer changes overall. Regardless, this is definitely a time when the entire organization is about to be more or less under review, a factor lost on no one there.
Expectations have been ratcheted up that this won't be another 6-10 season following successive bold moves in the first round to select under-fire quarterback EJ Manuel and then to deal next year's first-round pick as part of a package to move up and land receiver Sammy Watkins in May. But Manuel's progress remains very much in doubt, Watkins was banged up in the preseason and the offensive line could be a major cause of concern as well for Marrone, a former offensive coordinator in New Orleans, who will be expected to get things going on that side of the ball.
The Bills open their season Sunday against the Bears, and perhaps the series of events this summer will serve to bond them together. But there are also reasons for concern that some of these interpersonal dynamics will only end up leading to more issues through the season, particularly if the team struggles.