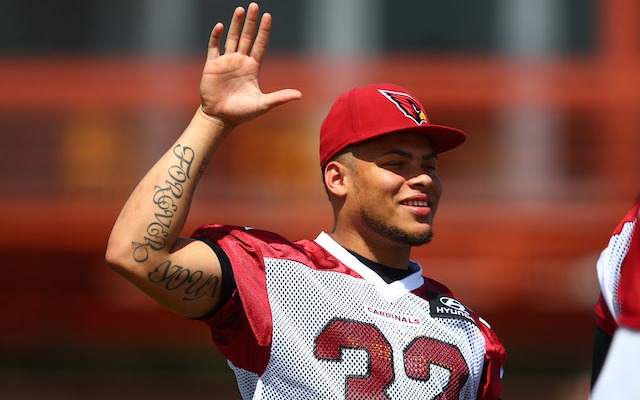 More NFL offseason: League minicamp dates | Latest news, notes
Before tearing his ACL in December, Tyrann Mathieu's rookie year in the NFL was a whirlwind of success. The former LSU safety was named the league's defensive rookie of the month in October and ended up finishing fourth overall in the Defensive Rookie of the Year voting. 
However, Mathieu almost never made it to the NFL -- and it wasn't because of his multiple failed drug tests in college -- it was because he almost decided to take his own life. In an interview with Fox Sports Arizona this week, Mathieu said his life was headed for suicide after he was arrested in 2012. 
"I'm sitting in that jail cell thinking, 'I don't know if I want to go back out there and face the music,'" Mathieu said. "I didn't know how I was going to commit suicide in the cell, but that was the direction my life was heading."
The former LSU Tiger had already been kicked off his college team when he was arrested in October 2012.
Eventually, Mathieu heard some encouraging words from an unlikely place.  
"Believe it or not, my cellmates were encouraging me, telling me I was a good football player; telling me I don't need to be thinking about this," Mathieu said. "That's probably why I really didn't do it, but there was an actual moment where I was thinking about, and I'll never forget that feeling."
Mathieu's reason for opening up? "I wanted to be an example for others again," Mathieu said.
The Cardinals safety also made a slight change to his Twitter profile by adding the sentence, "I've tried committing suicide. But I didn't, look at me now."
Mathieu has since change his profile again, but the message stands, a message Mathieu hopes to turn into a foundation. 
"I want to start a foundation called Second Chance," Mathieu said. "I was given a second chance, so I want to reach out to different groups of people. It would be nice to give that opportunity to others."
As for his football career, coach Bruce Arians said this week that he's hoping to have Mathieu back by October. Mathieu tore his ACL in Week 14 last season.
"I'm not going to hurry them," Arians said when asked about the ACL tears of Mathieu and Alameda Ta'amu. "We have plenty of time. If they aren't ready for the first day of training camp -- which I doubt anyway, because I've never thought that. I had Oct. 1, or after the [Week 4 bye] as the target date for me personally. If they do something better than that, God bless 'em."