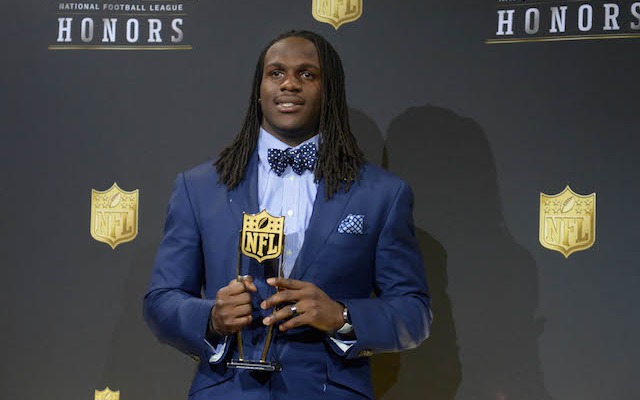 More NFL: Photos |   Videos & GIFs |  Stories | Training Camps | Johnny Manziel watch 
Jamaal Charles' holdout is over before it ever really even got a chance to start. The Chiefs running back agreed to a new deal with the team Wednesday that will add two years to his current contract, CBS Sports NFL Insider Jason La Canfora has confirmed. 
The deal means Charles won't be missing any training camp. Kansas City's veterans were due in camp Wednesday and Charles will be reporting -- once he gets some gas. 
I had no intention on holding out...I just ran out of gas on the way to camp and my cell phone battery died. It was a long walk I tell ya.

— Jamaal Charles (@jcharles25) July 23, 2014
Along with adding two more years to Charles' previous contract, the new deal will make him the second-highest paid running back in the NFL in 2014, behind only Adrian Peterson, who's scheduled to make $11.75 million in base salary this season.
The new deal will add $18.1 million in new money to Charles' contract. The Chiefs running back signed a six-year, $28 million deal in 2010 that would have paid him $3.9 million in 2014. However, under the new deal, which runs through the 2017 season, Charles will pull in $8.3 million this season.
Even though Charles has only been playing for six seasons, he's already on pace to be one of the all-time greats.  
So far @jcharles25 has 5823 rush yds & 5.6 avg. Jim Brown is only RB in @NFL history to finish career w/ 5000+ rush yds & 5.2+ avg

— Randall Liu (@RLiuNFL) July 23, 2014
In 2013, Charles did everything for the Chiefs. The 27-year-old running back led the team in rushing yards (1,287), rushing touchdowns (12), receiving yards (693) and receiving touchdowns (7). 
Those stats led to Charles' third Pro Bowl appearance of his six-year career. 
The Chiefs now have a few other contract extensions to worry about, like getting linebacker Justin Houston and quarterback Alex Smith signed to long-term deals.