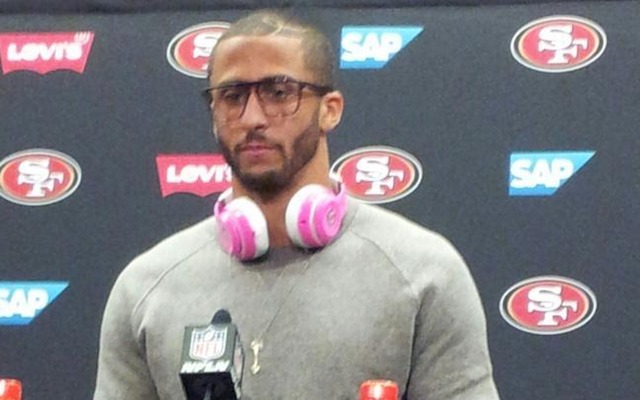 Players might think twice about wearing Beats headphones on game day after what happened to Colin Kaepernick.
The 49ers quarterback said on Thursday that he was fined $10,000 for wearing the headphones during his postgame press conference following San Francisco's 22-17 win over Kansas City. 
The NFL confirmed last week that the popular 'Beats by Dre' headphones have been banned due to the league's partnership with Bose.
Basically, players aren't allowed to wear Beats headphones before games or at any other time where cameras might be around at an NFL event.
The game day ban runs until 90 minutes after a game has finished. The Beats ban also includes any training camp or offseason workout session where a player might be interviewed on-camera.
The NFL pretty much had to lay down the hammer on Kaepernick -- if only to make a point -- because not only did the 49ers quarterback wear the headphones in his press conference, but the official 'Beats by Dre' Twitter account also posted a picture of him wearing Beats at the game. The account has over 620,000 followers. 
.@Kaepernick7 came to play. Go-ahead TD pass FTW. #BeatsByDre pic.twitter.com/lfGCtumBD2

— Beats By Dre (@beatsbydre) October 6, 2014
So will Beats pay the fine?
"We'll let that be unanswered," Kaepernick told CSNBayArea.com.