Eric Weddle describes ugliness in San Diego: Chargers are 'dead to me'
Eric Weddle seems pretty happy to be out of San Diego.
One of the least surprising moves of the 2016 offseason was Eric Weddle's departure from San Diego.
Despite the fact that Weddle's a three-time Pro Bowler and led the team tackles a total of five times during his nine seasons with the team, the Chargers made it clear that they didn't want him back. 
How clear? 
Coach Mike McCoy basically told him to his face while Weddle was sitting in a hot tub with Philip Rivers the day after San Diego's regular season finale.
Things were already contentious between Weddle and McCoy -- the Chargers had put Weddle on injured reserve in Week 17, even though he thought he was healthy enough to play -- and they reached kind of a boiling point in the hot tub.
Here's what happened, according to Weddle.
"What are you guys still doing here?" McCoy said, according to Weddle.

"We're figuring out the roster for next year," Weddle said. "And you have a lot of work to do."

Then McCoy surprised him.

"Where are you going to go next year?" he said. "Any particular team you want to go to?"

Weddle didn't know what to say.

"That's when it finally hit me," he says. "They really don't want me back."
If that wasn't a slap in the face enough, Weddle also explained that general manager Tom Telesco didn't seem to respect him. 
"He said I had a lot of mileage," Weddle said, via Bleacher Report. "They brought me in to make things better, and made things worse by treating me like I was a nobody. It was shocking."
Weddle, who signed with the Ravens this week, still doesn't understand why the Chargers didn't want him. 
"I never did one thing wrong. Never was late to a meeting. Never was fined. Never refused to do a charity function for them. Never didn't sacrifice," Weddell said. "I was a leader, a captain, an All-Pro. And they showed me the door. I'm as loyal as anyone and will do anything for people I respect. But if you don't give that back to me in return, you're dead to me. So I could never go back to that place after what they put me through."
If Weddle sounds bitter, it's because he is. Besides the injured reserve incident, there was also the time that the team fined him $10,000 because he stayed out at halftime to watch his daughter's performance during halftime of the Chargers' Week 16 game against Miami.
The Chargers were leading 23-0 at the time. 
Weddle isn't excited that he has to move his wife and four kids across the country, but he does sound excited about landing in Baltimore. 
"Coming from a place that didn't want me to a place that would do anything to get me, it means the world," Weddle at his introductory press conference in Baltimore on Wednesday. "I'm forever indebted to this organization of playing my best and doing whatever I can to help win."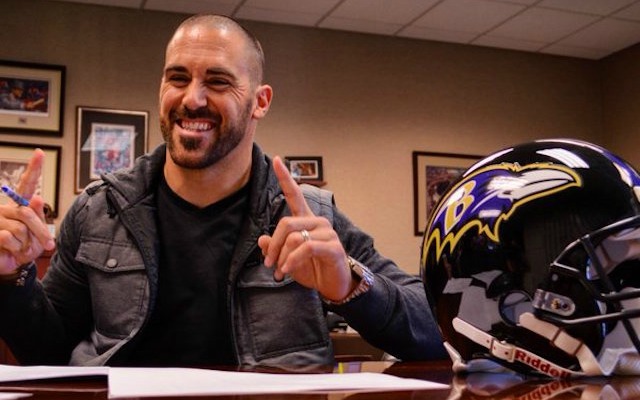 Pick Six Newsletter
Get the day's big stories + fun stuff you love like mock drafts, picks and power rankings.
Please check the opt-in box to acknowledge that you would like to subscribe.
Thanks for signing up!
Keep an eye on your inbox for the latest sports news.
Sorry!
There was an error processing your subscription.
NFL teams are prohibited from any in-person prospect meetings ahead of the draft

With Tom Brady on the Bucs, Jarrett Stidham and Brian Hoyer are the only two QBs on New England's...

Dempsey also battled Alzheimer's disease and dementia since 2012
The Jaguars take the first wide receiver in this draft, changing up the draft board for receiver-needy...

Wolfe wants to be on the Ravens well past this year

Clowney, a three-time Pro Bowler, will be the prized edge rusher on the market if he hits free...
Breaking down the latest rumors, news, signings and trades across the NFL

Check out all the picks made during the CBS Sports HQ three-hour mock draft special

Live scores, highlights and updates from the Jaguars vs. Colts football game