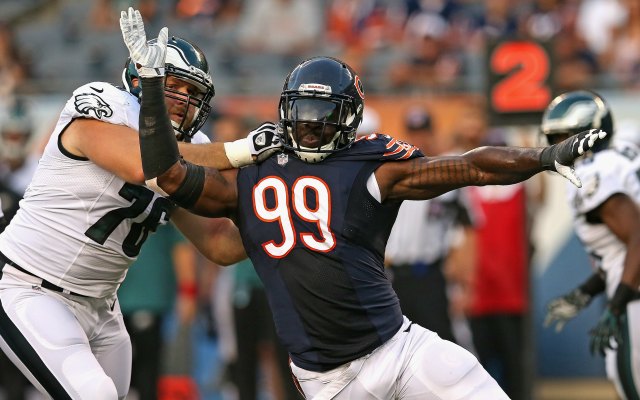 Bears linebacker Lamarr Houston played a supporting role in last week's Colin Kaepernick controversy in which the NFL said the 49ers quarterback used the N-word while he was engaged in a verbal tussle with Houston.
Kaepernick has loudly denied saying anything, and after the Bears beat the 49ers in Week 2, Houston agreed with his side of the story.
But after Chicago held off the Jets on Monday night during a game in which Houston was charged a 15-yard penalty for unsportsmanlike conduct, Houston changed his story, confirming to the Chicago Tribune that Kaepernick had, in fact, flung the N-word at him.
"He was just saying inappropriate language," Houston said.
Houston said Kaepernick got angry when Houston sarcastically complimented him on his pass that was intercepted by Kyle Fuller. Asked if Houston was insulted by the N-word, he said it was more of a "cultural thing."
Kaepernick was fined $11,025 for the outburst, but he's appealing the punishment.
Meanwhile, Houston drew a flag for appearing to curse out umpire Tony Michalek on Monday night after the Bears tackled Jets running back Chris Johnson.
"He thought I cussed at him, but all I said was 'back up' because he was all up on Willie (Young) and I just told him to back up some," Houston said. "I guess he was intimidated by it or whatever."