Steelers linebacker James Harrison has spent most of his offseason trying to figure out if wants to play another year.
The problem for Harrison is that he's just not sure his 37-year-old body can make it through another punishing NFL season.
Harrison's still trying to recuperate from last season and apparently, part of that recuperation involves sticking dozens of needles in his legs, as you can see below.
(Via Harrison's Instagram)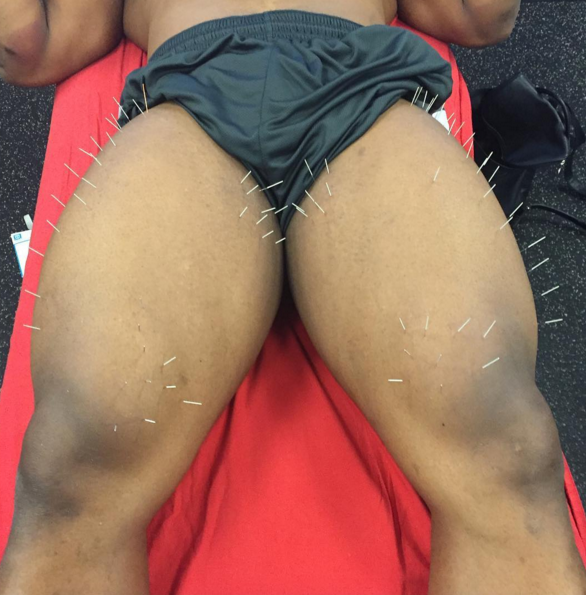 Although that looks like acupuncture, it's not exactly acupuncture.
According to Harrison, it's "dry needling."
If you've never heard of dry needling, join the club. According to our friends at the American Physical Therapy association, dry needling "is a skilled intervention that uses a thin filiform needle to penetrate the skin and stimulate underlying myofascial trigger points, muscular, and connective tissues for the management of neuromusculoskeletal pain and movement impairments."
Sounds like fun. You probably shouldn't do that to yourself at home though.
Anyway, dry needling isn't the only thing Harrison does to prepare his body for possibly playing another season. He has does normal things, like lifting weights.
A video posted by James Harrison (@jhharrison92) onMar 25, 2016 at 6:59am PDT
Harrison hasn't decided if he's going to play in 2016, and it doesn't sound like Steelers coach Mike Tomlin is going to ask him to rush his decision.
"James is not going to shortchange himself," Tomlin said at the NFL owners meetings this week, via ESPN.com. "James is not going to shortchange the game of football. I believe him when he says he's going through a process to see his overall readiness and potential effectiveness. He knows what he's doing. He;s been doing it a long time. He knows whether or not his body can do what he needs it to do. I respect that mentality."
After one or two or 100 more dry needling sessions, Harrison will probably make up his mind about 2016.