If Peyton Manning hadn't decided to team up with his dad to write a book in 2001, there's a good chance the quarterback's reputation wouldn't be under fire in 2016. 
Back in July 2001, Peyton and his dad Archie, along with ghostwriter John Underwood, collaborated on a book called, Manning: A Father, His Sons, and a Football Legacy (you can see it here). 
By the time the book was set to be released, the alleged "mooning" incident that took place at Tennessee between Peyton and former Volunteers trainer Dr. Jamie Naughright was a thing of the past.
Naughright officially left Tennessee in August 1997 after receiving a $300,000 settlement from the school. The settlement wasn't exclusively tied to the incident involving Peyton, it was also tied to 32 other claims she made during her tenure at the school, according to an Associated Press story from 1997.  
Five years after the incident, both parties had seemingly moved on: Peyton was the quarterback of the Indianapolis Colts and Naughright was the program director of Florida Southern's athletic training program.
The incident between Manning and Naughright took place in February 1996 and by 2001, it looked like it was behind everyone, never to be talked about again.  
However, that changed when Archie and Peyton decided to release their book on July 28, 2001. 
Two months before the book came out, an excerpt was sent to Naughright at Florida Southern. The piece of mail was addressed to "Dr. Vulgar Mouth Whited," according to court documents filed by Naughright's legal team. Whited was Naughright's last name while she was at Tennessee. 
The excerpt was mailed to Naughright in May 2001, which was when she first found out about the book. Not too long after the book was released, Naughright would lose her job at Florida Southern.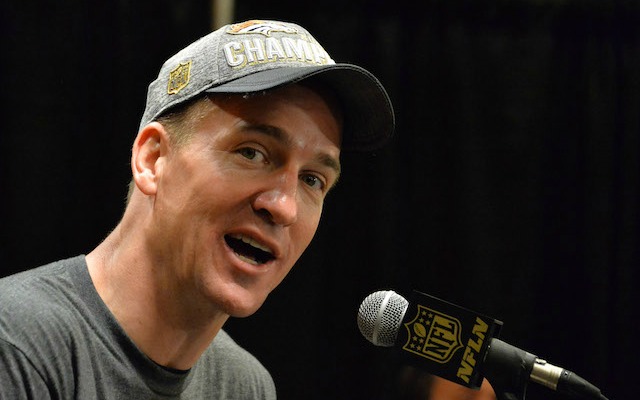 In May 2002, Naughright decided to file a defamation lawsuit against Peyton Manning, Archie Manning, John Underwood, and the company that published the book, HarperCollins. 
That defamation suit is what led to the 74-page court document that was the subject of the recent New York Daily News story that called into question Peyton's "squeaky-clean image."
Basically, if Peyton doesn't write the book in 2001, then there's no defamation suit and if there's no defamation suit, there's no 74-page "facts of the case" document, and if that document doesn't exist, Peyton's reputation is probably still intact. 
So what did Peyton write in that 2001 book? 
For one, the quarterback mentions that having a woman in a men's locker room "is one of the most misbegotten concessions to equal rights ever made."
Manning claims that he "mooned" Naughright and it was "inappropriate." However, the quarterback also added that what he did wasn't "exactly a criminal offense."
Here's the exact description of the incident from Manning: A Father, His Sons, and a Football Legacy, where Peyton mentions that his brother Cooper would've done the same thing. 
"Then one day I was in the training room and a track athlete I knew made some off-color remark that I felt deserved a colorful (i.e., Cooper-like) response. I turned my back in the athlete's direction and dropped the seat of my pants."
The athlete who Peyton allegedly "mooned" refuted that the "mooning" ever happened, according to court documents (pg. 20). 
It's important to note that although Manning claims he mooned Naughright, she says Manning went way further than that.
In court documents filed by her legal team (via USA Today), Naughright says Manning used his "gluteus maximus, the rectum, the testicles and the area in between the testicles. And all that was on my face when I pushed him up. ... To get leverage, I took my head out to push him up and off."
In the book, Peyton adds that he thought Naughright would find the incident humorous, given "the environment" they were in.
Peyton also mentions in the book that Naughright "had been accumulating a list of complaints against the university that she intended to take action on -- alleged sexist acts that, when her lawyer finally put it together, resulted in a lawsuit charging thirty-five counts of sexual harassment."
Peyton closed out the Naughright chapter of the book with this sentence, "It's all past history now ... but it hurt me."
Naughright was clearly offended by all of this, which led to the defamation lawsuit, and again, if Manning doesn't mention her in the book, then there's no defamation lawsuit. 
The "facts of the case" obtained by the New York Daily News was originally entered into court in October 2003. Two months after that in December 2003, the two parties settled the defamation case and agreed to never talk about it again, citing a confidentiality agreement. 
However, Peyton was sued again in January 2005. This time Naughright sued him for breaking the confidentiality agreement from the earlier lawsuit.
According to the second lawsuit (via Jacksonville.com), Manning brought up the Tennessee incident in an episode of ESPN Classic Sports Century: Peyton Manning that aired on Dec. 30, 2004. 
That lawsuit was settled in July 2005. 
So why did Peyton keep talking about the case?
Only Peyton knows the answer to that question. Whatever the reason was though, Peyton's inability to adhere to the confidentiality agreement about the incident is why the story never died and because the story never died, many people are reading it and finding out about it for the first time this week.