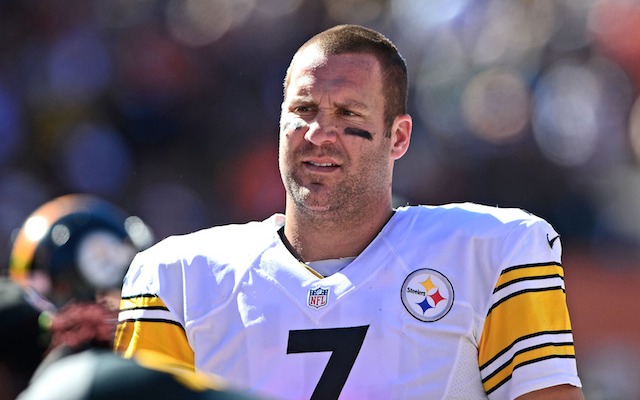 It doesn't look like the frosty relationship between Steelers quarterback Ben Roethlisberger and Terry Bradshaw is going to thaw off anytime soon. 
On the season premiere of Jim Rome on Showtime, which airs at 10 p.m. ET on Tuesday, Roethlisberger joined Rome via satellite and had some interesting words to say about Bradshaw.
The current Steelers quarterback said he'd like to win five Super Bowls, but he also added that he doesn't think Bradshaw wants to see that happen. 
Here's the exchange between Rome and Roethlisberger. 
JIM ROME: Players talk about a goal in mind (Super Bowl victories). What was your goal?

BEN ROETHLISBERGER: Well I know that anyone who has played quarterback knows that four is the number that (Terry) Bradshaw and (Joe) Montana have. Bradshaw's the greatest Steeler quarterback so I would like to try to get five championships, one more than him.

JIM ROME: Do you think Bradshaw's pulling for you to get four championships?

BEN ROETHLISBERGER: I'm not sure; you'd have to ask him. I'm sure he wouldn't want me to get four championships, but if he's a true Steeler at heart then he would want this organization to win as many championships as possible.
The animosity between Roethlisberger and Bradshaw dates back to at least 2006 when Bradshaw told Big Ben that he shouldn't be riding motorcyles.
"Our relationship is not any good," Bradshaw said, describing the situation in 2010. "When I told him to park the motorcycle, he got pissed. Alright? Then he had the accident. And since then, there's, you know... he doesn't like me, and I'm learning not to like him." 
After Roethlisberger was suspended in April 2010, Bradshaw went on Fox and said the Steelers should have cut the quarterback.
"You hung out in college bars. You disrespected women," Bradshaw said of Roethlisberger. "The Steelers got rid of Super Bowl hero Santonio Holmes for failing a substance abuse test but they should have dumped you because what you did in my eyes was a lot worse."
Bradshaw made it clear that if he ran the Steelers, Big Ben would have been gone. "If I had owned the Steelers... Hear me loud and clear, I would have gotten rid of him," Bradshaw said.
In 2012, Roethlisberger said that the two still weren't talking. "We haven't talked," Roethlisberger said. "I've never had an issue [with him]. He said a bunch of things in the past about me; it hurts a little bit when you think about family, but I've never been one to say anything to him or at him."  
To see Rome's interview with Roethlisberger, be sure to check out the premiere of Jim Rome on Showtime at 10 p.m. ET on Tuesday. Rome will also be joined by Michael Irvin and Eddie George.