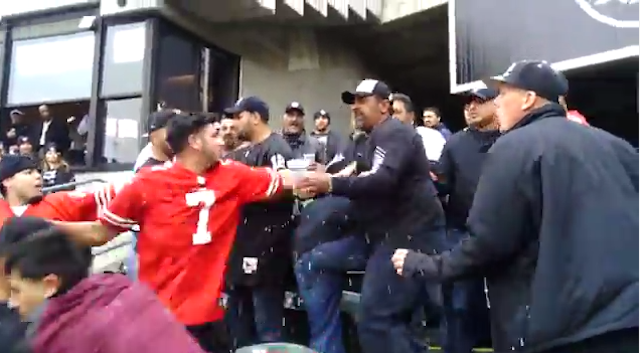 One of the reasons the Raiders and 49ers don't play in the preseason anymore is because their fans don't seem to get along and that was evident during Oakland's 24-13 win over San Francisco on Sunday. 
According to NBCBayArea.com, the Alameda County Sheriff's Department arrested 31 fans at the game, which was played at O.co Coliseum in Oakland. The Sheriff's Department also issued eight citations for varying offenses. 
There were 93 other fans who didn't get arrested or cited, but they did get ejected from the game.
Of the ejected fans, several were kicked out for fighting and at least two of those fights were caught on film.
Due to the history between the two teams' fan bases, authorities were prepared for almost anything. In the video below, police intervened after only 40 seconds. 
Although the 49ers and Raiders still play each other once  every four years during the regular season, the two teams haven't played in the preseason since 2011.
Oakland and San Francisco used to play an annual preseason game, however, 49ers owner Jed York asked the NFL to indefinitely postpone after fighting marred the 2011 game played at Candlestick Park.
Here's one more video from Sunday's game.