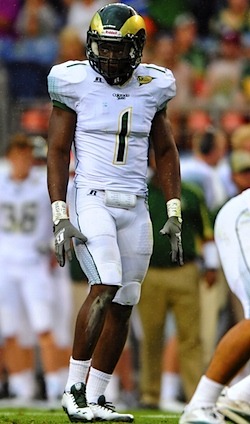 Continuing its commitment to the fundamental Baptist virtues of forgiveness and rehabilitation, Baylor is welcoming another embattled transfer into the fold: Ex-Colorado State linebacker Mike Orakpo, last seen being expelled from CSU in the wake of an off-campus brawl earlier this year, confirmed to the Fort Collins Coloradoan over the weekend that he is en route to Waco for his final two seasons of eligibility. He'll sit out this fall under standard NCAA transfer rules, then hit the field in 2013.
"Baylor is a nice, academic university and a good positive is that it's in Texas and about 2 1/2 hours away from my home," Orakpo told the paper, referring to his native Houston. "I had the opportunity to grow up in the Big 12 and learn all about it and it's really an honor to be able to play at Baylor University."
As you may have guessed, Orakpo is the younger brother of former Texas/current Washington Redskins star Brian Orakpo. He was also one of three Colorado State players dismissed in May following a "savage beating" that injured four people, two of them seriously, and led to a drug probe when police found evidence of marijuana and anabolic steroids at the players' residences.
According to a 90-page police report, a search of defensive end Colton Paulhus' residence yielded foil packages marked as anabolic steroids, as well as hypodermic needles; at Orakpo's residence, officers reportedly uncovered nine unmarked vials, eight of them refrigerated, and three used syringes in Orakpo's room. Possession of anabolic steroids is a Class 4 felony in Colorado, but neither player has been charged outside of the initial brawl. As for that incident, Orakpo's lawyer has claimed his client "never threw a punch"and was "only defending himself."
Whether or not that story is ultimately good enough for a judge or jury, it's good enough for Baylor, which is quietly establishing itself as a destination for wayward talent – emphasis on the talent. Earlier this month, the Bears added former Penn State defensive end Shawn Oakman, who was dismissed from PSU in March following a misdemeanor shoplifting arrest. Last week, the Bears added wide receiver Darryl Stonum, who was booted from Michigan in January following a probation violation, his third run-in with the law in as many years in Ann Arbor. (When he was dismissed, Stonum was just coming off a season-long suspension in response to his second DUI arrest last May.)
Stonum is expected to be immediately eligible this fall alongside sophomore tailback Lache Seastrunk, a once-hyped recruit who transferred from Oregon last summer after God told him to "get up out of there." A timely vision, coming as it did on the heels of reports that revealed a $25,000 payment from Oregon to Seastrunk's "mentor," Houston-based scout/street agent Willie Lyles, under the guise of a scouting report that Lyles later conceded was hastily-assembled tripe intended to cover for the real purpose of the money: To buy Lyles' influence in Seastrunk's recruitment. (At minimum, Lyles has admitted to reporters that he helped Seastrunk's grandmother become his legal guardian so she could put her signature on a letter of intent to Oregon over his mother's protests.) The NCAA's interest is ongoing.
But what's past is past, right? What's important for Baylor now is that a) Orakpo, Stonum, Oakman and Seastrunk all appear to be eligible according to the NCAA, and b) All four have talent to burn. At Michigan, Stonum racked up more than 2,500 yards over three years as a receiver and return man, and finished second on the team in 2010 with 49 catches for 633 yards. At Colorado State, Orakpo started 11 of 12 games last year as a sophomore and finished third on the team with 87 total tackles. Coming out of Temple High School, about an hour's drive from Baylor, Seastrunk was a five-star prospect coveted by just about every school in the country. Oakman arrived at Penn State last year as a solid four-star recruit.
So the new arrivals can play. And as long as they're allowed to play, as far as the NCAA is concerned, why shouldn't it be for Baylor? If the Bears are going to remain relevant in the Big 12 in the absence of Robert Griffin III – not to mention filling that brand new, $250 million stadium just approved by the university regents – a squeaky-clean talent pool is a luxury they literally cannot afford.