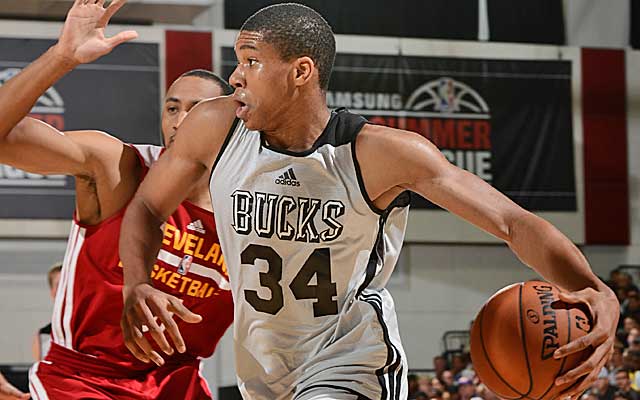 More Offseason Analysis: Coaching changes, news | Free Agency | Draft
LAS VEGAS -- It was a Monday in the middle of January, and the Milwaukee Bucks were on the road in the midst of a losing streak. Giannis Antetokounmpo stood on the sideline after morning shootaround, answering questions for a magazine piece. Only a couple of months into his career, on a team that would wind up with the worst record in the league, this was already the norm. His story, his name and his exuberant personality meant people couldn't get enough of him.  
At the other end of the court, Bucks center Larry Sanders sat behind the basket and discussed his 19-year-old teammate. The previous season, his own emergence was Milwaukee's best story, but the buzz didn't match what was generated by the rookie nicknamed the Greek Freak and the Alphabet Man. Sanders knew Antetokounmpo's life had completely changed from when he was playing in Greece's second division to being discovered, drafted and thrown directly into the fire. He noticed how much Antetokounmpo wanted to succeed, and he did what he could to make him make him feel at home.
"He's the kid," Sanders said. "He's our kid. He's our little baby brother. Oh, yeah [laughs]. He's still sheltered from some stuff. But me, I just try to stay in his ear. I just try to stay around him, stay with positive words because he's pretty hard on himself. I think he's his biggest critic, which is good, but I don't want him to get too hard on himself when he makes a mistake because he's still young."
Sanders continued: "You can see it. He makes a mistake, if he messes up a play, we can kind of see it in his demeanor, he's really upset with himself. And after the games, he doesn't like to lose so you can see it. He's sitting there, thinking about what he can do better. I can tell."
Six months and 38 more regular-season losses later, that hasn't changed. Winning isn't the main priority in the Summer League, but you'd never know it watching Antetokounmpo. Up to about 6-foot-11 after being listed at 6-9 on draft night, he ran the point and operated out of the post, sometimes on the same possession. He was raising eyebrows, but his team lost its first two contests. Trailing big late in the third one, the Bucks subbed him out. 
He took a spot at the very end of the bench and silently stared straight ahead. Aside from briefly burying his head in a towel, that's how he stayed until the final buzzer. 
Antetokounmpo bolted down the hallway visibly frustrated when he exited the locker room at Las Vegas' Thomas & Mack Center. Reporters called his name multiple times to get him to stop and talk. He told them he hadn't won a game in four months.
"I think he has a desire to be great and he has a desire to want to win," Milwaukee general manager John Hammond said. "Hopefully that's a good combination that will carry him a long way."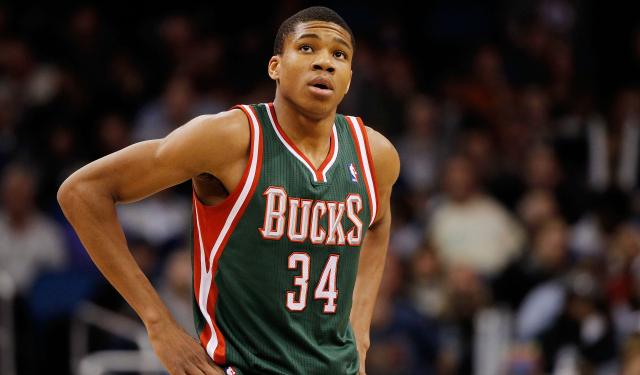 No one, Hammond included, knew how quickly Antetokounmpo would be able to contribute in the NBA. The grainy Greek footage showed a lanky teenager with impossibly long strides bringing the ball up the court, finishing in transition, throwing slick passes and blocking shots. The Bucks began to realize how lucky they were when he arrived in Milwaukee and did the same things against legitimate competition.
"It was one of the first practices, I think training camp," Sanders said. "He was so active, he was just running around, just so everywhere."
Sanders recalled Antetokounmpo missing a floater in a scrimmage and, before anyone saw it coming, rising up to rebound it and hammer it home.
"Freakish," Sanders said. "He's a freakish athlete, man. He's just so athletic and skilled. I think his potential is just phenomenal. I mean, he can be as good as he wants to be. But yeah, when he did that tip dunk, he missed the floater and then just jumped like immediately, like boing-boing, and he just, boom, I was like, OK, this kid is just, he's the real deal."
The Bucks tried Antetokounmpo out in the preseason, and he didn't look out of place. When they'd played a handful of games and he was near or at the top of several statistical categories, they re-evaluated their plan to take things slowly.
"We started like scratching our heads, saying, 'Is this for real?' " Hammond said.
The season started and they kept giving him opportunities. Antetokounmpo showed enough that, when it became clear in December that Milwaukee wouldn't come close to competing for the playoffs, the decision was made to give him more playing time. He made his first start against Carmelo Anthony and the New York Knicks, his personal favorite on-court moment.
"Our misfortunate as a team was his good fortune," Hammond said.
Before that mid-January game, Toronto Raptors head coach Dwane Casey said Antetokounmpo was like a young colt and brought back memories of Scottie Pippen. In Milwaukee's locker room, his teammates watched film of their opponents facing the Brooklyn Nets. When a certain versatile former All-Star was on the screen, they discussed how their small forward was similar. 
"He's not a guy that's gonna score the ball or dominate you, but he's actually good at everything," ex-Bucks forward Caron Butler said then. "He reminds you of Andrei Kirilenko, when he was in his prime. Just around, doing a little bit of everything: defending, blocking shots, rebounding, assisting, playmaking, making other guys better. And I love it, I love what I'm seeing. There's no limit to his potential."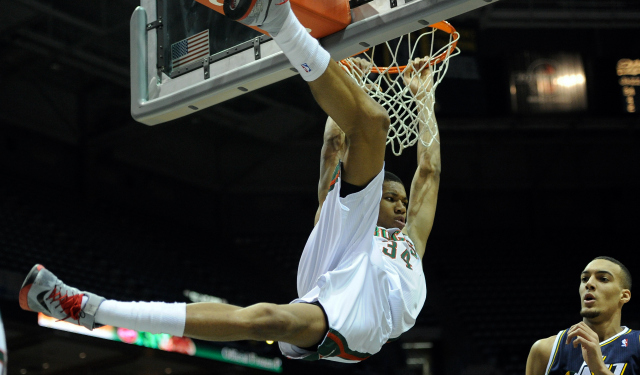 It was a Monday in the middle of April, and the season was just about over. Pregame, Milwaukee forward Khris Middleton clowned on Antetokounmpo for wearing a wristband up on his forearm. The response: due to his skinny arms, it'd flop around otherwise. Asked about the text on it, he claimed it read "sexiest guy in the NBA." A closer inspection revealed something different: "continuous improvement."
Nick Van Exel said that night that he loved working with Antetokounmpo. After every practice, they both stuck around. Then a Milwaukee assistant coach, the 42-year-old Van Exel added that he could stand for his student to listen more and talk less. 
"Sometimes I'm smiling, every time I'm telling him something, like what happened yesterday, like stories about me," Antetokounmpo said, then dropping his voice to a growl to impersonate Van Exel: "He's always like, 'You're gonna tell me after practice, be focused now, be focused!'"
Seeing what everyone else did in Antetokounmpo, Van Exel acknowledged his combination of ludicrous length and natural instincts. He also saw a fish out of water. If you don't have a killer instinct in the pros, Van Exel said, opponents can sense it, and the Bucks' prized prodigy was outmatched practically every night in terms of physical strength. That's normal for someone his age, but Van Exel stayed on him. He wanted him to be more aggressive.
"He's a kid," Van Exel said. "He's having fun. You don't want to take that away from him. But me, I like to get him a little bit more focused. Stop playing around in practice, stop playing around when we're shooting free throws, stop playing around when we're shooting. But then, at the same time, I gotta understand that he's a kid. But I played with Kobe. Kobe was a kid. Kobe was focused. He was determined. So I don't want to give him an excuse to say that he's just a kid, because you can do it. You gotta lock in."
Van Exel, who made his Los Angeles Lakers debut 13 months before Antetokounmpo was born, knew his job wasn't to hype him up. Enough other people were doing that anyway. Then-coach Larry Drew told him not to read his clippings. Antetokounmpo himself said it was wild and nice to see all the articles, but he tried to avoid paying attention to it and do his job.
"He tries to act like he's handling it well in front of the teammates and the coaches, but I think behind closed doors he loves it," Van Exel said. "I really do think he loves it."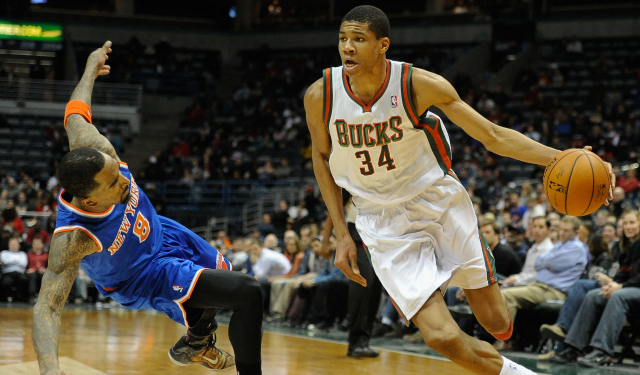 The way Antetokounmpo played in Vegas, Van Exel and Drew have to be proud. Let go suddenly and shockingly by the organization to make room for Jason Kidd and his new coaching staff in late June, they can only watch as he takes more steps. 
Drew always maintained Antetokounmpo would be a point forward, and Kidd told reporters he'll get a chance to run the offense in the regular season. In four summer league games, he averaged 17 points, six rebounds, two assists, a block and a steal. More than his production, his confidence and demeanor were why he was perhaps the most impressive player at summer league.
"In his heart of hearts, I think he's still a facilitator and passer first," Hammond said, but it was clear Antetokounmpo tried to assert his will.
Dared to take a three in his first contest, he swished it, stared down the Cleveland Cavaliers' Anthony Bennett, pointed at himself and declared this was his house. In his last one, he split a screen, bypassed two more San Antonio Spurs defenders and soared for a massive dunk. It conjured memories of Tracy McGrady, Dwyane Wade and Kevin Durant.
After the Spurs game, Antetokounmpo again appeared down. He had to leave winless to join the Greek national team, missing the final game. He wore exasperation on his face.
He tweeted before the flight that he wouldn't leave Milwaukee before it built a championship-level team. Antetokounmpo told his fans he hates losing, but is ready for the challenge. The Bucks are trying to help him with that. 
"I've talked about even top-five picks, top-10 picks and how they struggled earlier in their careers winning games," Hammond said. "We've brought multiple examples to him about that. Not to ever make it easy for him to lose, but just to let him know that sometimes you've got a growth experience to go through."
Fortunately for Milwaukee, there's plenty of evidence Antetokounmpo is a quick learner. All signs point to him accelerating on his upward trajectory. 
"I think he grows every day," Bucks summer league head coach Sean Sweeney said. "Literally and figuratively, right?"