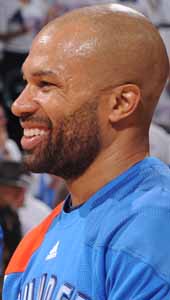 Fisher brings veteran leadership.
(Getty Images)
There are always some players that slip through the cracks. While the opening of the free agency period brings with it a flood of signings, there always players who wind up drifting into August without a home. That doesn't mean you can't get quality signings, though. Here are the best of the remaining free agents on the open market.  
Brandon Rush: Rush struggled for several seasons in Indiana, then came out of his shell with his play in Golden State. He's a crack shooter from the outside with good form and a quality size for the two-guard spot, able to guard both shooting guards and small forwards with his versatility.
Derek Fisher: Limited defensively, shot is fading, unable to maintain on the floor, and he's still going to wind up on a team, and likely a good one because he's just that good of a leader. 
Willie Green: Shot 47 percent from the field last season, 44 percent from three for Atlanta. A one-dimensional shooter but a pretty fine one at that, but at 31, there's obviously a concern about a drop-off. Not a great defender and limited in other aspects, but did average 16 points per 36 minutes last season. 
Lou Amundson: A dirty-work big who is rumored to be on the Warriors' list for a backup forward spot. Amundson earned a name with the Suns but never lived up to his contract after that as effort only goes so far. But a decent reserve rebounder and hustle player. 
Tracy McGrady: Want some cheap headlines? McGrady comes in with very little left in the tank but has the length to defend and can make some plays in limited minutes. Averaged just 5.3 points in 16 minutes last season, and was largely absent during the Hawks' six-game elimination vs. Boston. 
Leandro Barbosa: Probably the best offensive guard on the market, who showed he can still produce for the Pacers last season. More of the Brazillian sprint than blur, but still able to make plays and hit from the outside. Barbosa should find a place somewhere soon.
Andray Blatche: Oh, Blatche. So talented, such poor conditioning. Blatche was amnestied by the Wizards this month, but he's just 25 and averaged 17 points per game in 2011. He's a big that can tie his shoes, so he's likely to get an offer somewhere on the cheap. 
Matt Barnes: You have the need to start fights with the opponent and have a guy have a handful of hot shooting nights a year, right? Barnes is scrappy, a solid teammate, and can hit from the outside. His defense is feast or famine, but he can still be a productive bench player.
Anthony Tolliver: A big energy stretch four for the Wolves last season, Tolliver can hit from the outside and defend inside. He's been in talks with the Wolves but several teams are interested, according to his agent.
Ivan Johnson: The man is terrifying. If Reggie Evans has a place in this league, Ivan Johnson does. 
Yi Jianlian: Not exactly the second coming of a more versatile Yao Ming he was supposed to be when drafted in 2007, but Yi still has value and showed some better things for Dallas last season.
Michael Redd: Had a nice comeback year with the Suns, and can still hit from the perimeter. Never the same after the injuries, but still able to serve as a spot-up shooter for any team in need.
Kenyon Martin: Guaranteed to infuriate your opponent at least 15 times a season. Will also cost you several points on technicals per week.
Josh Howard: You'll notice a trend with the age of these guys, but Howard can still hit the mid-range jumper, defend and play spot minutes. Also can be, but not always, a solid locker room guy.
Michael Pietrus: Pietrus is just too inconsistent to land the big offer. He made some huge shots for the Celtics last year, but as always, that performance didn't carry through to the end. He is a very good defender in the right system and can hit from the outside enough to help more than he hurts.