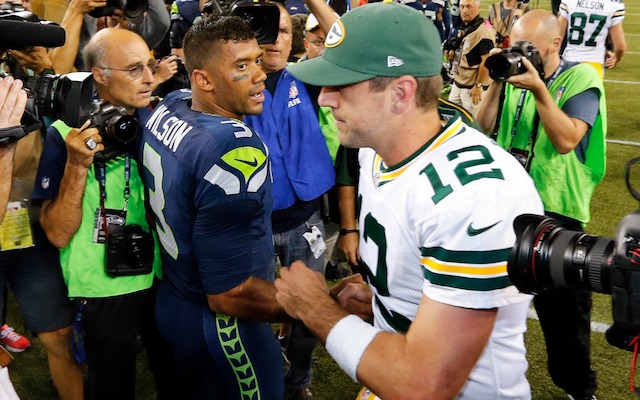 The Seahawks pulled off an amazing comeback against the Packers on Sunday, but don't credit that comeback to Divine Intervention. 
During his weekly radio show on WAUK-AM in Wisconsin, Packers quarterback Aaron Rodgers said that his belief is that God doesn't care who wins or loses a football game.
The subject came up during a segment where host Jason Wilde asks Rodgers a question that was submitted by a Packers fan.
Here's the exchange: 
Jason Wilde: Melissa says: I always find it a little off-putting when athletes, actors, and anybody says, "This is what God wanted" or "I want to thank God for helping us win today" -- anything along those lines when a game or award is won. I'm paraphrasing here, but you get the gist. Personally, with all the chaos in the world, I'm not sure God really cares about the outcome of a game or an awards show. What do you think of statements such as these? You've obviously got your faith. Does what happens on Sunday impact your relationship with God or your faith at all?

Aaron Rodgers: I agree with her. I don't think God cares a whole lot about the outcome. He cares about the people involved, but I don't think he's a big football fan.
Rodgers' comments are in stark contrast to those made by Russell Wilson earlier this week. After Seattle's win, Wilson told MMQB.com that God set everything up. 
"That's God setting it up, to make it so dramatic, so rewarding, so special," Wilson said. "I've been through a lot in life, and had some ups and downs. It's what's led me to this day."
Rodgers wasn't asked directly about Wilson's quote, but it's probably safe to say that he doesn't agree.  
Wilson credited the Big Guy upstairs after Seattle's stunning 28-22 win.
(Wink of the CBS Eye to the Big Lead)