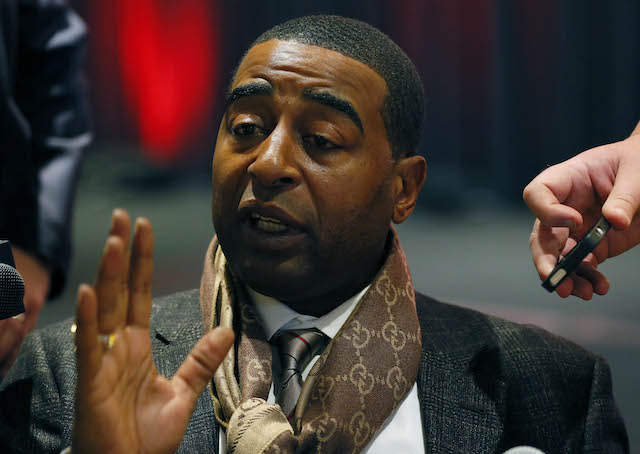 More NFL offseason: League minicamp dates | Latest news, notes
If there's one former NFL player who understands what Browns wide receiver Josh Gordon's going through, it's probably Hall of Famer Cris Carter. Both players were taken in the supplemental draft and both players have had substance abuse issues. 
Carter started his career with the Eagles in 1987, but was cut after only three seasons because coach Buddy Ryan could only take so much of Carter's drug and alcohol abuse.
The Hall of Fame receiver hasn't talked to Gordon, but from the outside looking in, Carter says he sees a player who's putting his marijuana use ahead of everything else -- including the team. 
"It's fairly obvious that (using substances) is more important to him than anything else," Carter told Cleveland.com this week. "It's always been very, very important to him. It's well-documented that it's been primary since early college. Maybe it even goes back to early high school."
Gordon's currently facing a possible one-year suspension from the NFL. That's on top of a two-game suspension Gordon served to start the 2013 season. Gordon was also kicked out of Baylor after two positive marijuana tests. Carter thinks that if Gordon can get clean, he could be one of the NFL's all-time greats. 
"He's really one of the few receivers that's playing in the game now that with a sustained long and healthy career you can say he's got the potential to wear a gold (Hall of Fame) jacket," Carter said. "He's pretty special."
The problem Carter sees with the Gordon is that he feels like Gordon might not be ready to get help. 
"If the building is on fire and the person decides to stay in there, I don't run in there and get him out," Carter said. "If you see them breaking the glass, if you see them struggling and trying to get out -- that's my analogy of how I help out the guys in the league and the kids that really, really need help."
Carter said he didn't start to turn things around until he hit rock-bottom. 
"My bottom was getting cut and I was so upset because even though they cut me, I wasn't using at the time," Carter said. "They cut me because they couldn't trust me. At the time, I had only flunked two tests. The next one, I would've been suspended for a year.  I was clean for over six months at the time I got cut."
If Gordon's career ends up like Carter's, the substance-abuse violations will end up just being a small footnote for the Browns receiver.
After being cut by Philly, Carter moved on to Minnesota where he put his problems behind him and started a Hall of Fame career. 
"It was a lot of hard work," Carter said. "But there were a lot of people helping me, not on the football field, but just getting my life together. They really cared about me. I owe everything to the Vikings. What they invested in me was more than money."