Browns quarterback Robert Griffin III and his girlfriend Grete Sadeiko got a nasty surprise when they returned to their car after the Browns' 27-13 loss to the Giants on Sunday: All their money had been stolen from the vehicle.
And you thought the Browns' 0-12 season couldn't get any worse.
It's not clear how much money was stolen from the couple, but Sadeiko said that they noticed it was gone when they got back to their car after the game.
So you valet your car for a @Browns game and come back to all of you and your boyfriends money being gone from the wallets🤔🙄

— Grete Šadeiko (@GSadeiko) November 27, 2016
Griffin acknowledged the robbery on Twitter on Sunday when he retweeted Sadeiko's tweet, and added the internet version of "Shaking my head."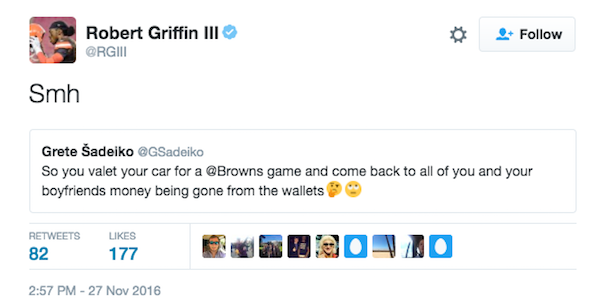 After Sadeiko revealed that they had been robbed, the couple didn't receive a lot of empathy on Twitter. Instead, everyone wanted to know why they left their wallets in an unattended car.
Sadeiko had a quick answer for that: They were parked in the players' lot and didn't think it would be an issue to leave their belongings in their car.
Ain't about why we left wallets in the car😒 we parked in PLAYERS AND FAMILY PARKING GARAGE! I should be able to leave anything I want there

— Grete Šadeiko (@GSadeiko) November 28, 2016
That answer definitely makes some sense. If you're a member of an NFL team who's using a player lot at the stadium, you would like to think your stuff is safe while you're at the game. Unfortunately, RG3 has learned the hard way that the Browns can't protect anything this year: quarterbacks or parking lots.
RG3 hasn't played since suffering a shoulder injury in Week 1, although the Browns are hoping Griffin will be able to return this season and play in one of the team's final four games.
On the Browns' end, Sadeiko told TMZ that the team is going to look "into it and are going to solve the problem."
RG3 and Sadeiko, a track star at Florida State, met at the beginning of 2016 and have been a couple for several months. RG3 filed for divorce from his wife in August.