Rex Ryan's reaction said it all. Everything you need to know about the Patriots' trade that netted Martellus Bennett lies in Ryan's response -- rather, his lack of a response.
At the NFL owners meetings this week, Ryan fielded questions about the Patriots' newest tight end combination. Specifically, reporters wanted to know if Ryan knew of a way to defend an attack headed by Gronk and Martysaurus Rex.
Ryan, a defensive-minded coach who sells the idea of winning better than any of his peers, didn't have an answer. He couldn't come up with anything. His reply to the question included phrases like "I have no idea," and "I don't know," and "It's scary."
When Rex Ryan doesn't know how to spin it, that's when you know it's bad.
So, Ryan is right. It is scary. Because the Patriots just acquired a top tight end -- one who's capable of serving both as a pass catcher and as a blocker -- to pair alongside the greatest tight end in the world.
Let's begin with Bennett's abilities as a pass-catcher. Since 2012 -- Bennett's only season with the Giants and the first time he was treated as a No. 1 tight end -- Bennett's played in 59 games. In those 59 games, he's totaled 263 receptions, 2,740 yards, and 19 touchdowns. 
That might not seem like an overwhelming stat line over the course of four seasons, but according to Pro Football Reference's database, Bennett's recorded the fourth-most receptions among all tight ends in that span. Only Jason Witten, Jimmy Graham, and Greg Olsen caught more passes.
Watching his game tape, it's clear why and how he's excelled. Bennett is not only fast for a tight end, but he's built like a semi-truck. Per ESPN Stats & Info, Bennett's racked up 1,066 yards after the catch since 2013, which is second among all tight ends to Rob Gronkowski's 1,208 yards. 
This past season, the Bears' offense frequently threw to him in the flat as a safe and efficient play. The efficiency of those plays is entirely dependent on Bennett's ability to rumble upfield. 
Here, he benefits from turning north immediately and using his body to barrel into defenders, picking up a chunk of yards after a short pass.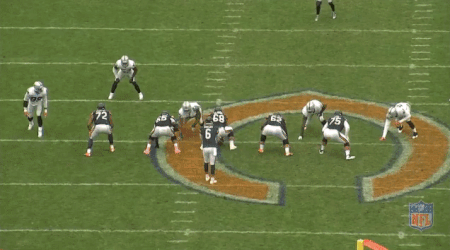 Not only does he demonstrate quick acceleration that allows him to turn upfield in a hurry, but he's difficult to bring down once he gets rolling.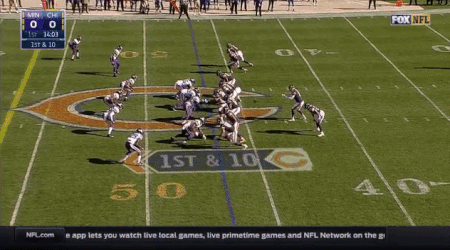 It's not quite Gronk-esque, but it's still impressive.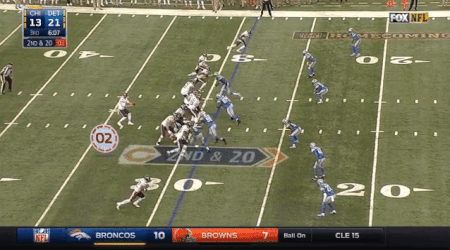 Given his size (he's listed at 6-foot-6, 273 pounds), his lateral agility is also surprising.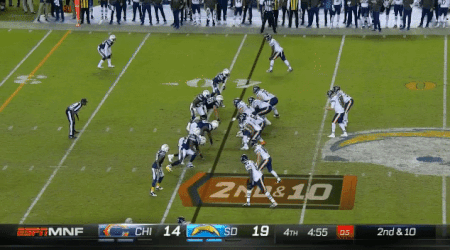 He's a matchup issue. He can win against bigger linebackers, and he can line up like a receiver and win against faster defensive backs, using his massive frame to shield away defenders while the ball is in flight.
Below, Bennett bounces off a Raiders' linebacker to create separation. After securing the catch, he carries the linebacker from the numbers to the sideline.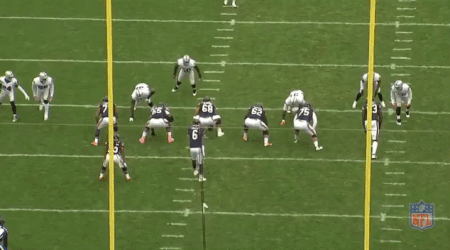 Later in the game, with the Bears facing a crucial fourth down, they turn to Bennett. Again, Bennett beats a linebacker in coverage, this time because he's too quick on his break to the outside. Once he gains separation, he uses his body to ward off the closing linebacker.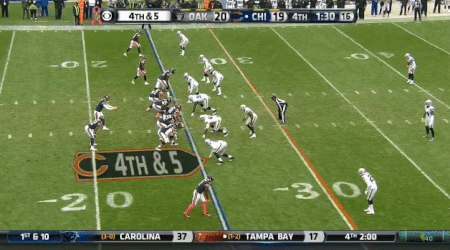 During the Broncos' narrow win over the Bears, they tried to stick the smaller Bradley Roby on Bennett. Isolated on the outside, Roby managed to shut down Bennett, but he was only able to do so by dragging him to the grass, which drew a clear flag.
Cornerbacks often can't cover Bennett, because he's too massive.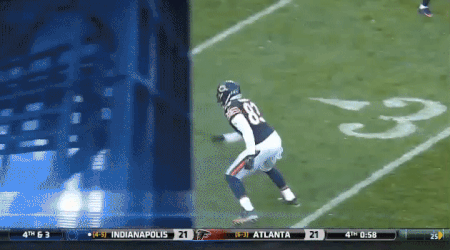 If you're looking for a catch that really stands out, take a look at the touchdown he brought down two years ago at Gillette Stadium.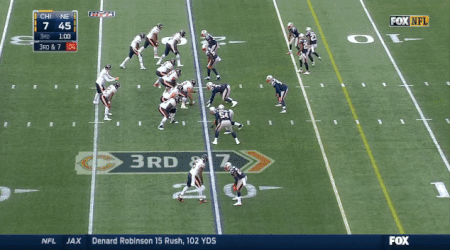 But, what turns Bennett into a top-tier player is his blocking ability. It's what makes him a completely different player than Aaron Hernandez, despite the obvious comparisons that have been made since the trade went down. Bennett won't come out of the backfield and line up next to Tom Brady. He won't serve as a hybrid running back or slot receiver.
He'll function as a multi-dimensional tight end who'll provide solid run-blocking. 
Martellus Bennett's PFF run blocking grade rank (out of ~ 60-70 qualifying TEs)

'15 18th
'14 11th
'13 19th
'12 7th
'11 5th
'10 6th
'09 11th

— Pat Thorman (@Pat_Thorman) March 17, 2016
Interestingly enough, Bennett's run-blocking grades dipped the year he arrived in Chicago, which is when his role as a receiver expanded. But in New England, Bennett's job in the passing game won't match his role in Chicago, where he became a focal point in the offense. With the Patriots, Bennett will serve as a secondary option.
He will, however, be relied upon in the running game because, when he commits to blocking, he's a force, even if most of his blocks are subtle and get lost in the shuffle. He does his job and opens up holes in the running game because he's more than capable of holding his own against would-be tacklers -- whether they're linebackers or defensive ends.
In the play below, Bennett is lined up on the right side of the line of scrimmage. The Bears pitch the ball to Matt Forte, who carries the ball to the outside before cutting upfield through a mammoth hole. Right tackle Kyle Long, who is positioned alongside Bennett at the onset of the play, is going to peel off into space and pave the way for Forte. And that means Bennett is responsible for sealing off the end.
He does just that with ease, ensuring Forte's path to the outside is unimpeded.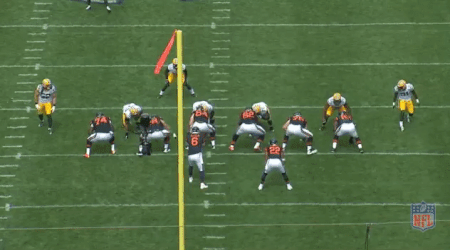 This next play involves Bennett taking on Raiders defensive lineman Denico Autry. Bennett, again, is lined up on the right side of the line of scrimmage. The circle below captures Bennett while the square is centered on Autry.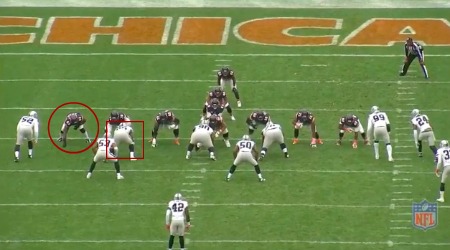 His block, while easy to miss in the cluster, springs Forte free. The circle below surrounds Bennett and the arrow represents the block that Forte follows into the hole.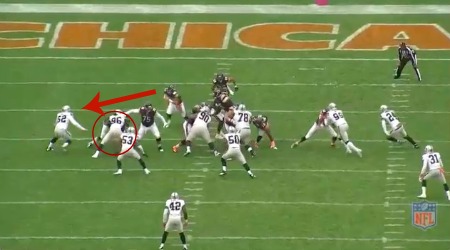 In the image below, you'll see the crease Forte barely slips through. That's marked by the arrow (it begins at Forte's position, which is difficult to spot). Within the square is Bennett handling his block inside.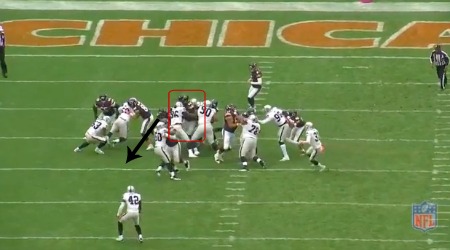 At full speed, notice how Bennett propels Autry toward the middle of the field, creating a sliver of space for Forte.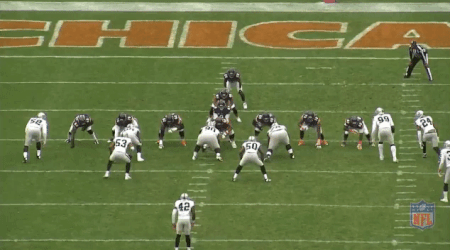 The play below also stood out because it involves Bennett (playing off the left tackle) blocking Vikings defensive end Everson Griffen while Jeremy Langford works his way from the right to the left, eventually slicing through the opening next to Bennett and Griffen.
Bennett hangs in there the entire time, leading Griffen to throw up his arms after the play.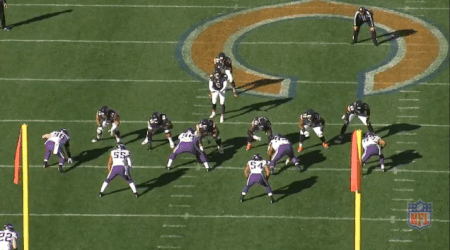 It's this quality of blocking that should allow the Patriots to run the football with dominance. With Gronk and Martysaurus Rex, the Patriots will be playing with two extra linemen on the field, both of whom can also terrorize defenses down the field. That's not to say Bennett will turn into the next fantasy superstar -- he won't because he'll be (rightly) positioned behind Gronk and Julian Edelman in the pecking order and he'll be asked to run block on a high frequency of plays.
What Bennett gives the Patriots is a scary amount of flexibility. If the Patriots want to, they can line up Gronk and Bennett on the line of scrimmage and bully defenses with their run blocking. Or, they can line up Gronk and Bennett on the line of scrimmage and create favorable passing matchups against linebackers. They can split the two players out wide against smaller defensive backs.
And don't even get me started on the red-zone problems the duo will pose. Leave Gronk in one-on-one coverage and this tends to happen: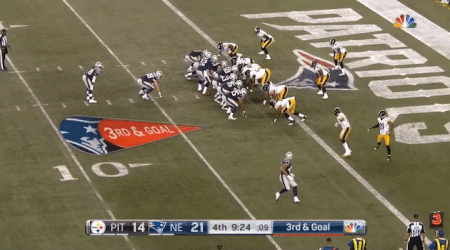 Leave Bennett isolated and you'll see something similar. In the play below, Bennett is initially aligned on the line of scrimmage next to the right tackle. Once Jay Cutler recognizes the 49ers are covering Bennett with just one man, he changes the play and tells Bennett to line up on the outside like a receiver. Before the ball is even snapped, Cutler knows where he has a touchdown.
The play ends with the defensive back on the ground complaining about a push.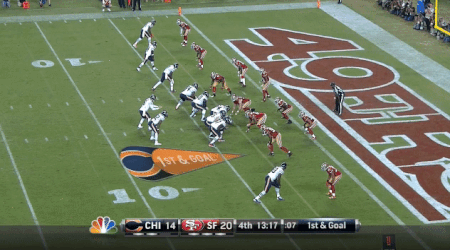 A similar outcome played out in the Gronk touchdown above. He started on the line and Brady shifted him out wide to create an impossible matchup on the boundary. If the linebacker plays the slant, Gronk will burn him with the fade to the corner. If the linebacker anticipates the fade, Gronk can slant toward the middle and use his body to box out the defender. The same type of thinking -- albeit to a lesser degree -- can be applied to Bennett's usage near the goal line. It can also be applied to both players at once.
So, the Patriots' red-zone offense might look something like this next season, swapping out Scott Chandler for the more-gifted Bennett.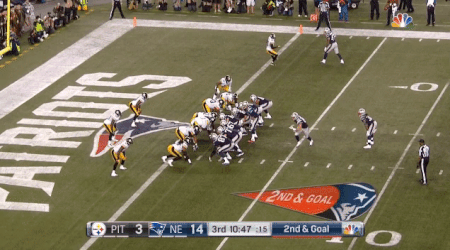 There's no way to cover the play above, even with Chandler playing Bennett's role. Chandler, operating in the slot, is too quick for Lawrence Timmons to beat him to the corner of the end zone. Remember those quick passes to the flat the Bears utilized with Bennett last season? And, in this scenario, Gronk serves as the perfect obstacle, which forces Timmons to take a detour on his way to the pylon.
The Patriots could also opt to leave in both players to run block. Not many teams are stopping a goal-line look with two monsters like Gronk and Martysaurus Rex aiding the offensive line. Again, it comes back to the versatility that Bennett brings to the Patriots.
When Rex Ryan spoke about his lack of a strategy to defend the duo, he also failed to come up with a comparison for the two players. 
"I can't really think of one," Ryan said, per ESPN. "I remember Kansas City had [Tony] Gonzalez and they had that kid [Jason Dunn] from Eastern Kentucky at one point, but that's hardly these two. Gonzalez is as good as anybody, but, ah, I don't know. It's going to be interesting."
You gotta hand it to Bill Belichick. The NFL took away his first-round pick and he still managed to come away with one of the most important upgrades of the offseason -- an upgrade that should pay dividends next winter, an upgrade that has Rex Ryan, the master of bravado, at a loss for words.