The Super Bowl is just days away and there are still important storylines to discuss in what might be the greatest chess match in years when it comes to this game. There are two brilliant coaches facing off for the Lombardi Trophy.
Here are the storylines that capture my interest now that I have met privately with both starting quarterbacks and both head coaches.
Who has the best pass rush?
The pass rush will be critical in this game, especially if Tom Brady winds up throwing 59 times like he did back in 2012 against the Seahawks. For the Patriots pass rush, there is a whole different set of issues because Russell Wilson has such great escape skills.
Let's first look at the Seattle pass rush. Pushing the inside of the pocket and reducing Brady's ability to step up and into his throws is critical. Michael Bennett has to be the key figure when it comes to internal pressure. If Brady can't step up into the pocket then outside rushers Cliff Avril and Bruce Irvin have a chance to get there.
The key point on the two outside rushers is they will get a two-way go on the offensive tackles. Coach Pete Carroll knows Brady isn't going to win with his feet, so a contain rush is not necessary. That puts a lot of pressure on the blockers. Seattle only has three sacks in its 73 postseason pass plays, but it's a lot better than the zero sacks the Patriot pass rush has in this year's playoffs.
Seattle is not a big blitz team. In fact, they send five or more rushers 13 percent of the time on first downs, 27 percent of the time on second downs and just 39 percent of the time on third downs. Against Tom Brady they would be wise to be even more conservative than that because his shotgun short passing game defeats the blitz with a quick release. Brady is just 2-3 in postseason games if sacked more than three times, but I suspect the Seahawks will not reach that number of sacks.
As for the Patriots rush of Russell Wilson, it is a whole other issue. New England has a big contain issue because of Wilson's athletic ability. Coach Bill Belichick pointed out to me on Friday morning that Wilson not only is hard to corral, but he does a great job of throwing deep off the scramble, which hurt the Pats in their 24-23 loss to the Seahawks last season.
I don't think we are going to see too much of an aggressive speed rush from the outside and I would bet Wilson will get a little more pocket time than usual. Keep in mind sacks don't affect Wilson too much. He is 18-3 when sacked three or more times a game in his career. Look for a multiple 'spy' concept and a late shadow rusher once Wilson declares which way he's taking off.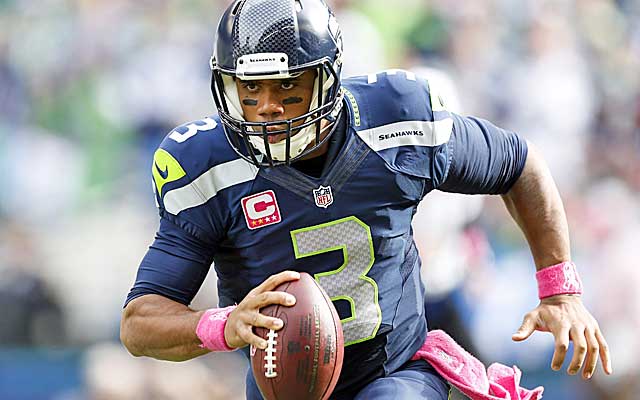 New England is actually more conservative than Seattle when it comes to blitz calls. The Pats are a 17 percent pressure team on first downs, 16 percent on second downs and just 28 percent on third downs. Interestingly enough, 25 of their 40 sacks come from players in two-point stances, which helps against an athlete like Wilson.
Finally, I think the coverage unit for the Seahawks will get Brady to hold the ball a split second longer than usual, which helps the rush. It appears more and more that this game is going to have a home field atmosphere for Seattle and the noise should help the Seahawks get off in the rush.
What about the nickel back?
Everyone likes to talk about Brady, Wilson, Lynch, and Rob Gronkowski, which is understandable, but the nickel backs are going to play a big role in this game. Both teams will probably play close to 60 percent of the game in sub defenses because of the third wide receivers, hybrid tight ends (Wright, Luke Wilson) third downs and the two-minute packages. Seattle has two nickel backs that will enter the game based on who the Patriots send into the game in those situations. I expect 6-foot-3 Tharold Simon when Tim Wright comes on the field and I expect Jeremy Lane when Danny Amendola is on the field. These two nickel backs could be targeted 8-10 times by Brady.
As for the Patriots nickel backs, it will be Logan Ryan or Kyle Arrington. When Ricardo Lockett enters the game as the third wide receiver or TE Cooper Helfet comes in as the second tight end we will see one of the nickel backs run on to the field. In the last seven Patriots games neither Ryan nor Arrington have an interception or pass defended. Seattle may not target their extra receiver/tight ends as much as New England does, but they should target them 5-7 times.
Wilson stats to remember
• His 42 wins, including the postseason, is the most in the first three years of any QB in the Super Bowl era.
• His 849 yards rushing this year was the most of any QB in 2014 and the fifth-most ever. • He is 5-0 in overtime games.
• He is 10-0 vs. Super Bowl winning quarterbacks.
• He is the youngest QB ever to get to his second Super Bowl.
• He is the shortest QB to ever start a Super Bowl at a listed 5-foot-11.
• He has 15 game-winning drives in his first three seasons.
• He is only the second QB in NFL history to run for more than 800 yards and throw for at least 3,400 yards in a season.
Brady stats to remember
• He is 20-8 in the postseason, which is the highest winning percentage (.714) in postseason history with a minimum of 15 games.
• He has 46 game-winning comebacks.
• He is 14-4 in postseason games when leading at halftime.
• If he wins he would be the fourth-oldest QB to do it.
• In postseason games Brady is first in completions, attempts, yards and touchdowns.
• In five Super Bowl games Brady only has nine touchdown passes.
• Brady has averaged 255.4 yards passing in five SB games.
• Brady is 9-0 in the postseason when he has a 100+ QB rating.
Hall of Fame on the line
No matter what happens in this game Tom Brady and Bill Belichick are headed to Canton after they end their careers. In my opinion their legacies are already set. There are a few people in this Super Bowl that could have a lot riding on the outcome. Pete Carroll has two college national championships and back-to-back Super Bowl wins would go a long way toward his ride to Canton. The same could be said for Russell Wilson if he were to collect this win and probably one more before he retires. Keep an eye on Rob Gronkowski and Richard Sherman, too, if either one is the star of the game.
Who did they play?
Seattle may be on an eight-game winning streak, but when you put a microscope on who they played in that run it does raise some questions. They defeated four backup or third-string quarterbacks (Drew Stanton, Mark Sanchez, Ryan Lindley, Shaun Hill). They played five of the eight games at home. They beat a less-than-100 percent Aaron Rodgers. So, while giving up just five touchdown passes, intercepting 11 passes and accumulating 27 sacks in the eight-game streak, it really wasn't against the best quarterbacks.
The importance of the lead in the Super Bowl
The team winning at the end of the first quarter in this game wins 70.3 percent of the time. The team winning at halftime wins 78.3 percent of the time. The team winning at the end of the third quarter wins 83 percent of the time. The team that wins the turnover battle wins 92.3 percent of the time. The team that has scored first wins 66.7 percent of the time. And, finally, the team with the oldest quarterback only wins 45.8 percent of the time.