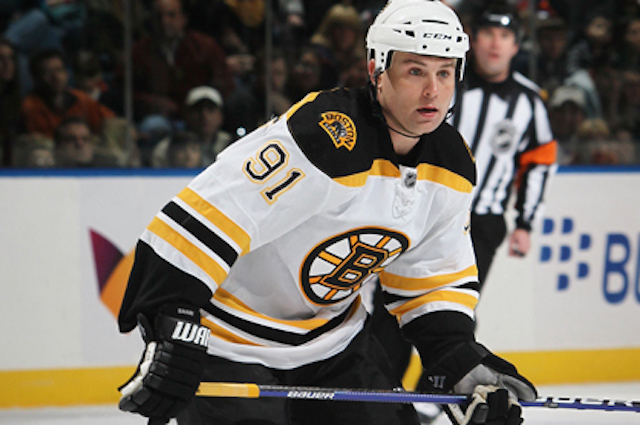 Don Sweeney's summer of dealing continued on Wednesday afternoon when he completed a trade with the Florida Panthers that will send forward Reilly Smith and Marc Savard's contract to the Florida Panthers in exchange for forward Jimmy Hayes. 
By moving Savard's contract it is the second time in less than a week that a player that will never play in the NHL again has been traded for financial reasons. Shortly after the NHL draft the Philadelphia Flyers traded Chris Pronger's contract to the Arizona Coyotes in a cap-related move. 
Savard still has two years remaining on a seven-year, $28 million contract he signed with the Bruins that carries a cap hit of just a little over $4 million per year. Because the contract was front-loaded in terms of salary he's only actually owed $575,000 per year, so there is minimal financial commitment here for the Panthers other than the cap figure. There are major cap ramifications for the Bruins who were pressed against the cap for the 2015-16 season, even after all of their recent trades and roster moves. 
Savard has not played a game in the NHL since the 2010-11 season due to a concussion related issues. In 807 career games with the Calgary Flames, New York Rangers, Atlanta Thrashers and Bruins he recorded 706 points. His best hockey came during the 2005-06 and 2006-07 seasons when he recorded 97 and 96 points with the Thrashers and Bruins. 
As for the other Reilly-for-Hayes aspect of the trade, Smith was one of the key components of the trade that sent Tyler Seguin to the Dallas Stars a couple of years ago. After a strong debut season with the Bruins in 2013-14, his production regressed a bit in 2014-15 (he was even a healthy scratch at one point) but was still able to get a two-year contract with the Bruins for $3.425 million per season. 
Hayes, 25, is a restricted free agent at this point and is coming off of a 19-goal season with the Panthers.