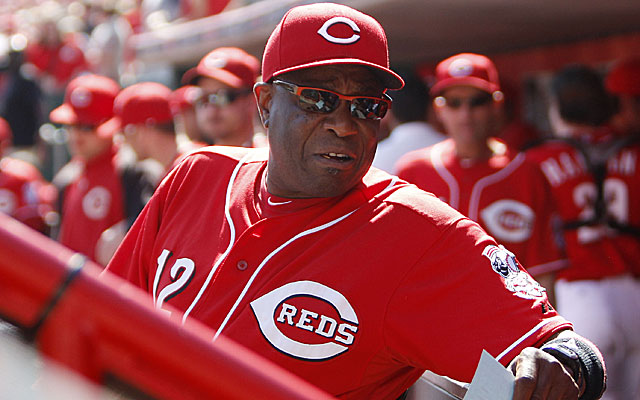 It all came to a head in one conversation, a conversation about a coach, and sources say Dusty Baker wasn't about to let a coach take the blame for what went down with the Reds this year.
Reds general manager Walt Jocketty in a year-end hash-out session about the team's dissatisfying season told Baker he was intending to fire hitting coach Brook Jacoby, according to a person familiar with the situation. And that was all Baker had to hear.
Baker wasn't the one who brought in Jacoby, but he also knew it wasn't Jacoby's fault. So Baker took the bold step that quite likely led to Jocketty ousting him as Reds manager.
"If you want to fire someone, fire me,'' Baker told Jocketty.
Baker may have been worn out by all the recent negativity regarding the Reds' unsatisfying season, anyway. Rare has someone been criticized so much for guiding an imperfect team to a 90-win season, but Baker became a target. He was a target of some fans, of many sabremetricians. And ultimately, he was a target of Jocketty.
The conversation ended right there with Baker's invitation to dismiss him a few days before Jocketty actually took him up on the invite. The two are not close, and people close to the situation say their relationship was "distant" or even "strained." But Baker couldn't have been sure Jocketty would take him up on his offer.
But he did. Thursday, a few days later (note: this is a correction of the earlier version of this story where the Jacoby conversation took place Wednesday), Baker was called in. And Jocketty fired him. So there went Baker's Reds career, blown up trying to protect a coach under attack.
There's a wonder whether Baker sensed something was up and was testing Jocketty. But Baker, who didn't dispute the conversation, says no, that wasn't it.
"I wasn't testing anyone,'' Baker said. "I was just doing what I thought was right."
"Sometimes  it gets to the point where you're always blaming the teacher (meaning Jacoby). Sometimes it's the pupils,'' Baker said.
The Reds may say it was a "mutual" call to part ways, but there it is. That's how it happened.
They may even tell someone Baker wants to take a year off. And maybe that's a story. But there's no doubt Baker wants to manage, and will consider any and all opportunities. So that year off may turn out to be a few months off, or weeks.
"My son is already picking out teams,'' Baker said.
You remember the son, the cute little boy saved by J.T. Snow in the postseason. he's grown up to be a player. Today, Baker said, he was crying for the first time since Baker had a hospital stay a year ago.
The game's been good to the Bakers. Though, today is not good.
"It hurts. It hurts big-time," Baker said. "It's a double whammy being swept out of the playoffs, and two days later this."
It wasn't all about one conversation, of course. Baker quite likely started to sense that maybe his time was up in Cincinnati. Maybe that's why he said what he said.
"The last couple weeks, I've been getting a rash of hate mail, racial mail,'' he said. "Maybe it is time to go."
"This is really ugly," he said. "There are all sorts of references to Barack Obama. So now I know where they are coming from. I don't know, maybe people are mad at him, so they don't like the idea of blacks in authority."
Baker gave the go-ahead for what went down. But there's no question the support was slipping.
"I pissed somebody off, I guess," he said.
The funny thing is, Baker only wanted a one-year deal a year ago. The team insisted on giving him two.
So if he doesn't get a job immediately he is covered. No matter how it's couched, they are on the hook to pay him.
Someone else should want him. The man wins. He may not have won over the sabermetric crowd, but he wins games.
The Reds, with a top heavy lineup, and a lefty heavy one, still won 90 games. They won without Johnny Cueto, Sean Marshall, Ryan Ludwick and others who were hurt. The front office kept saying that rather than acquiring players, they were waiting for players to return.
Eventually, they did return. But they weren't quite the same. And it wasn't enough.
"I think we overachieved," Baker said.
Baker didn't agree when Jocketty fired pitching coach Dick Pole previously. And like many managers and GMs, there were disagreements over how many coaches would be Baker hires and how many would be front office guys. Baker's guys were Chris Speier, who's been in the crosshairs of management a couple times, and Juan Lopez. Baker sensed that the coaches were less and less his guys.
Things just weren't comfortable between Baker and Jocketty. So Jocketty quite likely was looking for the opening to make the change.
And Baker gave it to him.
The Reds may couch Baker's firing as something that was done by "mutual agreement" but it's clear Jocketty was no supporter.
Reds people surely weren't happy to lose to the rival Pirates and be eliminated in that one-game winner-take-all playoff. But this wasn't all about one game.
Had Baker let Jacoby be fired, he'd more than likely still be Reds manager.
This was far from the first disagreement, though.
There were many disagreements about player acquisitions. And there were disagreements over coaches. But this was the final disagreement.
Baker stood up for what he thought was right. And now he is gone.
Baker has his detractors. Fans were upset because they heard how great the Reds were supposed to be this year, and saw the team go out with barely a whimper.
The sabermetric crowd isn't a fan of Baker's. They kept mentioning how Baker doesn't use on-base percentage to his favor.
There was a drumbeat of negativity. Always the drumbeat.
Jocketty had some ammunition to do what folks on the inside believed he wanted to do. But he probably didn't have the go-ahead -- until Baker gave it to him, that is.
The reality, though, is that the Reds' eventually unsatisfying season isn't Baker's fault. While many baseball people would agree that there are better strategic in-game managers, he won 90 games and made the playoffs again with Jocketty's flawed team.
The Reds are too top heavy. No team relied on four guys like the Reds. Joey Votto, Jay Bruce, Shin-Soo Choo and Brandon Phillips provided a greater percentage of the Reds' offense than any foursome in baseball, and it's not even close. The bottom half of the Reds' lineup was a virtual black hole. That's on Jocketty, not Baker.
The Reds are too left-handed. Three of those players -- all but Phillips -- are left-handed. This made the Reds especially susceptible to lefty pitchers. The Pirates started Francisco Liriano in the one-game playoff game, and the Reds were pretty much dead meat once Liriano's slider was working the way it was.
The Reds don't have enough leaders. Scott Rolen was one. Jonny Gomes was another. Rolen retired, but they needed to replace him. That isn't on Baker.
Jocketty isn't as high profile or as much a magnet for criticism as Baker. But he didn't exactly have a perfect season, either.
Perhaps a crack in the relationship showed in the postgame session when Baker mentioned that Marlon Byrd really helped the Pirates. Perhaps he was just stating fact. Byrd did hurt the Reds a few times since Pittsburgh got him at mid-year.
That was on Jocketty. The Reds could have used a righty hitter like Byrd, but even if they figured there wouldn't be room in the starting lineup once Ryan Ludwick returned (and why think that? Byrd was having a great year), they needed at least to claim Byrd to make sure the Pirates didn't get him.
Byrd only made $700,000 this year, and the Mets wouldn't have given him away, anyway, so a claim on Byrd would have served only as a block. But the Reds, who were in position to block Pittsburgh at the time by virtue of a slightly worse record, passed.
"The Reds were asleep at the switch," is the way one competing GM put the decision not to claim Byrd.
Jocketty has always had the luxury of a good, experienced manager. He had one in LaRussa in St. Louis, and he had Baker. LaRussa and Baker had their own rivalry for the Bay Area, then Cards-Cubs matchup, so maybe Baker and Jocketty had to overcome that.
Jocketty is very close to LaRussa, but he hasn't hinted to anyone he wants to come back to manage. If Jocketty could talk him into it, that would be a coup.
Anyway, the Byrd mistake was barely mentioned throughout the season, while the sabremetric crowd kept harping on Baker's lineups. It's easy to see how all the negativity eventually got to Reds owner Bob Castellini, who looked so upset in the box at the finale some started to wonder who might pay.
It was going to be Jacoby.
Until Baker stood up for him.
Castellini was really the one who hired Baker, as he was blown away in the interview. Wayne Krivsky, who himself was unceremoniously dumped after two years in favor of Castellini's old Cardinals associate Jocketty, was the GM at the time. But after the interview with Baker, Castellini made up his mind.
So Dusty became a high-paid manager in a small market. And he became a lightning rod for a team with out-sized expectations.
The team was just starting to win when Krivsky was fired after almost no time on the job, but the team took off with Baker at the helm. Baker has a terrific winning record, and it would be folly to assume he had nothing to do with its renewed success.
Baker wins a lot. He has won 1,653 games and lost 1,487. He has won three Manager of the Year awards. He hasn't quite won the big one, though, and that's haunted him. And it's given fodder to his detractors.
The Reds lost a big one to the Pirates in the wild-card playoff. The PNC Park crowd was big in the game. But Liriano -- the lefty -- was too tough for the Reds' lefty-heavy lineup.
Afterward, Jocketty was asked by the Cincinnati Enquirer whether there were any "questions" about Bakers's standing. He said, "I don't think so. He's signed for another year."
That was the tipoff. What they meant was that he wasn't sure he'd be able to get rid of him since Castellini still had $3.5-million he'd have to eat and still was thought to support Baker.
And he probably wouldn't have had Baker let Jacoby go without a fight.
But Jocketty got what he wanted, there's little doubt about that.
No word yet on who's taking over, but assuming LaRussa sticks to his word that he's retired, two internal candidates -- pitching coach Bryan Price and Triple-A manager Jim Riggleman -- are names sure to surface.
Someone publicly speculated on Joe Morgan's name. And we hope that's a joke.
To get rid of Baker because he isn't as familiar with stats as one might like and replace him with Morgan, who showed he doesn't know about new stats in his previous job, doesn't sound like something Jocketty would want to do. Plus, Morgan has no experience managing. He'd just be Baker lite. (Though that isn't fair to Baker because Baker is a warm person who deals exceptionally well with others.)
Barry Larkin, a Reds icon and Hall of Fame player, is a  name that makes some sense. He has what it takes to eventually become a good manager, and he'd be an immediate hit with fans.
Price and Riggleman are good names, as well. Price is about the most respected pitching coach in the game, and Riggleman is a fine manager who was a big part of the Nationals turnaround.
Either would make a fine choice. So might Larkin.
But Dusty didn't have to go.
And he likely wouldn't be gone if he didn't stand up for what he thought was right.