More Draft coverage: Mock Drafts | Prospect Rankings | Big Board | News
A few weeks ago, I wanted to take a deep dive into Clemson pass rusher Vic Beasley. So I watched three of his All-22 tapes.
What did I see?
A ton of plays being made by Grady Jarrett.
Who? Jarrett is a smallish defensive tackle who showed up in a lot of ways in the games I watched of the Tigers. I know Beasley gets a lot of hype, and might be a top-10 pick, but Jarrett was the better player in some of the games I watched.
He was better against Georgia. He was better against North Carolina. And he was better against Louisville.
Jarrett, the son of former NFL linebacker Jessie Tuggle, is barely over 6-feet tall and weighs 304 pounds. But he plays much bigger. A former wrestler, he has the low center of gravity and strength the helps him compensate for a lack of size, which is why he's this year's captain of my Better-Than Team, which is comprised of players I think are better than the scouts think.
Some past captains of my team have been 49ers defensive back Jimmie Ward (2014) Eagles nose tackle Bennie Logan (2013), Bucs linebacker Lavonte David (2012), quarterback Christian Ponder (2011) -- big miss -- and Giants defensive end Jason Pierre-Paul (2010).
I really think Jarrett is the next player to captain this team and go on to have NFL success. He is quick off the ball, which helps him compensate for his lack of size. In the games I watched, the offensive linemen had a tough time handling him -- even when he was doubled. His penetration was a big problem for college offensive linemen.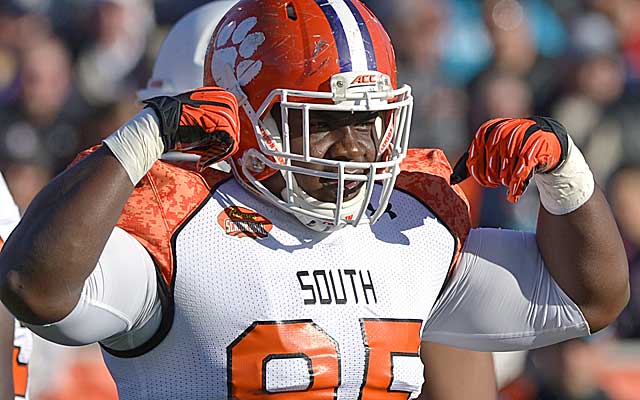 For an NFL comparison, think Geno Atkins, the pre-injury Atkins. Like Atkins, Jarrett would have to be in the right scheme to use his skills. He isn't a two-gap nose. But he can be a great 3-technique tackle in a 4-3 scheme.
In the Georgia game, Jarrett made impressive stops in the run game on consecutive plays in the third quarter. On the first play, he was doubled, split the double, beat another guard coming down, and then tackled Todd Gurley for a 3-yard gain. He used great technique to split the double, showing off his power in doing so.
The next play was similar. He was doubled at the point of attack, and actually was pushed off the line. But he was able to split the double and re-gain his ground and stop Keith Marshall for no gain.
There are a lot of defensive tackles getting first-round mentions, but Jarrett isn't one of them. I am not sure that is right. He doesn't have the size, but this is a kid who has the tools to be an 8-10 sack player in the right scheme on the next level as well as a good player against the run.
Grady Jarrett just might be worth a first-round pick. Learn his name. He's damn good.
Here's the rest of this year's Better-Than team:
T.J. Clemmings, OT, Pittsburgh: I know he's a likely first-round pick, but I think he might be the best tackle in this draft. He is a big and athletic offensive tackle and reminds me of Tyron Smith of the Cowboys. He played right tackle at Pitt, but I see him moving in as a starter on the left side in the NFL.
Cameron Erving, C, Florida State: This kid made a lot of money moving inside to center. He was decent as a tackle, but he can be dominant as a center. He is athletic at a position that requires it. But he's also strong at the point of attack.
Michael Bennett, DT, Ohio State: He is an athletic interior player who shows up on tape. He has good quickness and he has the power to hold up in the run game. He played injured in the College Football Playoff title game, which is a good sign. He isn't huge, but he's quick.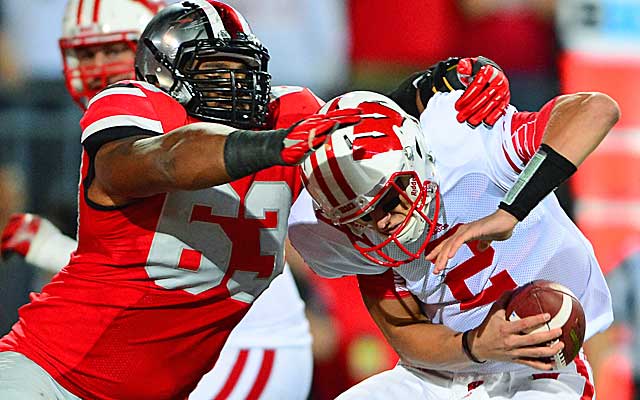 Rob Havenstein, T, Wisconsin: He is a massive right tackle who can really help a team that wants to be a power running team. He isn't a great athlete, but he is good in the run game.
Max Garcia, C, Florida: Watching tape of tackle D.J. Humphries, a likely first-round pick, I kept noticing Garcia at center for the Gators. He isn't a great athlete, but he is a brawler. He will go late in the draft and make somebody's team.
David Johnson, RB, Northern Iowa: The coaches I talked with at the combine raved about him, and now I know why. He is a complete back. He can run it, catch it and he's a willing blocker. He doesn't have great speed, but he ran 4.50, which is good enough.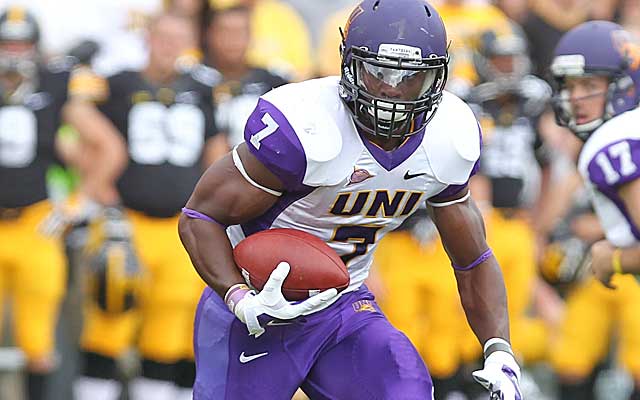 Tyler Lockett, WR, Kansas State: He is a smart, instinctive slot receiver who knows how to get open. He is smallish at 5-9, 182 pounds, but in a league where teams are starved for slot receivers he could become a 70- catch player in a year or so.
Jamon Brown, G-T, Louisville: He played both tackle spots for Louisville, but I think he has the look of a player who could make a nice transition inside to guard. He is 6-3, 325 pounds, but he has a tendency to get heavy. If he can keep his weight in check, he has the look of a starting guard.
Za'Darius Smith, DE, Kentucky: Bud Dupree was the highlight guy on the Kentucky defense, but Smith is a late bloomer who has the tools to be an effective edge player. He played down in their 3-4 a lot, but I think he's a 4-3 end. He is strong and has good hands. He didn't start playing football until 2010. He has a lot of raw ability.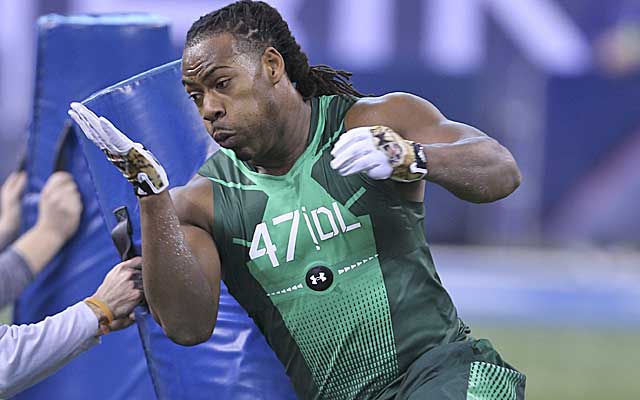 Jamil Douglas, G, Arizona State: He played tackle for the Sun Devils last season after playing guard for two years. I think he can move back inside and become a power guard. A lot of teams like him better inside.
Eric Rowe, S-CB, Utah: He was a corner at Utah last season after playing safety his first three years, but I think he has the tools to be a Pro Bowl-caliber safety on the next level. In a league where teams are looking for safeties with range, this kid is it. He can make the move inside and really flourish.
Frank Clark, DE, Michigan: He had some off-the-field issues that led to his being kicked off the team. That's concerning. But in terms of him as a player, there is a lot to like. He is a former linebacker who has bulked up to make himself a down end. I think he could be a 3-4 edge player, too.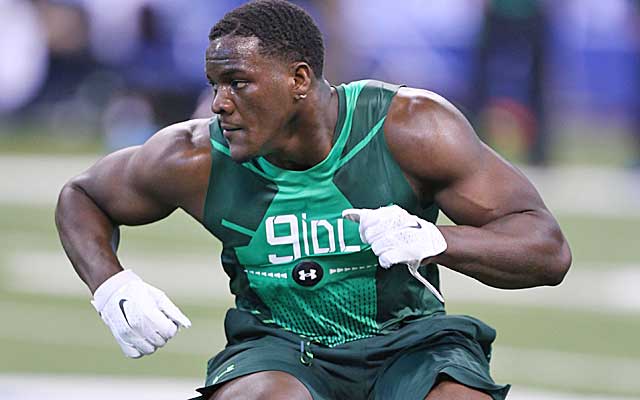 Laken Tomlinson, G, Duke: He moved to the United States from Jamaica at age 10, so he's late to the game. But he has developed into a quality guard who can move and is physical at the point of attack. Duke threw a lot, which helped him develop as a pass protector.
Devin Funchess, WR-TE, Michigan: I know he's been a receiver, and he wants to stay there, but I think this is a kid who could be a dominant "move" tight end on the next level. He isn't explosive as a receiver. But he could create real matchup problems as a tight end.
Kenny Bell, WR, Nebraska: He is a lean receiver who put up good numbers at Nebraska without having a real talented passing quarterback throwing to him. He is a little thin at 6-1, 195 pounds, but he has good speed and ran a 4.42 at the NFL Scouting Combine.
Devin Smith, WR, Ohio State: There is a perception that he is just a speed guy, which isn't true. Yes, he can fly. And that's a big plus. But he's tough and I think he will develop into a solid No. 2 receiver for a team. Speed can't be taught.
Josh Shaw, CB-S, USC: He started his career at Florida, transferred to USC for family reasons, and developed into a quality corner. Then he had the issues off the field last year and missed the first 10 games. He could be a big corner, but I think he would excel inside.
Jeff Heuermann, TE, Ohio State: In a thin tight end class, he could be a second-round pick. Was a three-year starter for the Buckeyes, who caught 52 passes in his career. But he's a good blocker, which makes him the rare double-threat tight end.
Stefon Diggs, WR, Maryland: He never lived up to the hype with the Terps, but he has the skills to be a productive NFL receiver. He is also a capable return man. A team using a mid-round pick on him might end up with a steal. The talent is there.