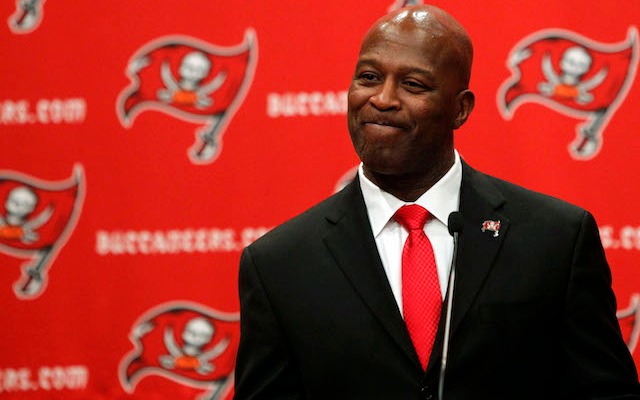 After searching for over three weeks, Tampa Bay has finally found its new general manager. The Buccaneers hired Jason Licht on Tuesday, the team announced. Licht comes from Arizona, where he served as the Cardinals vice president of player personnel in 2013. 
Licht and Marc Ross, the Giants vice president of player evaluation, were the finalists for the job, according to CBS Sports NFL Insider Jason La Canfora,  Licht was also in the mix for theDolphins general manager opening.
"We are excited to welcome Jason Licht as the new general manager of the Buccaneers," Buccaneers Co-Chairman Joel Glazer said in a statement.  "Jason is a seasoned NFL personnel veteran who has worked with some of the most accomplished individuals in professional football while contributing to success in New England, Philadelphia and Arizona. His strong player personnel background provides the ideal complement to Lovie Smith's philosophy as our head coach. We look forward to working with Jason and Lovie as we set the foundation and chart the course for the future of Buccaneers football."
La Canfora reports that new Bucs coach Lovie Smith will have final say over football matters, and that Smith was very involved in the hiring of Tampa Bay's general manager.
It makes sense that Smith was involved in the hiring because Smith and Licht will be tied together through their contracts. The Buccaneers are giving Licht a four-year deal with a team option for a fifth-year, according to ESPN. That's similar to the contract that Tampa Bay gave Smith when he was hired earlier this month. 
Licht replaces Mark Dominik, who was fired by the Buccaneers on Dec. 30 after five years on the job. Dominik and second-year coach Greg Schiano were both fired after Tampa Bay finished 4-12 in 2013.  
The 42-year-old Licht has served in various front office capacities in the NFL since joining the league as a scouting assistant for the Dolphins in 1995. Licht has also been a part of several successful front offices. 
Licht was Philadelphia's assistant director of player personnel in 2004 when the Eagles made it to the Super Bowl. Licht was also apart of Arizona's front office in 2008 when the Cardinals went to the Super Bowl and apart of New England's front office in 2011 when the Patriots loss to the Giants in the Super Bowl.