Raiders commit to Vegas, offer $500 million for stadium: 4 things to know
Raiders owner Mark Davis is finally putting his money where his mouth is
Raiders owner Mark Davis is finally putting his money where his mouth is.
During a presentation in front of the Southern Nevada Tourism Infrastructure Committee (SNTIC) on Thursday, Davis pledged to put $500 million toward a new stadium in Las Vegas if the rest of the funding is ultimately approved by the Nevada State Legislature.
"Together we can turn the Silver State into the silver and black state," Davis told the SNTIC, via the Associated Press.
Davis' money would go toward a $1.33 billion stadium project that's been proposed by the The Las Vegas Sands casino group and Majestic Realty.
The domed-stadium would be built on an empty 42-acre lot that's literally right next door to McCarran Airport and just blocks from the strip. In the clip below, you can see the airport, followed by the 42-acre stadium site, followed by the strip.
Initial plans for the new stadium call for a 65,000-seat dome that could be built with a retractable roof at an extra cost of about $55 million. The new stadium is tentatively planned to contain 100 luxury suites and 6,000 club seats.
Here's four things to know about a possible Raiders move.
1. Davis seems dead serious about moving his team.
Davis has been talking about moving the Raiders for years, but for the most part, everything he said came across as an empty threat because there was no viable stadium plan in place.
That's not the case in Vegas, where Davis is being backed by billionaire casino mogul Sheldon Adelson, the man who owns the Sands Casino group. The two have a viable plan in place that would call for $650 million of the stadium to be paid for with private funding.
Out of the $650 million, $150 million would come from Adelson's group and the rest would come from Davis and the NFL. Of the $500 million that was committed to the project by Davis, $200 million of that would come from league.
Davis and the league offered a total of $600 million to Oakland (with $300 million from the NFL), but the Bay Area city hasn't figured out a way to fund the rest of a possible new stadium. Oakland has made it clear that public financing isn't an option there.
In Vegas, the final $680 million in stadium costs would be paid for by a proposed hotel tax that would mostly hit the pocketbook of tourists.
At the end of Thursday's meeting, Davis made it clear that his team is serious about Vegas.  
"We have made a commitment to Las Vegas and that's where it stands," Davis said, via ESPN.com. "If Las Vegas can come through, we'll be the Las Vegas Raiders." 
2. What's the timeline on a possible move?
This is still up in the air, but things could move fast.
Public funding for the stadium has to be approved by the Nevada State Legislature, and it would likely have a strong chance of going through if the SNTIC recommends it, which seems like almost a foregone conclusion. 
The problem for Davis and the Raiders is that the Nevada State Legislature isn't scheduled to meet again until February. By that time, the Raiders should know if the Chargers are moving to Los Angeles or not.
If the Chargers stay in San Diego, then the Raiders would have the option to move to L.A.
Proponents of the Vegas stadium said on Thursday that they would request a special session of the Nevada State Legislature that would meet in August. If that happens and the funding passes, then this thing could move quickly.
Building the stadium would take about 36 months and Davis said his team would spend that time in Oakland, where they have a lease that allows them to play until 2018. The Raiders would then move to Vegas in time for the 2019 season. To build fan interest for the pending move, the Raiders would "try and play at least one preseason game per year" in Vegas, according to Davis.
Basically, even if everything goes perfectly according to plan for Vegas, the Raiders wouldn't be playing there until 2019.
3. Will NFL owners back a move to Vegas?
Although NFL commissioner Roger Goodell has made it clear on several occasions that the league is staunchly against gambling, he seems to be more and more open to a Vegas move by the day.
Goodell was asked about a possible Raiders move to Vegas while meeting with reporters at the NFL Draft on Wednesday.
"The Raiders were given permission by other clubs to evaluate their options and to consider their alternatives, and they're doing that," Goodell said, via the Los Angeles Times. "They know that it's subject to a vote."
The Raiders need 24 out of 32 owners to OK their move and if the team gets that, it doesn't sound like Goodell is going to stand in its way. The Rams, Chargers, Cowboys, Texans and 49ers would all probably favor a move (it would keep the Raiders from potentially landing in their markets), so theoretically, Davis would only need to convince 18 other owners. 
Davis also thinks that owners will open their arms to Vegas when they see the stadium proposal.
"We know what the NFL is looking for," Davis told the SNTIC, via the San Jose Mercury News. "I believe if we give them an offer they can't refuse and that's what we are talking about right now, I don't see a problem. We'll fight for it."
Mark Davis and David Beckham are both at this SNTIC meeting #rjnow #raiders #lasvegas pic.twitter.com/Pl01CXl8Wz

— Brett Le Blanc (@bleblancphoto) April 28, 2016
4. Where will the Raiders end up?
Davis is going to go wherever he can get the best deal and right now, that seems like Vegas. The sportsbooks in Vegas love putting odds on things, and if there were odds on the Raiders relocation, you'd have to say that Vegas is the new favorite on the board. 
Of course, if things fall through in Vegas and the Chargers stay in San Diego, there's a good chance the Raiders end up in L.A. The one thing to keep in mind with Vegas is that, although Davis is pledging some serious money, he hasn't signed any sort of contract, which means he can back out of anything at any time.
Despite that, the one thing that's clear here is that the city with the longest odds right now is the city that the Raiders are already in: Oakland.
The Raiders last played a game in Vegas in 1964, when they played a preseason game in Sin City. Davis doesn't think he'll be waiting another 50 years to see his team play there again.
"With your help it won't be another 50 years before the Raiders play another game in Las Vegas," Davis said.
As for the Raiders, they weren't tipping their hand on where they might end up.
"The Raiders would like to thank the Southern Nevada Tourism Infrastructure Committee and Mayor Goodman for their time today as we continue to explore options for a permanent stadium solution," the team said in a statement. "We appreciate the support and passion of Raiders fans everywhere."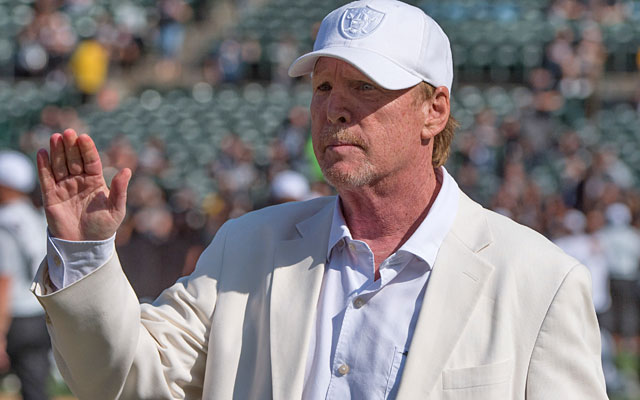 Pick Six Newsletter
Get the day's big stories + fun stuff you love like mock drafts, picks and power rankings.
Please check the opt-in box to acknowledge that you would like to subscribe.
Thanks for signing up!
Keep an eye on your inbox for the latest sports news.
Sorry!
There was an error processing your subscription.
A minor groin injury kept Aiyuk out of the Senior Bowl

Brees will join Tom Brady as the second QB to play 20-plus seasons with two or fewer franchises

Despite the fact that it may not be in Washington, Reed wants to keep playing
Minnesota's 1,000-yard receiver recently removed every Viking photo from his Instagram account

Unlike a year ago, there could be a handful of cornerbacks who find their way into Round 1

Is Joe Burrow trying to talk his way out of Cincinnati?
Kansas City won its first Super Bowl in 50 years as San Francisco struggled to maintain a late...

A Vince Lombardi Trophy is heading to Kansas City

Live scores, highlights and updates from the Jaguars vs. Colts football game