The rivalry between the Bengals and Steelers is starting to get more heated off the field than it is on the field.
After Steelers running back Le'Veon Bell went down with a season-ending MCL injury in the Bengals' 16-10 win Sunday, there was at least one Steelers player who said he thought the Bengals were trying to injure Bell on purpose.
Several other Steelers players said that they were mad at Bengals linebacker Vontaze Burfict because they thought he was celebrating the hit that injured Bell.
Steelers linebacker Vince Williams became so heated about the situation after the game that he sent a late-night threat on Twitter to Burfict.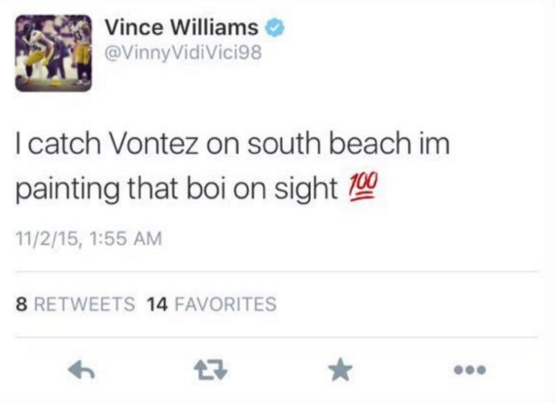 As soon as Williams sent the tweet out, several fans responded and they all seemed surprised that he was threatening the Bengals linebacker in a public forum.
Can't believe @King55Tez is getting death threats for playing good football. By a verified @twitter account even. Smh @VinnyVidiVici98

— Andon's Dad™ (@BrewStudNo1) November 2, 2015
@King55Tez @VinnyVidiVici98 I wonder what the ginger hammer @nflcommish would think about threatening another player.

— Nick S (@GoatFish77) November 2, 2015
Williams eventually deleted the tweet, but not before Burfict saw it and responded to it.
@VinnyVidiVici98 why wait then u kno were I'm at pic.twitter.com/khEd43nBmf

— Vontaze Burfict (@King55Tez) November 2, 2015
For what it's worth, Burfict said he believes he made a clean hit on Bell and he thinks that Williams only made the threat because he was mad about losing to the Bengals.
"We won. He's mad they lost," Burfict said Monday, via the Cincinnati Enquirer. "I have nothing to say about it. It was a clean hit. Le'Veon is a friend of mine. I didn't intentionally mean to hurt him. It's football."
Not everyone believes that the hit was unintentional. After the game, Steelers offensive lineman Ramon Foster said he thought the Bengals were "aiming" to injure Steelers players.
"I am sure they were aiming to take somebody out today and kudos to them, they did the job," Foster said.
Burfict definitely has the support of his teammates.
Bengals offensive lineman Andrew Whitworth made sure to point out Monday that the Steelers were celebrating after they injured Bengals wide receiver Marvin Jones.
@JFowlerESPN @LanceMcAlister Should Watch his own team. Maybe watch #23 celebrate Marvin jones hit.

— Andrew Whitworth (@BigWhit77_fndn) November 2, 2015
During the second quarter, Jones had to leave for several plays after being leveled by Steelers safety Mike Mitchell.