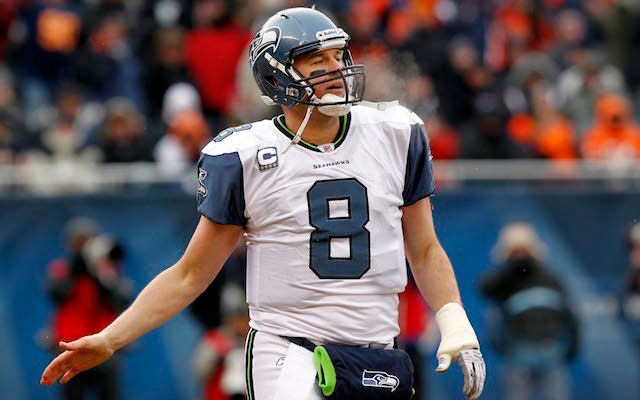 More SB coverage: XLVIII odds | Expert picks | Super Bowl weather | Latest news
It's a good thing Seattle's playing in the Super Bowl on Sunday because that means Seahawks fans can finally put Super Bowl XL behind them. In a game where referee Bill Leavy got flag-happy, the Seahawks were called for several questionable penalties in a 21-10 loss to Pittsburgh. 
Unlike the Broncos, who have been to six Super Bowls and won two of them, Seattle's loss to the Steelers is the only time that the Seahawks have been to the promised land. 
Here's a look at the brief Super Bowl history of the Seahawks. You can see Denver's Super Bowl history here.
Super Bowl XL: Pittsburgh 21, Seattle 10 -- The Seahawks joined the NFL in 1976, but it wasn't until February 2006 that the team made its first Super Bowl appearance, an appearance that's still a sore subject in Seattle. The questionable calls started in the first quarter on Seattle's third possession when wide receiver Darrell Jackson was called for offensive interference after making a 16-yard touchdown catch. 
That wasn't the most questionable call though, the big one came in the fourth quarter when offensive lineman Sean Locklear was called for a holding penalty after Seahawks quarterback Matt Hasselbeck threw an 18-yard pass to Jerramy Stevens who was tackled at the Pittsburgh 1-yard line. Because of the penalty though, the Seahawks didn't get the ball with a first-and-goal at the Steelers one, they got it at the Steelers 29-yard line facing a first-and-20. The Seahawks were trailing 14-10 at the time of the penalty. 
Leavy eventually admitted he made the wrong call, but he waited four years before he let the truth come out, "It was a tough thing for me. I kicked two calls in the fourth quarter and I impacted the game and as an official, you never want to do that," Leavy said in August 2010, via the Seattle Post-Intelligencer. "It left me with a lot of sleepless nights. I think about it constantly. I'll go to my grave wishing that I'd been better. I know that I did my best at that time, but it wasn't good enough."
If you're near a Seahawks fan on Sunday and they go into a panic attack after the first flag is thrown on Seattle, now you'll know why. 
Why you might remember this Super Bowl: Besides the officiating, this Super Bowl is best remembered for being the final game of Jerome Bettis' career. In front of a hometown crowd in Detroit, the Bus carried the ball 14 times for 43 yards. Steelers wide receiver Hines Ward took home the Super Bowl MVP award after a five-catch, 123-yard, one touchdown performance.