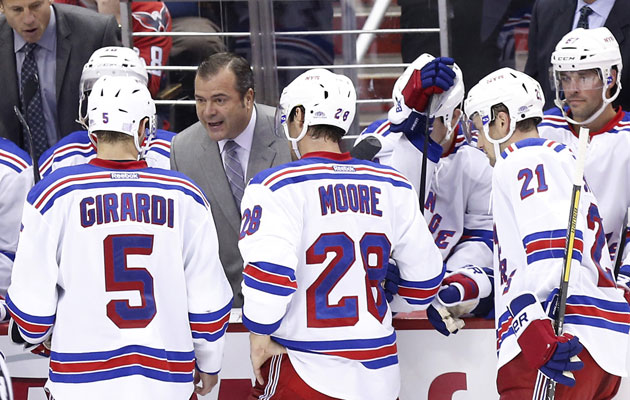 More NHL: Scores | Standings | League Leaders | Odds | Injuries | Power Rankings
Nearly three weeks into the season it can be argued that the New York Islanders are playing the best hockey in the New York Metro area. Considering the Isles just became the first team to lose a game to the Buffalo Sabres -- at home, no less -- on Tuesday, that's saying something.
Indeed, the start of the season has been anything but kind to both the Rangers and Devils, the rival pair combining for two wins in 12 games up to this point, both belonging to the Blueshirts. Starts don't get too much more frustrating than that.
Remember, just two years ago the Rangers and Devils made up the Eastern Conference finals, with the Devils eventually winning the right to lose to the champion Kings in the Cup Final. They are two organizations that expect to be in the playoffs every season, demand to be. And as we all know people don't overreact to bad things in the New York sports scene (uh huh). Bad beginnings can only festerin a cauldron like that.
An ironic aspect of their slow starts out of the gate is the schedules they were given. Considering the Rangers and Devils annually have two of the cushiest schedules in the league given that so many teams are either a bus or train ride away, it's a twist that they were given such demanding beginnings, though I doubt they'll get much sympathy from the teams in the West and South.
It was out of their control really so there was no choice but because of ongoing work at Madison Square Garden, the Rangers began the season on a nine-game road trip, starting on the West Coast to boot. Not only that but they spent much of the preseason out West as well. That's a long time to be away from home and especially when you're breaking in a new coach in Alain Vigneault who has brought some different aspects to the Rangers than they had under previous coach John Tortorella such as their defensive scheme (man-to-man vs. a zone), it's not ideal.
While it sounds like an excuse -- maybe it is, there's more to a team being minus-14 through six games than just that -- it has been a major factor in New York being bad from the start. It was no coincidence that they played perhaps their best game once they got back on the East Coast, had a chance to go home and, more importantly get back into playing teams in the Eastern Conference, with a 2-0 win on Wednesday night in Washington. Henrik Lundqvist and the defense looked like Lundqvist and the Rangers defense again, shutting out the Caps for a third straight time.
Let's not forget about the Devils who are the only winless team left in the NHL, starting the season with six straight losses. Thanks to overtime points the Devils actually do have points in half their games but don't mistake that for them not being bad; they have been. They're 28th in the league in goals per game, 25th in goals against and 29th on the power play. The Devils have surrendered at least three goals in each game thus far. It has people doing a heat check of Peter DeBoer's seat.
But like the Rangers, they haven't had the easiest road to begin, getting their Western Canada swing out of the way early. With one more game to go in Ottawa on their road trip, six of their first seven games come away from home. With as many new faces as they brought in this summer, that can be a tough way to begin and find the chemistry and routines that hockey teams need.
Good news for the hockey fans around Gotham City? They aren't the only ones struggling early.

Their poor beginning was made clear enough by the firing of coach Peter Laviolette just a couple of games into the season. Problem is, so far very little has changed with Craig Berube behind the bench. The one win the Flyers have picked up came at home against the lowly Panthers in a game in which they were outplayed and had some good fortune. Otherwise it's been a dumpster fire in Philly.
The Flyers can't score. In seven games they have a total of 10 goals, just eight at even strength. Claude Giroux has been missing (though he was noticeably better in their last game, a loss to Vancouver). Maybe their offensive struggles are best summed up with this: Their leading goal scorer is a rookie (Tye McGinn) who has played in just two games following his call up.
It must be infinitely frustrating for Philly because goal scoring hasn't been an issue for years with this nucleus of players, it's been the goaltending. While Steve Mason hasn't been lights out, he's been good enough that the Flyers should have more than one win. They don't.

Two seasons is hardly enough time to develop a trend so we'll call it a coincidence but these slow starts under coach Adam Oates are not helping their cause one bit. Last season the Caps nearly buried themselves in the opening half of the season before storming back to win the Southeast. The belief was that without a training camp to work under Oates, they had to learn on the fly. They'd be better with a campaign under their belts and a full preseason.
Wrong. About the only thing that has carried over from last season's torrid finish has been Alex Ovechkin's goal scoring. He has six goals in seven games but unlike last season the team isn't riding his wave to wins. At just 2-5-0 , it's been a struggle for Washington and compounding the cause for concern is that five of the first seven games have come on home ice where the Caps have always been significantly better.
A major issue right now is that nobody is helping Ovechkin very much. On Ovechkin's line alone he's the only guy producing goals. Yes, center Nicklas Backstrom is a play-maker and helps Ovechkin do his thing but it's still amazing that Ovechkin has 50 shots on net so far while his linemates Backstrom (11) and Marcus Johnansson (3!) have just 14 combined. That's a remarkable disparity on a top line. More importantly, though, they just need secondary scoring from somewhere, anywhere. Only Mikhail Grabovski has more than one goal (outside of Ovi) and his three all came on opening night. Combine that with goalie Braden Holtby having a sub-.900 save percentage at the moment and you have a poor performance to match that of Congress.
Metropolitan Division
What do the four teams discussed thus far have in common? They all call the Metropolitan Division their new home. As a collective group, the Metro teams have had a start as poor as the new name. It is shaping to be the Penguins and then the field right now. All eight teams put together, the Metropolitan Division is a minus-45 in goal differential and that includes Pittsburgh's plus-8. Their collective record outside of the division is 9-21-6.
In a way that's very good news for the disappointments through the first two weeks; there is nobody running away with the playoff spots. As bad as the Rangers have been, they are only two points back -- Devils just three back -- of the third playoff spot right now, the benefit of playing in a down division. It's a lot easier to not get down on yourself when you see you're close in the standings, even if it is literally less than 10 games into the season and there is a long way to go.

Disappointment isn't left completely for the Metro, the Oilers are pretty much the one exception to the rule in the Western Conference. Edmonton is dead last in the West and already in the Pacific Division the Oilers find themselves nine points behind first-place San Jose and five back of the next closest teams, including provincial rival Calgary. They have given up a league-high 32 goals and there is talk they're already on the hunt for a goaltender.
In other words, Dallas Eakins probably saw his NHL coaching career beginning better than this. And unfortunately for them, it might not get all that better in the next few games as five of their next six games are on the road.
...
So what's the good news for these underperformers? There's still a loooong way to go and as long as the slow start doesn't drag on too long, none of their deficits are impossible to overcome.