More title games: Expert Picks | Kirwan: 10 questions for Sunday
The four best teams in the NFL, all with at least 12 victories, are featured in Sunday's NFL conference championship games, which doesn't usually happen.
In the AFC Championship Game, it's New England at Denver and in the NFC Championship Game it's San Francisco at Seattle.
It's the old-guard quarterbacks in the AFC game, and the new upstarts at quarterback in the NFC.
It's the passers in the AFC, and the running game and defense in the NFC.
This is how many expected it to be. Let's hope the games live up to the hype.
Will Denver's Peyton Manning go to his third Super Bowl?
Will New England's Tom Brady play in his sixth?
Can the 49ers go to back-to-back Super Bowls?
Will Russell Wilson get to his first?
There are so many interesting storylines about these two games. Here is a quick look at both of them.
AFC Championship: Patriots at Broncos, 3 p.m. Sunday (CBS, CBSSports.com)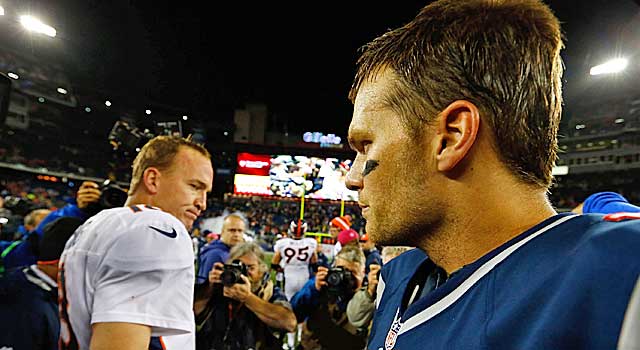 The skinny: It doesn't get any better than Peyton Manning vs. Tom Brady with at a trip to the Super Bowl on the line. These two teams met in the regular season and the Patriots stormed back from 24-0 halftime deficit to beat the Broncos 34-31 in overtime. Manning was limited to a season-low 150 yards passing, but Knowshon Moreno ran for 224 yards. These two teams are a lot different since that Nov. 24 meeting. The biggest difference is the Patriots don't have tight end Rob Gronkowski. Brady and Manning have met three times in the playoffs with Brady holding a 2-1 edge, but Manning won the last time they played in the 2006 AFC title game.
Interesting Patriots stat from first game: LaGarrette Blount, the Patriots' battering ram of a back, had only two carries for 13 yards in that game. Brandon Bolden led the Patriots in rushing with 58 yards on 13 carries.
Interesting Broncos stat from first game: Backup tight end Jacob Tamme led all Broncos receivers in catches with five for 45 yards. Starter Julius Thomas (knee) didn't play.
Key matchup: Patriots center Ryan Wendell vs. Broncos defensive tackle Terrance Knighton. The Patriots have morphed into a running team in recent weeks, including last Sunday's divisional-round win over the Colts, but if they are to run the ball here, Wendell and guards Logan Mankins and Dan Connelly will have to handle Knighton, who is the key to the Broncos' run defense.
Patriots player on the spot: Defensive end Chandler Jones. Pressure on Manning is the way to slow him down and Jones is the team's best pass rusher.
Broncos player on the spot: Manning. Isn't it that way every time he takes the field in a postseason game? Can he get to another Super Bowl? Or is he destined for another postseason disappointment?
Patriots assistant coach who has to be concerned: Cornerbacks coach Josh Boyer has to be have his guys ready for a lot of different looks and formations against the Broncos' three-receiver sets. It is imperative that his corners have a good game if the Patriots are to win.
Broncos assistant coach who has to be concerned: Offensive coordinator Adam Gase. Why? Anytime you are a first-time coordinator and you match wits with Bill Belichick and his defensive staff in the playoffs, the pressure is on you.
NFC Championship: 49ers at Seahawks, 6:30 p.m. Sunday (Fox)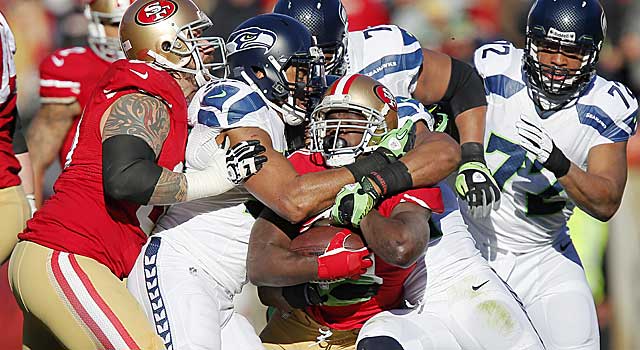 The skinny: These NFC West rivals have been on a collision course for this game all season. They've faced each other twice this season, with each winning on their own home field. The Seahawks crushed the 49ers 29-3 in Week Two and San Francisco beat Seattle 19-17 in Week 14. The 49ers are playing in their third consecutive NFC Championship Game, winning one and losing one. The Seahawks haven't played in the NFC Championship Game since 2005, when they beat Carolina 34-14. This game will be about defense and the running game. But which young quarterback will make the big plays, Colin Kaerpernick or Russell Wilson? Who makes the big mistake?
Interesting stat from first game: The 49ers were 3 of 12 on third down (25 percent).
Interesting stats from second game: The 49ers limited Marshawn Lynch to 3.6 yards per carry, while Frank Gore averaged 6.5 per carry.
Key matchup: Niners center Jonathan Goodwin vs. Seahawks defensive tackle Brandon Mebane. If the 49ers are to run the football, Goodwin has to get push on Mebane. The 49ers love to pull their guards, and that's tough to do when the center is in the backfield.
49ers player on the spot: Linebackers Patrick Willis and NaVorro Bowman. These inside LBs will be key to stopping Seattle's ground game. They can't let Lynch get going.
Seahawks player on the spot: Seattle safety Kam Chancellor. He is key to the run defense, playing almost like a linebacker, but you can also expect him to be in coverage on TE Vernon Davis, too.
49ers assistant coach who has to be concerned: Offensive coordinator Greg Roman. How do you move the football against the NFL's top-ranked defense? Roman has to get creative with Kaepernick.
Seahawks assistant coach who has to be concerned: Offensive line coach Tom Cable is one of the best in football, but the 49ers have six sacks in two games against the Seahawks this season. They have to protect Wilson.