Russell Wilson and his agent, Mark Rodgers, have a deadline of the start of training camp for an agreement to be reached on a contract extension with the Seahawks. Once Wilson sets foot on the field for the first practice of training camp on Friday, he will play out the final year of his four-year rookie contract.
Contract discussions will be tabled until next offseason.
The Seahawks should be thankful that Wilson has removed a holdout from the equation. A Wilson holdout would have had the potential to become one of the nastiest contract disputes in recent memory if neither side was willing to compromise.
The penalties under the 2011 Collective Bargaining Agreement (CBA) are severe for players under contract withholding services they are contractually obligated to perform, which are an effective deterrent for most players unhappy with their contracts.
A team can fine a player a maximum of $30,000 for each day of training camp he misses. Absence for the entire 38 days of training camp would have subjected Wilson to $1.14 million in fines. That's extremely cost prohibitive since Wilson's current 2015 salary is $1.542 million.
A team can also recover a portion of a player's signing bonus. Fifteen percent of the prorated amount of signing bonus can be recouped on the sixth day of a training camp holdout. It's 1 percent for each additional missed day with a maximum of 25 percent of the prorated amount during training camp. An additional 25 percent can be recovered with the first missed regular season game. After four missed weeks, a team can recover 1/17 of the prorated amount for each additional week of the player's absence. The maximum a team can recover in a season is the entire prorated amount of the player's signing bonus in that contract year. Wilson's 2015 signing bonus proration is $154,868.
More important than the financial ramifications in Wilson's case would be the year of service towards free agency he wouldn't earn if he didn't report to the Seahawks at least 30 days prior to NFL's first regular-season game. The reporting deadline this year is Aug. 11.
Missing this Aug. 11 deadline and Wilson playing out his rookie deal with a failed holdout would make him a restricted free agent in 2016. Under this scenario, the Seahawks would likely give Wilson a restricted free agent tender next year where they would get a first-round pick, which will be between $3.522 million and $3.689 million next year, from a team signing him to an offer sheet that isn't matched. Getting the year of service isn't a concern for holdouts with four or more years of service since these players already have enough service time to qualify for unrestricted free agency.
Wilson would need to be committed to missing regular-season games in case the Seahawks took a hardline stance given the penalties. A protracted holdout would determine Wilson's importance to Seattle's success. Tarvaris Jackson would attempt to fill Wilson's shoes. The last time the Seahawks missed the playoffs was in 2011 when Jackson was the starting quarterback. Fortunately, the Seahawks won't get an answer to that question through a bitter contract dispute.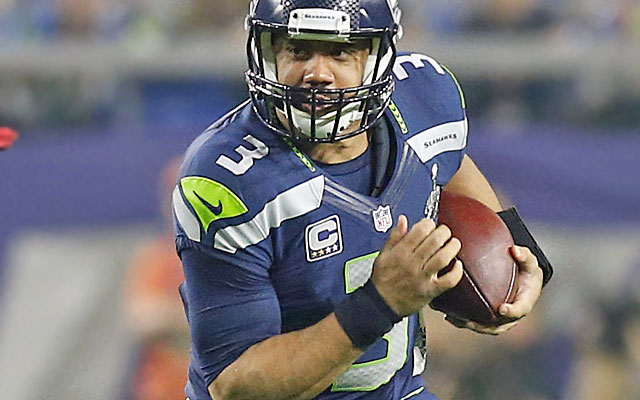 Seattle's contract offer: The Seahawks have reportedly made Wilson a $21 million per year offer. Wilson would move just ahead of Cam Newton to become the NFL's third-highest player (by average yearly salary) under the offer. Newton signed a five-year, $103.8 million extension with the Panthers containing $60 million in guarantees in early June.
Professionals within the industry (agents and team negotiators) typically value deals by new money. New money is the amount of compensation in a contract excluding what a player was scheduled to make before receiving a new deal. Every negotiation I had while I was an agent for a player with an existing contract was over new money.
The concept of new money can be illustrated with Packers quarterback Aaron Rodgers, who is the NFL's highest-paid player. Rodgers had two years remaining on his existing contract with $9.75 million and $11 million salaries for 2013 and 2014 when he signed a new deal during the offseason in 2013. Although Rodgers signed a seven-year contract for $130.75 million, his deal is considered as a five-year, $110 million contract extension averaging $22 million per year among industry professionals. His two existing contract years for $20.75 million are subtracted from the $130.75 million seven year total to arrive at this number.
Wilson would be signing a contract covering five years for $85.542 million with acceptance of Seattle's offer. The deal would be classified as a four-year, $84 million extension by industry professionals.
All of Seattle's lucrative veteran contracts signed under the current CBA have been structured where the guaranteed money consists of base salary guarantees and a signing bonus. Base salary guarantees after the first contract year are for injury only initially at signing in most instances but typically become fully guaranteed either on the fifth day of the waiver period in each specific year or five days after the start of the waiver period. The waiver period always begins the day after the Super Bowl.
The second contract year was fully guaranteed at signing in several deals negotiated prior to 2013. Players who have received a fully guaranteed second-year base salary include Red Bryant, Chris Clemons, Marshawn Lynch, Brandon Mebane, Zach Miller, Sidney Rice and Max Unger.
The signing bonus is layered on top of the salary the player was scheduled to make prior to his new deal with extensions. For example, All-Pro cornerback Richard Sherman's 2014 base salary was $1.431 million under his rookie deal. It remained the same when he signed a four-year, $56 million extension in May 2014, which included an $11 million signing bonus.
Seattle's deals don't contain big signing bonuses. Percy Harvin's $12 million signing bonus is the largest signing bonus that the team has given to a player under the 2011 CBA. Sherman is the only other player with a signing bonus over $10 million.
Are Wilson's contract demands excessive? Wilson and Rodgers haven't divulged their contract demands publicly. It is believed that Wilson wants to become the NFL's highest-paid player and have the most guaranteed money in an NFL contract.
It is unrealistic to expect Wilson to give up significant money for the good of the team on his first veteran contract especially since he has only made slightly under $2.2 million so far from his rookie contract.
Most players don't give teams a hometown discount anyway. Ben Roethlisberger received full value on the four-year, $87.4 million extension he signed with the Steelers in April, which made him the NFL's second-highest paid player. The extension is the second big veteran contract Roethlisberger has signed.
Tom Brady signing a contract significantly under his market value so the Patriots can improve the talent around him or retain key players is an anomaly. It's much easier for Brady to do than any other player because his wife, Gisele Bundchen, is the world's highest-paid model. According to Forbes, Bundchen had an estimated $47 million in earnings for the 12-month period ending last July. She reportedly made $42 million during the previous 12 months.
Wilson as the highest-paid player isn't an outrageous notion even though he isn't the same caliber of quarterback as Brady, a healthy Peyton Manning or Rodgers. Being in the best quarterback discussion isn't a requirement for topping the NFL pay scale.
Nobody was considering Joe Flacco as an elite quarterback when the Ravens rewarded him with a six-year, $120.6 million contract, including $51 million in guarantees, in 2013 after he capped off a stellar post-season during a contract year by being named Super Bowl XLVII MVP. Eli Manning was arguably a top-10 quarterback when the Giants gave him a six-year, $97.5 million extension in 2009. Wilson has just as many Super Bowl victories with better statistics and more accolades than Flacco and Manning had when their big deals made them the league's highest-paid player.
Rodgers is using a similar approach as Joe Linta, Flacco's agent, took during negotiations with the Ravens by placing an importance on winning, Super Bowls and championships. Team success is one area where Rodgers can easily distinguish Wilson from most quarterbacks. Wilson is the winningest quarterback in NFL history over the first three years of a career with 36 victories. There's a three-way tie for second with 33 wins between Andrew Luck, Dan Marino and Matt Ryan. Wilson has a 6-2 playoff record with two Super Bowl appearances, including one championship. He is the only starting quarterback in league history to make it to two Super Bowls in his first three NFL seasons.
Wilson may have shed some light on how much he is seeking in an ESPN SportsCenter interview in late June. "No matter how much I'm getting paid, whether it's $25 million or $1.5 million, I'll be ready to go," said Wilson.
It has been assumed that Wilson wants a deal averaging $25 million per year because of the comment. Seattle might be willing to go as high as $22.5 million per year with a four-year, $90 million extension to close a deal. There isn't a deal to be made right now at $25 million per year. Based on the financial relationship between the highest paid and second-highest paid player over the last five years, the most a deal placing Wilson at the top of the NFL's salary hierarchy should average is a little more than $23.5 million per year.
There's one other plausible contract significance of the $25 million remark. It could signify how much Wilson wants as a signing bonus. Wilson getting a $25 million signing bonus is probably unrealistic because it is more than double the largest signing bonus that the team has given to a player under the 2011 CBA. A $25 million signing bonus would take up $5 million of Seattle's $9.27 million of salary cap space. Using $5 million of existing cap room on Wilson and signing All-Pro middle linebacker Bobby Wagner to an extension could leave the Seahawks with a smaller cap reserve for injuries heading into the season than the team would like.
The NFL benchmarks for guaranteed money Ben Roethlisberger's $64 million of overall contract guarantees and the $59.955 million fully guaranteed at signing in Ndamukong Suh's six-year, $114.375 million free agent deal with the Dolphins. Suh's $59.955 million is far more significant to Wilson because it's the best and most accurate measure of true contract security.
Rodgers isn't going to be able to reinvent the wheel structurally with Wilson's deal because teams are extremely reluctant to establish new contractual precedents that will be used against them in future negotiations with other players. He must be willing to work within the team's established structural conventions or Wilson will be playing out his rookie contract.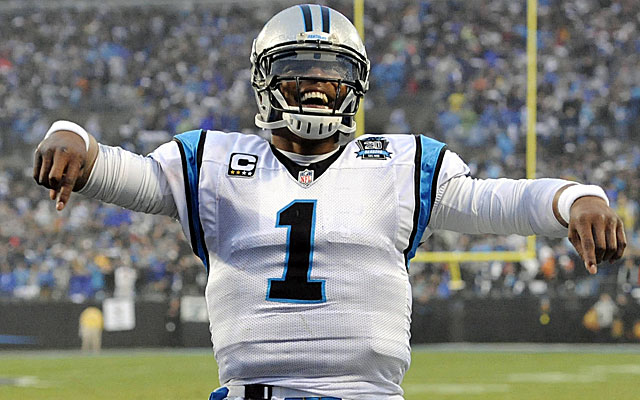 The Seahawks aren't going to treat Wilson as if the final year of his current deal doesn't exist. Rodgers and Wilson must be comfortable that his $1.542 million base salary won't change with an extension. This constraint makes it practically impossible for Wilson's three-year cash flow on an extension (through 2017) to approach Newton's $67.666 million, which is the NFL's best. Newton was scheduled to make almost 10 times as much as Wilson this year, $14.666 million, prior to his extension. Wilson should be satisfied with receiving approximately $55 million through 2017 with an extension considering the modest remaining salary of his rookie deal.
It's probably going to be necessary for Seattle to fully guarantee Wilson's second contract year (2016) at signing, which the team hasn't done in three years. The Seahawks shouldn't realistically expect for Wilson to accept a deal that makes him one of the NFL's highest-paid players without a structure consistent with other top quarterback contracts. It takes $40 million fully guaranteed at signing to be in the top five among quarterbacks in this metric.
Seattle's immediate plans if there isn't a deal: The Seahawks recently opened discussions with Wagner about an extension as it became more apparent that reaching an agreement with Wilson would be difficult. Negotiations with Wagner will become a top priority once Wilson's self-imposed contract deadline passes.
The biggest obstacle to an agreement with Wagner could be the stagnation of the inside linebacker market. Patrick Willis was still the NFL's highest-paid player at the position with the five-year, $50 million extension containing $29 million guarantees he received from the 49ers in 2010 when he retired early in the offseason.
Luke Kuechly, the NFL's Defensive Player of the Year in 2013, should reset the inside linebacker market on his next deal. There have been reports that the Panthers may address his contract this season instead of waiting until 2016 when he will be in his contract year.
It's conceivable that the Seahawks would give Wagner a contract comparable to Willis' five-year-old deal since he is arguably the league's best inside linebacker besides Kuechly. An $11 million signing bonus equaling Sherman's, which would use $2.2 million of the team's existing cap space with a four-year extension, seems reasonable considering Wagner's current $977,427 2015 base salary would stay the same.
The Seahawks might use some of the cap room that was allocated for a Wilson deal on free agents. According to ESPN's Jim Trotter, wide receiver Reggie Wayne and outside linebacker/defensive end Dwight Freeney could be possibilities.
The franchise tag game: Absent a new deal, Wilson will receive a franchise tag to prevent him from becoming an unrestricted free agent in 2016 unless he has a career threatening injury this season or a terrible contract-year season raises serious doubts about his future performance. An exclusive or non-exclusive franchise tag can be placed on him.
With the non-exclusive franchise tag, Wilson must be offered a one-year contract based on the average of the non-exclusive franchise numbers at his position over the last five years and their percentage of the current year's salary cap or 120 percent of his prior year's salary (i.e., salary cap number), whichever is greater. This tag would allow Wilson to negotiate with other NFL teams but if he signed an offer sheet with another club, Seattle would have five days to match it. If the offer wasn't matched, Seattle would receive two first-round picks as compensation from the signing team.
Under the exclusive franchise tag, Wilson would receive a one-year offer from the Seahawks that is the greater of the average of the top-five salaries at his position once the restricted free agent signing period in 2016 has ended (April 22 next year) or 120 percent of his prior year's salary. Wilson couldn't negotiate with other teams under the exclusive franchise tag.
Peyton Manning and Drew Brees, the last two quarterbacks to receive designations, were given exclusive franchise tags by the Colts and Saints in 2011 and 2012. Seattle would likely do the same with Wilson if negotiations for a deal remained at a longstanding impasse.
The exclusive tag would prevent some quarterback needy team with an abundance of salary cap room from signing Wilson to an offer sheet that the Seahawks might have a difficult time matching. Typically, quarterbacks don't play under franchise tags. This last occurred in 2005 when Brees was with the Chargers. He suffered a serious right shoulder injury in the season finale that put his career in jeopardy.
Preliminary franchise tag numbers can be already be projected for 2016. If the salary cap continues to increase by approximately 8 percent like it has in each of the last two years to the $154 million neighborhood in 2016, the non-exclusive quarterback number will be right around $19.8 million next year. It's more difficult to predict the exclusive version. This figure currently projects to $25.18 million but will decrease if any of the quarterbacks with the five highest 2016 salaries are released or rework contracts to lower salary cap numbers before the 2016 franchise tag designation period ends next March 7.
The exclusive tag has been approximately 21 percent greater annually than the non-exclusive version since the methodology for calculating non-exclusive tags changed in 2012. Based on this data, the exclusive tag should be right around $24 million in 2016. This would be the largest franchise tag number in NFL history.
Assuming a $24 million exclusive tag in 2016, a second franchise designation in 2017 would be $28.8 million, a 20 percent increase over the 2016 franchise number. A third franchise tag with a 44 percent increase over the 2017 figure at slightly under $41.5 million would be unrealistic. The prospect of potentially franchising Wilson twice exclusively could be used by Rodgers as a justification for a long-term deal averaging more than $25 million per year next offseason.
Wilson could also reap the benefit from any positive changes in the quarterback salary landscape before next offseason. The Giants are interested in extending Manning's contract. Roethlisberger's deal will be an important data point in those discussions.
It will not be a surprise if Tom Condon, Manning's agent, insists that the Giants once again make Manning the NFL's highest-paid player despite his inconsistency in recent years and the team missing the playoffs during the last three seasons.
Effect on the salary cap: A new Wilson deal or a 2016 franchise tag will present roster challenges the Seahawks haven't faced before with him under his rookie contract. Wilson's 2015 cap number shouldn't be more than $5.7 million with the new deal.
The bigger impact will begin taking place in 2016 when Wilson starts having large cap numbers. Salary cap numbers in the $20 million range for 2016 and 2017 are realistic on a long-term deal. Wilson's cap number should never reach $25 million in any year under an extension done this year.
The Seahawks have approximately $112 million of 2016 cap commitments. Long-term extensions for Wilson and Wagner could push next year's cap obligations to the $140 million neighborhood. The cap commitments could exceed $145 million if the Seahawks are accommodating an exclusive franchise tag with Wilson.
The Seahawks will need to be more judicious in re-signing players set to become unrestricted free agents. It's also going to become more important than ever for the Seahawks to have more draft classes like in 2012, which produced Wilson and Wagner, to sustain the loss of players in free agency.
Some of the players that will be free agents next year include outside linebacker Bruce Irvin, defensive tackle Brandon Mebane, wide receiver Jermaine Kearse, left tackle Russell Okung, and right guard J.R. Sweezy. Although Seattle has expressed an interest in retaining Irvin despite turning down a fifth-year option with him for $7.751 million, he will likely move on in free agency.
The most interesting situation may be Okung's. He recently decided that he will represent himself on his next contract. Okung could price himself out of Seattle. He probably won't be interested in a new contract that's less the six-year, $48.5 million deal (with $29.3 million guaranteed and worth a maximum of $58 million) he signed in 2010 as an unproven commodity when he was the sixth-overall pick in the NFL draft even though he hasn't consistently played at a high level since his 2012 Pro Bowl season.
The Seahawks can exit the two-year, $24 million extension Marshawn Lynch signed in March if he hits the wall during the 2015 season since none of his $9 million 2016 base salary is guaranteed. Seattle will gain $6.5 million of 2016 cap space it parts ways with Lynch or he retires, which he contemplated early in the offseason.
---
Joel Corry is a former sports agent who helped found Premier Sports & Entertainment, a sports management firm that represents professional athletes and coaches. Before his tenure at Premier, Joel worked for Management Plus Enterprises, which represented Shaquille O'Neal, Hakeem Olajuwon and Ronnie Lott.
You can follow him on Twitter: @corryjoel | You can email him at jccorry@gmail.com