When the Dallas Cowboys signed Greg Hardy on March 18, they made the move knowing that Hardy would be suspended for at least part of the upcoming season and now, they know exactly how long that suspension's going to be. 
The NFL announced on Wednesday that Hardy has been suspended without pay for the first 10 games of the 2015 regular season for conduct detrimental to the league.
By the end of the suspension, Hardy will have missed a total of 25 games over two seasons. Hardy played in one game for Carolina in 2014 before being moved to the exempt/commissioner's permission list for the remainder of the season. 
The former Panthers defensive had been facing domestic violence charges stemming from an incident that took place in May 2014. However, those charges were dropped in February and the case was dismissed after Hardy's ex-girlfriend refused to cooperate with the district attorney.
Under the NFL's revised domestic violence policy that was released in August, first-time offenders were supposed to be subject to a six game suspension. However, Hardy's was upped to 10 games because the NFL determined that Hardy violated the Personal Conduct Policy by using physical force against his ex-girlfriend in at least four instances.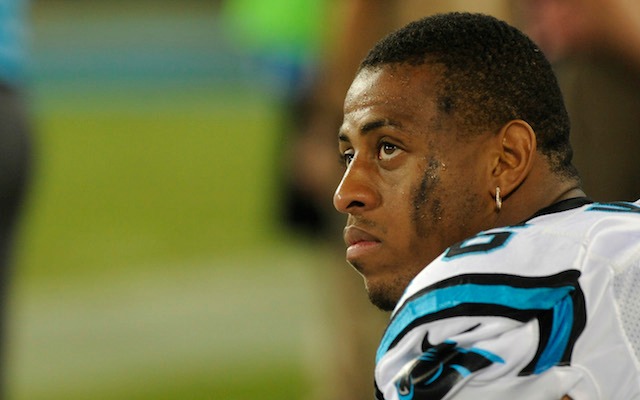 "The net effect of these acts was that Ms. Holder was severely traumatized and sustained a range of injuries, including bruises and scratches on her neck, shoulders, upper chest, back, arms and feet," NFL commissioner Roger Goodell wrote in a letter to Hardy. "The use of physical force under the circumstances present here, against a woman substantially smaller than you and in the presence of powerful, military-style assault weapons, constitutes a significant act of violence in violation of the Personal Conduct Policy."
Goodell noted that Hardy could be banished from the league if he has any other run-ins with the law. 
Here are three more things you need to know about Hardy's suspension ...
1. Hardy's going to lose out on some serious money: When Hardy originally signed with the Cowboys in March, his one-year deal had a maximum value of $13.1 million. However, thanks to the suspension, the most Hardy can earn with the Cowboys in 2015 is $7.3 million.
A large portion of Hardy's contract is going to be paid out in "per-game" roster bonuses. For every regular-season game Hardy's on the Cowboys active roster this year, he'll make $578,125. The 10-game suspension means that Hardy will automatically miss out on $5,781,250.
The suspension also makes it unlikely Hardy will hit his biggest sack bonus. If Hardy reaches 14 sacks in 2015, he's slated to earn a $1.8 million bonus. However, that's going to be almost impossible since Hardy will play no more than six games. 
On the other hand, Hardy will be able to earn his $1.3 million off-season workout bonus. He'll be allowed to work out with the team until Sept. 5, which means he'll be allowed to participate in training camp and all preseason games. 
Overall, Hardy will probably earn about $5.53 million in 2015 in the form of six per-gameroster bonuses, the workout bonus and a $750,000 base salary. Hardy can also tack a $500,000 bonus on if he hits the eight-sack mark. That $500,000 bonus would become a $1 million bonus if he hits the 10-sack mark.   
2. Hardy's return will be on national television: It appears that the guys in the NFL scheduling office got a heads up on how long Hardy's suspension might be because not only will his return be on national television, but it will come against his former team.
Hardy's first game back from suspension is scheduled to come on Thanksgiving Day on CBS when the Cowboys host the Panthers. Before signing with Dallas in March, Hardy had spent his entire five-year career with Carolina. 
Panthers linebacker Thomas Davis had been hoping Hardy would be suspended for the Panthers-Cowboys game.
"I hope we play [Dallas] early in the season and we don't have to face him," Davis said a few days before the schedule was released.
Unfortunately for Davis, the Panthers most likely will face Hardy -- who will theoretically have 10 weeks to prepare for that one game.
As for the rest of the Cowboys schedule, the big winners here are probably the Eagles and Giants who both play Dallas twice while Hardy is suspended. Hardy will also miss games against the Seahawks and Patriots. 
3. What happens to the defensive line? The Cowboys defensive line wasn't very good last year when it didn't have Greg Hardy, so you can probably expect a lot of the same for the first 10 games of 2015. The one thing working in the Cowboys favor this season though is the return of a healthy DeMarcus Lawrence. As a rookie in 2014, the defensive end played in only seven games after suffering a foot injury during training camp. The good news for the Cowboys is that Lawrence looked better each week and then took things to another level in the playoffs. 
That being said, there's a good chance the Cowboys could end up taking a defensive lineman in the NFL Draft. In the four mock drafts here at CBSSports.com, the Cowboys are projected to take a defensive player in each one. More specifically, our Pete Prisco has Dallas taking a defensive lineman (Oklahoma's Jordan Phillips), while Will Brinson sees the Cowboys taking a defensive end (Kentucky's Alvin Dupree).