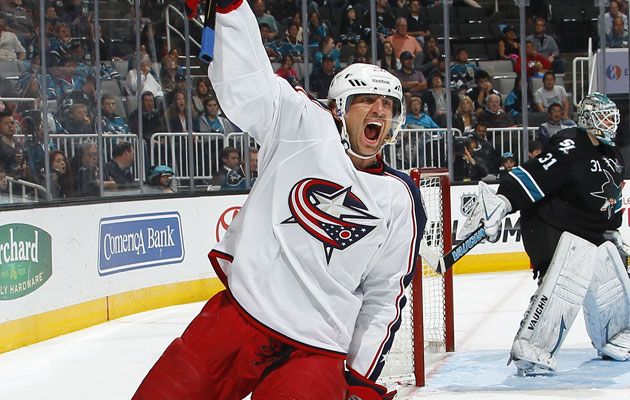 More NHL: Scores | Standings | League Leaders | Odds | Injuries | Power Rankings
After 1,108 games in a career spent with seven different organizations, veteran forward Vinny Prospal announced his retirement on Tuesday.
Prospal played the last two seasons with the Columbus Blue Jackets and was still a productive player. Last season he played in all 48 games and contributed 12 goals and 18 assists for a team that was starved for offense. Two seasons ago with the Blue Jackets he played all 82 games and had 16 goals with 39 assists.
While waiting at home for a call to return to play he began to realize that he wanted to retire and spend time with his family anyway.
"I want to thank my teammates and coaches who helped me enjoy a 20-year professional hockey career when very few thought I would play even one NHL game," said Prospal. "I sincerely want to thank the fans who have been so good to me, treating me with such kindness and respect, for the 20 years I have played here in North America in both the NHL and the AHL. Playing in the NHL was a dream. To play at the highest level for 16 years, with the best players in the world is something I will cherish for the rest of my life. I appreciate also the support, guidance and encouragement I received from my agent, Ritch Winter over the 22 years we worked together, as well as Ritch's partner, the late Miro Henys. Ritch and Miro believed in me when many others did not. I can't thank them enough. I especially want to thank my parents for their love and support since the very beginning and their guidance in the early years.
"I loved playing hockey, I loved scoring goals and I loved being a part of the NHL for so many years. That said, within minutes of me stepping on the ice for practice last week in Abbotsford, I knew that I wanted to focus on something that was more important than hockey, my family. I love my wife and I love my children. Having spent much of the last 10 months with them waiting for a call to return to the ice, I know now that I would rather be with them at home helping and supporting my wife and being with my kids than playing the game I love so much. When I got on the ice with the Abbotsford Heat last Thursday, it was clear to me that I did not have the desire to play at the level I have come to expect of myself anymore. And to not be able to give everything needed would be to disrespect the game that has been so good to me. I am going to focus all my time and attention now on being a good father and a husband. Because, in the end, my family is and will always be my greatest accomplishment.
"I want to thank all of the teams I have played with for having the faith in me they did. I especially want to thank the Vancouver Canucks, with whom I have never played a game for, and my coach and friend, John Tortorella, for helping me have closure that would not have occurred had they not extended to me the opportunity they did last week. I appreciate Torts and the Canucks for their faith in me and am sorry I will not be reunited with one of the most influential people in my life in Torts as we had planned."
Prospal was drafted in the third round, 71st overall, by the Flyers in 1993. He then played for the Senators, Panthers, Lightning, Ducks, back with the Lightning, back to the Flyers, then again to the Lightning, the Rangers and finally the Blue Jackets. He never won a Stanley Cup, coming closes with the Flyers in 2007-08. He did win a bronze medal with the Czech Republic at the 2006 Winter Olympics in Torino.
Prospal finished his career with 255 goals and 510 assists over the 1,108 games.